PROF ALFRED AND TABITHA OMENYA On keeping their marriage exciting
The conversation between 44-year-old Prof Alfred Omenya, an architect, and his wife, 40-year-old Tabitha Omenya, a communications consultant, flows fast, thick and seamlessly, interspersed with jokes and laughter. The couple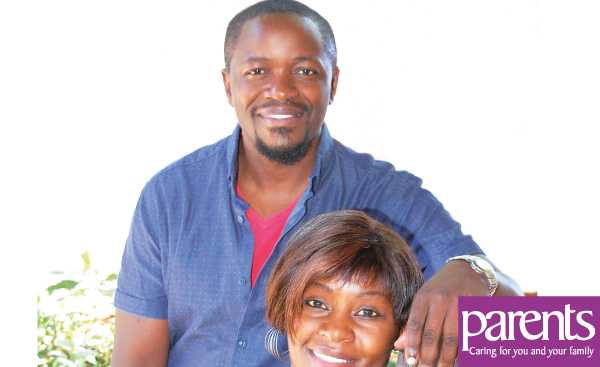 The conversation between 44-year-old Prof Alfred Omenya, an architect, and his wife, 40-year-old Tabitha Omenya, a communications consultant, flows fast, thick and seamlessly, interspersed with jokes and laughter. The couple attributes
How did you meet?
Alfred: We bumped into each other, so to speak. I paint and a youth pastor requested to use some of my paintings as backdrops in a set for a play. I refused initially but later on agreed on condition that I had to handle them personally. It was then that I met Tabitha, who also happened to be the play director.
Tabitha: I was the church youth leader at the time and at one point, while encouraging the youth, remarked that ladies were lucky because there were eligible men in our church – pointing at Alfred. (Chuckling) Little did I know that I would end up with him.
Has your marriage lived up to your expectations of what marriage should be?
Alfred: I have never thought about it in those terms, that it needs to be a certain way by the time we hit a certain age.
Tabitha: We got married when we least expected it. I thought I would get married at 30 only for this young guy to sweep me off my feet, and before I knew it was a wife at 24!
16 years on, how would you describe your marriage?
Tabitha: Interesting albeit with challenges.
Alfred: Practical. Please expound on the term 'practical'
Please expound on the term 'practical'
Alfred: We've had several 'happy accidents' that have helped shape our attitude. For instance, as we were courting, plans for my travel abroad to study for my Masters and PhD in architecture were already in place. Yet here we were, looking forward to a future together. We both decided not to put off our marriage so we did the next best thing – we got married in our living room.
Really?
Alfred: Yes and with zero budget.
Tabitha: Our best couple and church pastor came over, joined us in holy matrimony, did the paper work and then we had tea.
Not many people would be so unceremoniously daring, pun intended!
Tabitha: We have never been given to fanciful or fantastic ideas and if we really had to pinpoint, Alfred is more of the dreamer between us.
Alfred: In fact, even when I had to leave for further studies in South Africa with my young family, the scholarship I won and a couple of months savings from my salary isall I had. We do not believe in harambee marriages.
How soon after the wedding did Alfred need to leave for South Africa? Did you leave together?
Alfred: About two years later and no, Tabitha did not join me immediately. However, after a year, I asked her to come down. Married people should be together. It just makes sense. Our first-born son Carey was two years old by the time they joined me.
Tabitha: It was not easy leaving Kenya for South Africa. Initially, I thought he was trying to keep me away from friends and family. I was also torn because my career had started taking off. I was getting recognition and opportunities were pouring in but here I was, uprooting to South Africa.
How was settling in a foreign land?
Tabitha: Unfortunately, at the beginning, not so great. I lost my certificates on arrival so you can imagine how daunting approaching the job market became. However, I got a job writing for a local South African newspaper and consulting for a community radio station and another media development organisation. Additionally, I did not respond so great to the weather changes and during winter, I would get spells of depression and Alfred had to bear the full brunt of my dark emotions. He was so patient and when I look back, I appreciate it. (Chuckling), I also had time to refine some of my wifely skills like cooking and got the opportunity to study music, playing the piano.
Alfred: It was a time of bonding and growth for us. While dating, we had a crowded life with all sorts of friends but we had to leave them all behind, including our immediate family, to start a new abroad. All we had was each other, hence we had no choice but to understand each other. To this day, our union and issues remain sacred between just the two of us, although we do have advisors like a pastor couple whom we consult from time to time.
You've had another major transition in your lives. Tell us about it.
Alfred: My decision to leave employment was unspoken. My family did not see it coming and was done in what I like to call installments. While I had approached my peers to tell them of my decision to leave, the idea was seen to be unwise, so I opted to take unpaid leave from my University teaching and administrative job. The more I stayed out, the more I realised I did not need to go back and that helped cement my earlier conviction.
Tabitha: We all thought that Alfred was going back to work after leave. However, when he decided not to, the fact that he had taken leave helped cushion the shock so it was not a big deal. Additionally, he was leaving to join his own company, which he had been co-running with a partner even when he was the dean at the Technical University of Kenya. Two months later, Two months after he started leave, I also left work and got into running my own company full time. I had registered it two years earlier, but only used it as a consultancy platform. I did not have savings or office space but Alfred encouraged and supported me and I have never looked back.
Not many couples survive the turbulence of transition? What's your secret?
Alfred: I realised that the quality of my life had improved. Previously, I was teaching, consultancy and administration simultaneously. This had started to take a toll on me. compared to when I was teaching. Additionally, at the time, our first-born was in class eight and I felt I needed more time with him as he was transitioning to adulthood. Family projects, which had also stalled because I had neither the time nor the money, were finished in record time. When I assessed the situation, I figured it was better to consolidate architectural practice and applied research so that if I ever went back to teaching, I would have something new to offer.
Tabitha: It has definitely taken time for us to get here. We are also supportive of each other. I can't help but notice you share the same office space.
Don't you find it monotonous living and working in the same space day in day out?
Alfred: We ended up in the same office space through logic: I had some space at my architectural office and she needed space. Some people may take such an arrangement for granted but it has brought us closer.
Tabitha: While he is in architecture, I work in the communication field. The companies are different, with separate schedules and staff. Occasionally we work on some projects together, but our jobs barely overlap.
How many children do you have and how has the experience been so far?
Alfred: We have three children. Carey Omenya, 15 followed by Natasha Omenya, nine, and our last-born, Eike Omenya, is four years old.
Tabitha: God has favoured us. We have not had major challenges with our children. They are so easy to raise. We talk extensively and discipline has not been an issue.
What then is the worst punishment you have ever given them?
Alfred: I caned Carey once when he was little, I forget what for. As for Natasha, it's near impossible to cane her because she rectifies her mistakes and apologises immediately. Eike is cheeky and strong headed. We are still figuring him out.
Do you actively look for ways to improve your parenting skills?
Alfred: I can easily work late into the night but I have had to change my schedule. I drive my son to school every morning. It's a conscious decision to help us bond. In the evening, he comes to the office from school, we both work on our projects or assignments and then we go home together.
Tabitha: When Carey became a teenager, we went for classes just to keep abreast with the best practices on how to raise teenagers. We also read a lot of books and pray with and for our children. We also share and study with other parents. Sunday is also family day. No compromises.
How would you like to be remembered as parents?
Alfred: Loving, democratic and prayerful. We believe people thrive when they are in an environment where they are encouraged, motivated and have a role model. Then you can even place higher demands on them. I tell my children to work hard because everyday, Carey gets to see me work hard so I lead by example.
Tabitha: We celebrate our children when they succeed and understand when they fail.
Have you ever reached that point where you feel like you've lost steam?
Alfred: Yes it happens. A lot of people get into marriage with options thinking if things don't work out one can always leave. I look at it from a biblical foundation. Marriage is for keeps. What I love most about Tabitha is that she is my mentor, always has my back, prayerful, beautiful, fun and she never forgets my birthday!Because of her principled nature, she can be quite adamant and strong headed, even when there is no need for that.
Tabitha: I used to be scared about such instances but I realised when I am in that state where I do not want him, that is when he is so in love with me and vice versa. When that happens, we consciously work on it. We both believe marriage is for keeps. To me marriage is a place to learn about forgiveness. Love is not always a leaping of the heart when one sees their spouse. It is a commitment. When there's nothing to hang on to, I fall back on his good qualities. My husband is a mentor, humourous, generous, kind and spontaneous which sometimes works negatively, when he just makes rash decisions that may not work well for both of us.
You guys look fabulous and fit for a couple in their 40s. How do you deal with flirtation from third parties?
Alfred: We keep fit for both our health and the quality of our sexual lives. Incidences of people hitting on us even in each other's presence are very common. Personally, I drew a line from the time we were dating and I just don't entertain it. You can imagine if I look like this now, how about when I was in my twenties?
Tabitha: (Smirking) Very modest! If you do not have principles then anything goes. We are both aware that there are men and women who will seemingly be better looking ofinancially placed than our partner. Ask yourself, is everything you have achieved worth losing for momentary pleasure?
What if they persist?
Tabitha: Nip it in the bud and aggressively. Some people do not give up easily and sometimes your spouse even gets to know. Engage your spouse and tell them you are aware of what is happening and they need to deal with it. Only approach the third party if the matter persists and even then not by yourself, go with your partner so that the message is loud and clear.
Has it ever reached that point?
Alfred: Thankfully, no.
The forties are a murky time for many couples, how do you keep your relationship and life tantalising?
Alfred: Its true. The forties can present a crossroads for many couples. It also means we are growing older and for that reason we take our health and fitness very seriously. At some point we joined a gym together. Tabitha also takes dance classes. We are also keen to reinvent ourselves. Transitioning from employment to entrepreneurship was a form of re- invention and personally, I am not done.I am sure I will do it again. Each April, we go for a family holiday out of Nairob and in August we visit our respective parents, and in December, we split time between Nairobi and our rural home. This helps to keep us refreshed and revived.
Tabitha: We are keen to grow with each other and on that note even individually. That is why I have gone back to taking music lessons and Alfred is back to painting and that helps to always keep things fresh and exciting. Alfred and I also go out a lot. He likes to spoil me in places of quality, starred hotels and restaurants. We like to take each other to new nice places that we discover when with our friends.
Writer: [email protected]