HARUN HASSAN Changing the disability narrative
Often times, the stories on disability that are highlighted in the media focus on individuals overcoming the disability, and it is a good thing. However, there is another crop of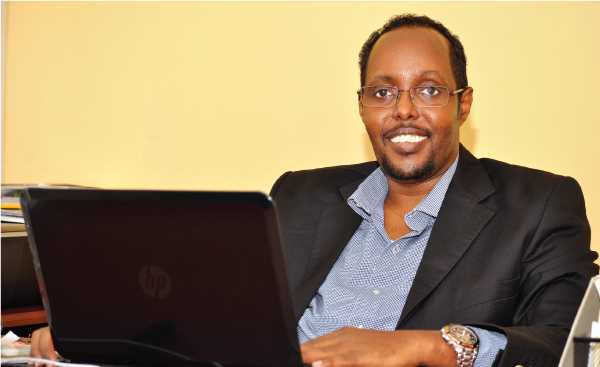 Often times, the stories on disability that are highlighted in the media focus on individuals overcoming the disability, and it is a good thing. However, there is another crop of people living with disability that are comfortable with their status and have learnt to take advantage of the silver lining. Harun Hassan is one such individual. He talks to LILY RONOH about coming to terms with his disability and embracing it as his identity.
Harun Hassan sits at the corner office of the Northern Nomadic Disabled Persons Organisation (NONDO), an organisation that advocates for the rights, inclusion and participation of persons with disability. In front of him, is a neatly arranged table and it quickly gives him off as a stickler to neatness, something that he affirms in the course of this interview. Sitting behind that table, it is difficult to tell that he has a disability and it is only when he moves that you notice he uses a wheelchair, which he fondly refers to as his legs. Hassan is quick to tell me that he was not born with the disability.
"I have been disabled for eight years now and my disability was as a result of a road accident," he avers. Hassan lucidly remembers the events of that day eight-and-a-half years ago. He had travelled to his hometown, Mandera, to receive blessings from his clansmen to vie for a political seat. Where he comes from, it is a requirement that one is given the go ahead by their clan before running for a political seat. A nod from the clan automatically sets you on the pedestal to clinching the seat. His political aspiration was nipped in the bud when his clan chose another individual. His mission having failed, he travelled back to Nairobi to concentrate on his career now that his dream to become a politician seemed to have reached a dead end. It was during his drive back to the city that the unexpected happened. "We were three of us in the car. The road was in a terrible state and hence I was driving at about 50 to 60 kph. Obviously, it was still too high for that kind of road. All of a sudden I heard a loud bang before I was thrown out of the car," he reminisces.
Hassan says that the only visible injury at that time was on his head. Looking at him, it is very difficult to see the scars that he sustained as a result of the accident. But if you looked close enough, you will be able to see the scar that runs from the left side of his forehead to disappear in a thick mass of hair. Unknown to those who were giving him first aid, he had injured his spine. He waited for two hours at the scene of accident before help came and was forced to endure sitting in a lorry as he was being driven to the nearest health centre. Here, he was given some more first aid before being referred to Mandera General Hospital.
"The events of that day are hazy because I was unconscious. I spent a night at the hospital before I was airlifted to Nairobi for further treatment. The doctor who came in the plane from Nairobi is the one who diagnosed the spinal injury," explains the 38-year-old.
That marked the beginning of his long stay in hospital. To be precise, he was in intensive care unit for two weeks before being transferred to the high dependency unit (HDU) for another three weeks, after which he spent almost a month in the general ward recuperating. It was while he was in HDU that he regained consciousness. This came with the realisation that he could not feel his lower limbs.
He was devastated when the doctor broke the news that he would never walk again. Hassan says he was the hope of the family having defied odds to get university education. His parents and siblings looked up to him and with this weight on his shoulders, he wondered if he could manage the burden given his present circumstances. His mind wandered to that fateful day when his friends in the car urged him to fasten his seat belt and he ignored their counsel, causing him to be thrown out of the car and hence the injury.
"My family was distraught. The bill was piling and I had to be transferred to Kenyatta National Hospital where I stayed for another three weeks before my family heard about the National Spinal Injury Hospital. Still, I had not come to terms with my situation," he says. To Hassan and his family, the National Spinal Injury Hospital was a place where spinal injury patients go to regain the use of their limbs. And so he went to the hospital with high hopes thinking that he would come out walking. His hopes were dashed when he came to know that the hospital equips spinal injury patients with skills to enable them carry out basic tasks without help and also come to terms with their new lifestyle.
Prior to the accident, Hassan had paid very little attention to persons with disabilities in the society. In his naivety, he had formed a mental picture of people with disability as beggars and now that he was in their shoes, he could not see himself as any other thing other than a beggar. For a person whose star was meteorically rising, this sudden twist of fate was overwhelming. He gave up on life and willed the angel of death to take him. Hence the seven months he stayed at the hospital didn't bear any fruit for he had completely shut his mind.
"I asked my family to take me back to Mandera to try herbal medicine. To them, it was a good idea but for me, I felt it was the easy route to death because I opined that if I fell ill while in Mandera, I would die since the hospitals are far," he says chuckling.
He had spent a whole year in hospital when he was taken to his rural home. Here, he spent his days in bed waiting for death. Days turned into months and the months into a year. Nothing. When he looked around him, the world had not stood still because of his condition and this was the epiphany he needed. He realised he had wasted two years of his life trying to fight fate, a battle that he was clearly losing.
"Slowly by slowly, I came to terms with my disability. I reached out to my friends who were disabled and they encouraged me. It was as if I had been given a new lease of life. I called my friends and relatives in Nairobi and asked them to help me get a house. I called my employer and told him I was going back to work. In February 2009, exactly two years after the accident, I made my trip back to Nairobi to start my life afresh," says the holder of a post-graduate degree in public policy.
Once in Nairobi, Hassan delved into reading about matters disability and spinal injuries. In his own words he says he became a "quack doctor." His friends circle featured more persons with disability. With this newfound interest, he started attending physiotherapy at the National Spinal Injury Hospital with great success. This gave him an opportunity to spend more time with people with disability, further deepening his understanding of the condition. His interest piqued, he would always attend forums that touched on disability.
"I was on a good course of acceptance but the game changer was my meeting with Tim Wanyonyi, the current Member of Parliament for Westlands constituency. He was full of life and I even asked him why he was so positive yet he was disabled. A quick camaraderie struck between us and he invited me for a get-together and goat eating for PWDs the following weekend at Ole Polos in Kitengela. Men living with disability came to the function driving and they opened my eyes to a whole new world. Needless to say, I came out of the get-together a changed man," Hassan explains.
It is from these meetings that Hassan found his cause. He was going to change the narrative around disability. Having grown up in an environment where herding is the way of life, he wondered how the disabled in his community coped. He also wondered whether there was an organisation that catered for the disabled who come from nomadic communities. This gave birth to Northern Nomadic Disabled Persons Organisation to explicitly address the needs of the disabled in nomadic communities.
Top on his mind was to also address the environmental and attitudinal barriers that persons with disability have to contend with. On the former, he notes that the society needs to minimise barriers so that PWDs can enjoy their rights. The society, he adds, ought to stop looking at disability from a sympathetic and charitable point of view.
"Disability is an expensive affair. If you count what we inject in the economy, then society will change the mindset that they are doing persons with disability a favour. It is noteworthy that Kenya is making great strides in matters disability and the policies in place are being implemented slowly but surely," says Hassan who also sits at the National Council of Persons With Disability board.
Like many PWDs, Hassan wants to be judged by what he can do and not what he can't. On that note, he makes a clarion call to persons living with disability, "Without screaming for attention and without trying to prove a point, what you can, do it to your best ability. What you can't do, say it out with enough clarity, people will always listen. Minimise, as much as possible, the workload for those who care for you."
Having tasted both sides, that is, being able-bodied and being disabled, Hassan opines that he is best placed to act as the mediator between the two sides. He, on one hand, understands how the society views the disabled and on the other hand, the needs of persons with disabilities.
"The society needs PWDs and PWDs need the society. But the disabled need the society more. Hence persons with disability need to rethink how to engage the society without creating unnecessary friction. The media also needs to stop glorifying what disabled persons do since it makes it look like we are extraordinary people doing extraordinary things. Thus, the media needs to reconsider how they project people with disability without drawing attention to the impairment," he explains.
In conclusion, Hassan calls to attention the rising cases of invisible disability, specifically mental illness. He says that this group is the most marginalised owing to the fact that their disability is not visible, hence end up being victimised over something they have little control over.
Published in January 2015