JOSSY SIMONET The Zumba Fitness Queen
Josephine Simonet features among the who's who in the world of Zumba fitness in Kenya. But way before that, she was enjoying a highflying career as a gemologist. That was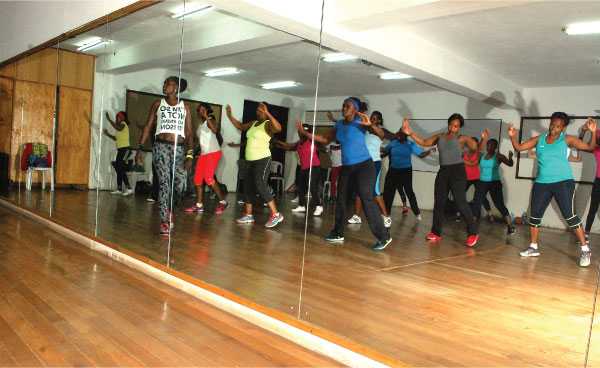 Josephine Simonet features among the who's who in the world of Zumba fitness in Kenya. But way before that, she was enjoying a highflying career as a gemologist. That was until the arrival of her second baby. Little did she know that facing her post pregnancy weight would change the course of her career path, forever. She ditched the glitzy world of gemology to pursue fitness training. She speaks to ESTHER AKELLO about her journey to self-fulfillment in her new career.
Josephine Simonet or Jossy, as some refer to her, stands out, and not just because she is tall. As she glides through the room in her baggy white track suit, with her laptop bag hanging lazily over her shoulder and her long plaited dreadlocks resting neatly on her back, I can't help but notice all eyes are on her, and rightly so. Nothing about her looks or movement suggests her age. At 36, she could easily pass for a 30-year-old.
"I didn't always look like this," Jossy says. She opens her laptop, showing me two photos. The difference between the two women is mind-boggling. Both photos are clearly of her but one is a seemingly older and frumpier version of her.
"That was me seven years ago," affirms Jossy.
That was in 2008 and she was on top of her game, travelling all over the world identifying and appraising precious stones from regular to high-end clients, while juggling her family responsibilities in Kenya.
"Cedric was very supportive, staying at home with our two kids while I travelled," she adds, referring to her husband of 15 years, Cedric Simonet (pronounced See-mo-ne as the name is French).
A far cry from her poverty-stricken childhood days in Taita along the Kenyan coast, especially after her father, a gemstone prospector, died when Jossy was just a year old leaving her mother to raise her and her two siblings by herself.
Luckily, gemstone mining had picked up in the area attracting both local and multinational mining companies. When Jossy joined secondary school, Rockland Kenya Limited, a company dealing with gemstones, offered her a full sponsorship to help her pursue studies.
After completing her studies in 1998, the company sponsored Jossy through some computer courses while offering her a part-time job sorting and grading gemstones as she deliberated on which career path to embark on. It was during her stint there that Jossy met her geologist husband, Cedric. They got married and had their first child in 2000. She then left Rockland Kenya Limited and moved to France to pursue her dream of becoming a gemologist at the University of Aix-en Provence but had to settle for a geography degree after realising they did not have a gemology programme.
She completed her studies in 2007 and she moved back home together with her family. However, she had to leave again in 2008 to study for a one-year course in gemology at the Gemology Institute of America in Thailand. Shortly thereafter, she started shuttling back and forth between Kenya and Thailand buying and selling gemstones. Within months, the business had picked up and she was receiving invitations to gemstone shows and conferences globally. The trips were lucrative as most were at her clients' expenses and she collected her fees daily sometimes as much as $1000 or more per day.
In December 2008, she delivered her second child. Change was in the air.
"Following my second pregnancy, my weight shot up from 60 Kgs to 82 Kgs. I was on the go, ate junk food and was always fatigued. I also became very complacent," says Jossy.
Early 2009, aware of her shoddy lifestyle, Jossy paid a year's subscription at a local gym. However, she was inconsistent and barely made any weight changes. That same year, she traveled to Netherlands on business.
"I was taking a stroll when I heard some unfamiliar music wafting down the street. When I enquired about it, I was told it was used in a dance fitness programme known as Zumba," recalls an intrigued Jossy.
Once back home, Jossy made enquiries on the fitness programme and found the only instructor in Kenya certified at the time, Liz Baregu. She immediately joined her classes and after six months, Jossy had not only lost weight, but was also inspired.
"I realised that there was a gap in the number of certified trainers in Kenya and with my husband's blessings, I decided to sign up," says Jossy.
During a business trip in South Africa towards the end of 2009, Jossy fulfilled a two-day training workshop and became certified. Once back home, she continued with Liz Baregu's class to maintain her fitness and refine her knowledge on the programme.
Leap of faith…
In 2010 and with Kshs 100,000, Jossy decided to branch out and start her own classes albeit with zero number of clients or venue for that matter.
"I was scared. Most times I had to convince, even pay watchmen and caretakers to sneak in my fliers. Others flatly refused to listen to me.  Meanwhile, I wondered whether clients would stick around long enough to give Zumba a chance," recalls Jossy.
Still, she consistently marketed the novel fitness programme until her first client, the Braeburn School called on her. Convinced by her pitch, they hired out their hall to her. Jossy started with a maiden class of six people, but eventually the class ballooned to 40 students. Within three months, teaching a minimum of four classes a day, every day in different venues and gyms in Nairobi, Jossy broke even and had some left over to attend her first Zumba convention in America.
"The Zumba fraternity holds a conference and convention annually. These meetings are training grounds for refresher courses and upgrades," says Jossy.
After the convention in America, Jossy started feeling the weight of her success and something had to give.
"I reduced my classes. Zumba not only changed my life, but now I was becoming etched in people's lives more than I ever could with gemology. It was more about impacting lives than money," says Jossy.
Jossy offers Zumbatomic (Zumba for Kids), Zumba gold (Zumba for beginners and the elderly), Zumba Sentao (Zumba on the chairs) and Zumba toning using weights. She has two classes per day, mornings and evenings but sometimes takes special requests from clients. She also started delegating her gemology clients to an assistant, so working part-time as a consultant while making Zumba her full time occupation.
Jossy is dogged about her work. To maintain her clients and keep her classes fresh, she confesses to listening to Zumba music and inventing choreography all the time even while seated in traffic. She schedules reminders for her students and holds master classes (intense 90-minute classes as opposed to the regular 45-minute classes) every month to challenge her students. She collaborates with corporates to raise cash for charities and sponsors some of her clients who cannot afford her programme (this year, she has six and counting).
Despite her success, she says the biggest misconception people have is that being an instructor is easy.
"Zumba requires consistency and creativity just like other professions. You need to expend the same energy for two clients the same way you would for 40 clients. You have to reinvent your steps, music, nutrition advice and so on to give your students a wider outlook on fitness," she says.
In future, Jossy hopes to open her own full time Zumba fitness studio, start a Zumba club and a fitness clothing line. To those aspiring to take up the fitness challenge, she has a message: "With consistent exercise and a conscious diet, the sky is the limit."
(Highlighted in a box)
Fast facts on Zumba…
Colombian dancer and choreographer Beto Perez started Zumba in 2001. It utilises dance steps and aerobics training choreographed around Latin music such as reggeaton, salsa and so on. Since its inception, it has gained global popularity as a registered brand churning out fitness instructors and networks or Zin (Zumba Instructor Networks) worldwide. Zumba practitioners are licensed and are required to register periodically with their headquarters in Florida, America, and anyone practicing without a license or using an expired one is considered to be doing so illegally and can be sued.
Published in April 2015