Look gorgeous in styled braids
Most, if not all, African women braid their hair from time to give their relaxed or natural hair a break. Just because your hair is braided doesn't mean you can't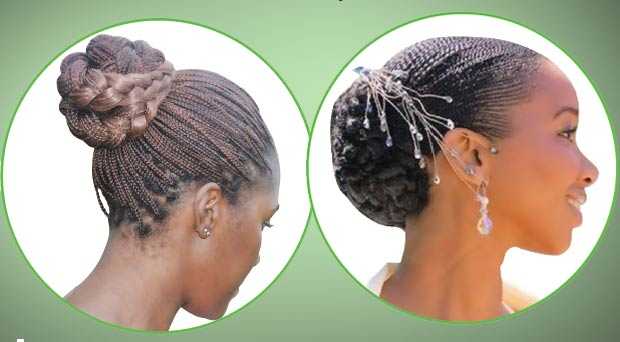 Most, if not all, African women braid their hair from time to give their relaxed or natural hair a break. Just because your hair is braided doesn't mean you can't experiment with different style options. We give you a few ideas you could try out with you braids to make you look dazzling and trendy.
Classic bun.This has gradually replaced the ponytail that was the most dominant hairstyle for braids and twists. The classic bun is the simplest yet most fashionable up-do that you can wear both in the office and to an event. You simply pull your braids to the middle of your head and tie them together using a hair band. You then twist the ponytail around the band to get the bun. To make the bun look stylish use a scarf or bandana. Not only does this add a fun pop of colour to your hair but also makes it look great!
Waterfall braids.This is especially suitable for weekends and for parties when you do not need to look too serious. It also the perfect opportunity for your braids to breath especially if you had them tied in a ponytail all week. All you need to do is plait two cornrows running horizontally across both sides of your mid-head. Then join them in the middle using a stylish band or hairclip. This style will leave you looking elegant.
Timeless ponytail.It's the most common hairstyle especially for micro braids. You get it by tying your braids at the middle of your head and leaving the ponytail to hang freely. This style tends to be plain but you can add colour to it by tying coloured or flowered scarf over the hair band to give it some oomph.
Side swept bun.It is perfect for weddings and dinner dates. It can also be worn to the office because it also works, as an official look. Like the name suggests, the bun is either on the left or right side of the head.
Wash your braids with shampoo and dry them completely. Damp braids are smelly and they make your scalp itchy which may leave you with sores. Ensure you sleep in a headscarf to keep your braids in place and prevent you from pulling your hair when you turn in bed.
When styling your braids, don't pull them too tight as it weakens your hair and the tension causes the braids to loosen up and eventually fall off with the chunk of hair they were holding on to, leading to hair loss.
Use non-greasy hair products such as olive oil spray and braid spray to stop your braids from drying out. Greasy hair products should be avoided at all cost because they make braids oily and sticky and if you wear your braids for a long time, they will get smelly and dusty.
Published in Feb 2014