Murang'a man causes stir after writing own eulogy and building tomb
It is commonly said that, 'when your soul is right with God, you are never afraid of death'. This seems to be the situation with one Muranga County man, Samuel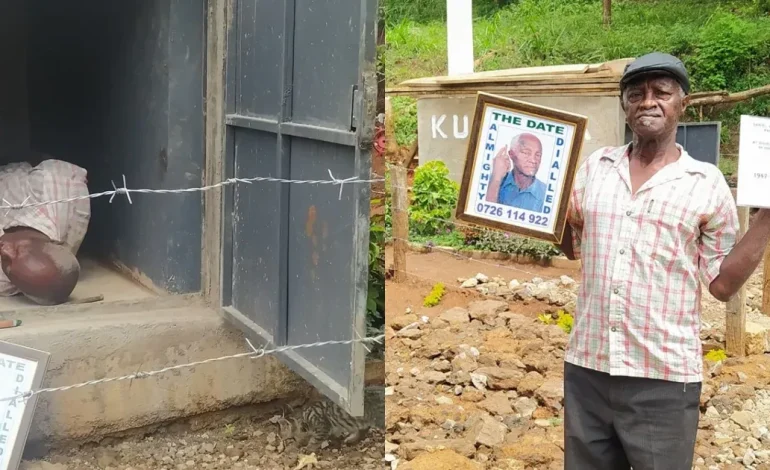 It is commonly said that, 'when your soul is right with God, you are never afraid of death'. This seems to be the situation with one Muranga County man, Samuel Karanja who wrote a eulogy for himself ,printed the picture to be placed on his coffin and built a rather fancy burial site surrounded by flowers.
Speaking to a journalist from Inooro Tv, Samuel said that he also issued a set of rules to be followed.
Samuel "Kumenya" Karanja showing how he would like to be laid to rest in his tomb. (Source; citizentv.co.ke)
Samuel said he wrote his own eulogy because no one else knows him better than himself. He also told the journalist that he built his burial site to save his family the trouble of digging his grave when he dies.
Image; Samuel Karanja's tomb site with his self branded nickname 'Kumenya' meaning Knowing. Source,citizentv.co.ke
Samuel who has branded himself 'Kumenya' meaning 'knowing' told the reporter that his family members weren't allowed to carry any flowers for the burial since his grave site was surrounded by flowers.
Toddler dies in mysterious house fire in Mwingi
The source of the fire is unknown but the father suspects it was an attack due to a land dispute.
He also ordered that he will only be covered with soil and that he will not need a cross on his grave.
Some reports also allege that Samuel spends most of his time in his after-life home.
Feature Image; Samuel Karanja who build himself a tomb and wrote his own eulogy.( Source, Tuko)
Parents Magazine ePaper
Read an ePaper copy of Parents Magazine. Caring for you and your family.