PRECIOUS MEMORIES are made of this…
On Saturday September 26, 2015, standing at the equator, our son, Wambaa, married his love, Yvonne Njeri, in an idyllic setting on the foothills of Mt Kenya. After more than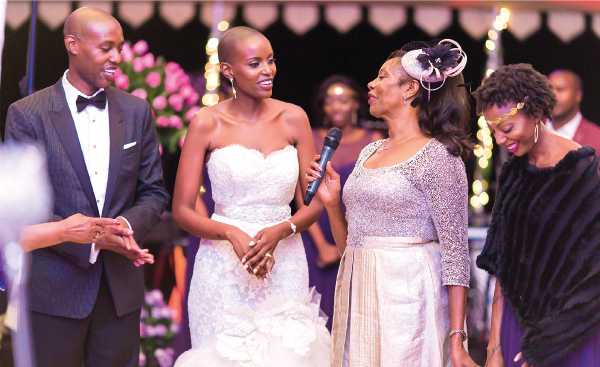 On Saturday September 26, 2015, standing at the equator, our son, Wambaa, married his love, Yvonne Njeri, in an idyllic setting on the foothills of Mt Kenya. After more than a year of planning, the moment had come… And it was magical. The most memorable moment for me was when Yvonne's mother, Esther Kibunja, handed me her daughter to be my daughter and take over from where she had reached.
Only a mother can understand what this moment means. I am a prayerful woman and one of the prayers always in my lips, sometimes at the risk of boring God, is to protect my children, guide them through life, fulfill them according to His will and also provide them with worthy spouses to share their lives with. And God answered my prayers by bringing Wambaa and Yvonne together.
My son introduced me to Yvonne about five years ago. I always made jokes with him that he should marry a Kenyan girl and if he couldn't find one in the US where he lives and works, I was willing to take him to the village.  And so when he called me and told me he had met a Kenyan girl whom he had fallen in love with, I asked him to send me pictures, which he declined saying I would have to wait until I met her in person. He wanted that to be the surprise.
And so two months later on a trip to the US, he organized dinner with her. She actually came to join us at his apartment so we could drive to the restaurant together. This tall, dark, very beautiful and bald-headed woman walked in carrying a bouquet of flowers and a bottle of wine, and wearing a wide smile presented them to me with a hug saying, "Nice to meet you, mummy…" Just the way my children call me.
From that moment, I started praying that Wambaa would get serious with this girl. She looked so perfect. And so much like him – from the skin color, facial features, to the tooth gap – it scared me. From then on, Yvonne became part of the Mathu family – we are a very close-knit family and sometimes we can intimidate but Yvonne fitted perfectly well. We got along so well that I often referred to her as "my other Njeri."
Yvonne and her parents moved to the US when she was small and only made one visit to Kenya when she was around six, so when my son brought her home two years after they started dating, it was like discovering a country she had not known. She just fell in love with her birth country and wanted to be back. And indeed she was back a year later, this time alone, just to visit us and get a better feel of the health sector in this country, as that's her area. I recall my son walking into my bathroom that Christmas when he first brought Yvonne home and told me, "Mum she's the one."
I am so happy she was indeed the one, as sealed at their beautiful wedding last month. And now the event is behind us and their marital journey begins now… As a mother, my prayer for them is that they will have a happy and fulfilling life together. That God will bless them to bring out the best in each other and honor the vows they wrote and said in the presence of God, their parents, family, and friends.
For my son, my message has been one: "Build your home together, love your wife and respect her, remembering that she is somebody's precious daughter who has now been put in your care." I have been married to his father for 36 years and I hope there are some good things he can pick from our relationship. I have given to Yvonne my precious son with all my blessings, without any doubt that they will make a happy home together, as long as they keep God in their midst.