President Kenyatta opens 5 hospitals in night exercise
The hospitals opened were level-2 hospitals; one in Kangemi and another in Kawangware while the rest were level 3 hospitals in Mukuru Kwa Rueben, Tassia Kwa Ndege and Mukuru Kwa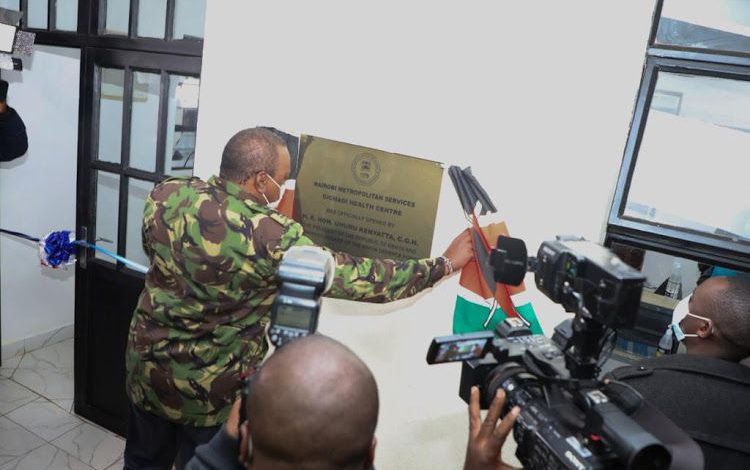 President Uhuru Kenyatta, in a rare and surprising move, opened five new hospitals in Nairobi's informal settlements on Tuesday Night. The five are part of 24 health facilities that are being constructed by the Nairobi Metropolitan Service (NMS) in collaboration with the National government in a project aimed at decongesting Kenyatta National hospital and Mama Lucy Hospital.
Speaking to members of the press who accompanied him during the four-hour exercise, President Kenyatta said that he opted to open the hospitals at night to prevent huge crowds of people and to adhere to the Covid-19 protocols.
The hospitals opened were level-2 hospitals; one in Kangemi and another in Kawangware while the rest were level 3 hospitals in Mukuru Kwa Rueben, Tassia Kwa Ndege and Mukuru Kwa Njenga.
Kenyans thronged on Twitter for the better part of Wednesday morning to share their thoughts on the exercise with some Kenyans viewing it as evidence of President Uhuru's commitment to his office and to Kenyans.
Health has been a long lasting headache to millions of Kenyans.
Uhuru Kenyatta has chosen to face the problem from a different angle by introducing Universal Healthcare where eventually all Kenyans will have affordable health care close to them.#UhuruOverworking pic.twitter.com/VqaQTgqhR3
— MARIGIRI (@DMarigiri_) July 7, 2021
Good photo of the night. While you were sleeping, Uhuru Kenyatta launched 5 newly built hospitals in Nairobi, fully equipped, staffed and operational for 24hrs. #UhuruOverworking pic.twitter.com/Hx9jeB3h5n
— Lord Abraham Mutai (@ItsMutai) July 7, 2021
However, a few Kenyans read mischief in the President's actions with controversial blogger Cyprian Nyakundi alleging that the hospitals being commissioned did not have the necessary drugs.
Uhuru is launching small dispensaries at night because they have no equipment, medical personnel and drugs. He's just launching empty buildings and promoting paint companies. He loves silly PR stunts. #UhuruOverworking pic.twitter.com/2i6DQ5yF3L
— Cyprian, Is Nyakundi (@CisNyakundi) July 7, 2021
During the visit, Kenyatta who was accompanied by NMS director General Mohammed Badi and other government officials, also directed city hospitals to be open round the clock to ensure that city residents can access healthcare services all the time.
Featured Image: The Star