Recipe: Pan-fried steak with creamy garlic and mushroom sauce
This delicious meal is simple to make but does not call for any gourmet ingredients.For a fool-proof mid-week meal the family will love,you cannot go past this popular recipe. With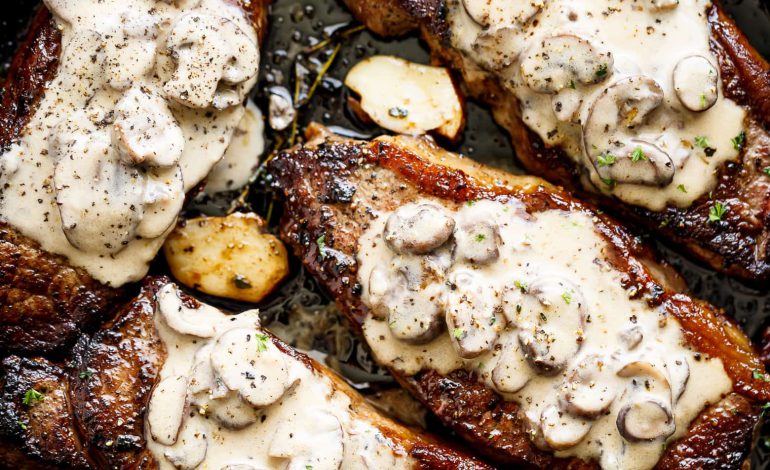 This delicious meal is simple to make but does not call for any gourmet ingredients.For a fool-proof mid-week meal the family will love,you cannot go past this popular recipe. With creamy mushroom sauce and mash,this quick and easy meal idea is a winner.
Photo: [google]
Serves 2.
You will need:
2 steaks 1 1/2 inches thick each (I used rib eye)
Sprinkle of salt and pepper
2 tbsp olive oil
1 tbsp butter
1 tbsp garlic, finely chopped
Handful mushrooms, sliced
120ml single cream
Salt and pepper, to taste
Method
1.  Allow steaks to come to room temperature before cooking (about 30 mins after they come out of the fridge). Pat both sides dry with a paper towel.
2.  Season both sides with a sprinkle of salt and pepper – do this JUST before you cook.
3.  Heat frying pan on medium/high (ideally cast iron) till it's hot and drizzle in oil.
This is why your pancakes are not fluffy
Pancakes are a family favourite in many homes. Often times they are what makesfor a great weekend(and sometimes weekday) breakfast. However, sometimes you canend up with flat chewy pancakes instead of fluffy ones that melt into yourmouth. Thankfully, this is an easy fix if you take heed of the…
4.  Allow oil to heat for a minute before laying down the steak away from you with tongs. You should hear it sizzle. If it starts to smoke, the pan is far too hot so reduce heat immediately. If you prefer you can render down the fat (white) side first for a minute or so before starting to cook the steak
5. Once you have laid down the steak don't touch it! This will allow it to form a delicious brown crust. Leave for 7 mins on this side for a medium steak and 10 mins for well done.
6.  When the first side has finished cooking, flip and cook for a further 6 mins for medium, 8 mins for well done.
7.  When the steak is 3 mins away from being cooked, add in butter and start basting the steak (tilt pan towards you, spoon up the butter and drizzle over the steak repeatedly). The butter should turn golden but if gets too dark reduce the heat.
How to minimize dangers of non-stick cookware
Non-stick cookware are so convenient – easy to clean, uses up less oil andensures the food is cooked to perfection. However, concerns have been raised onthe health implications of the substance used to coat non-stick cookware, knownas Teflon. While Teflon is stable in low temperatures, it can br…
8. Once the cooking time is up, remove steak to a plate, LOOSELY cover with foil and allow to rest for 5 mins.
9. Meanwhile make the sauce. Reduce heat to medium/low, add garlic to the leftover butter and juices and fry for 30 seconds before throwing in mushrooms. Stir fry till cooked.
10. Season with salt and pepper, drizzle in cream, season again if needed and mix till it becomes luscious and thick. Spoon over the steak and serve immediately.
The exciting May issue of Parents magazine is here!
On this Mother's Day issue, we catch up with Beatrice Elachi. The former legislator opens up about her journey into politics, motherhood, and her marriage in an exhilarating candid read that you don't want to miss!
Featured Image: Cafe Delights