Share love with chicken milanese and spaghetti
There are so many ways to say "I love you" and food is one of them. It is even more romantic when the food has a personal touch. Skip the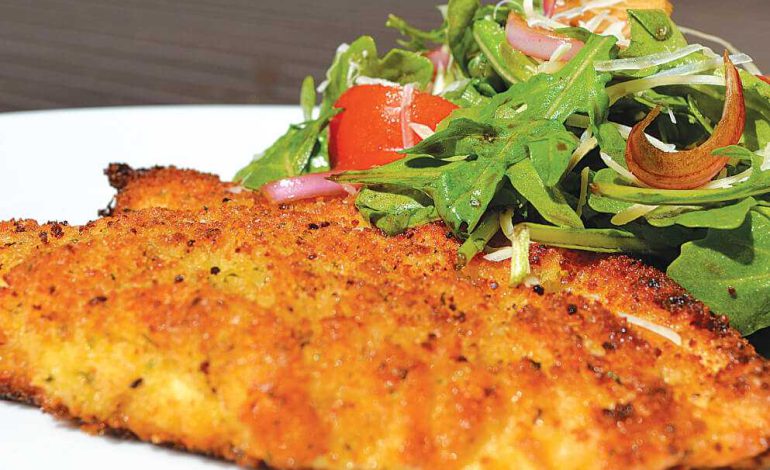 There are so many ways to say "I love you" and food is one of them. It is even more romantic when the food has a personal touch. Skip the restaurant this Valentine's and treat your loved one to a mouthwatering chicken Milanese and spaghetti. Thank us later!
Ingredients
(Serves: 2
2 cloves of garlic
Half a bunch of fresh basil
Olive oil
400g tin of plum tomatoes
2 skinless free-range chicken breasts of 150g each
100g plain flour
2 large free-range eggs
100g breadcrumbs
30g Parmesan cheese
150g dried spaghetti
Cooking method
Peel and finely slice the garlic. Then pick the basil leaves and finely chop the stalks.
Heat a splash of oil in a medium saucepan over medium heat, add garlic and basil stalks and cook for two minutes or until golden.
Tip the tinned tomatoes into the pan and squash them down with the back of a spoon. Fill the empty tomato tin with water and pour this in too. Season and simmer for 30 minutes or until reduced, glossy and thick.
Place the chicken breasts on a board and cover with a double layer of cling film. Bash with a saucepan to flatten them to 5mm thick.
Tip the flour into one bowl, then crack and beat the eggs in a second bowl. Add the breadcrumbs and finely grate in half of the Parmesan and then shake to combine.
Coat the chicken in the flour, then the egg and finally in the cheesy breadcrumbs, until thoroughly coated.
Heat a lug of oil in a large frying pan over medium heat and cook the chicken for three to four minutes on each side, or until golden and the meat is cooked through.
Cook the spaghetti according to the packet instructions, then drain and add to the tomato sauce, loosening with a little of the cooking water if needed.
Serve the spaghetti alongside the crispy chicken, with the remaining Parmesan and basil leaves scattered over.
Kitchen tips
Planning is key. Try and prepare for meals in advance as this will save you time when cooking so that you can actually spend most of the evening at the dinner table with your date, and not in the kitchen over the stove.
Cook within your comfort zone. A romantic date or any dinner at which you're trying to impress is not the time to be trying out a recipe for the first time. Practice a new dish or technique ahead of time so you are familiar with it when it counts.
Kitchen safety
Spills from hot liquids cooking on the stove can often spell disaster. Keep a dishrag around to clean up sauces and soups that might boil over.
Clean your knives, shears or skewers properly and then place them with pointy side facing down in the dishwasher to avoid any accidents.
Beware of the hot chili pepper. The oil from this can really burn fingers if you're not careful. Wear rubber gloves or coat your fingers with vegetable oil when slicing hot peppers.
Published in February 2017