South African mum forced to throw child off building amidst riots
A South African mother was forced to throw her young child from the top of a building after rioters set the building on fire. In a video circulating on the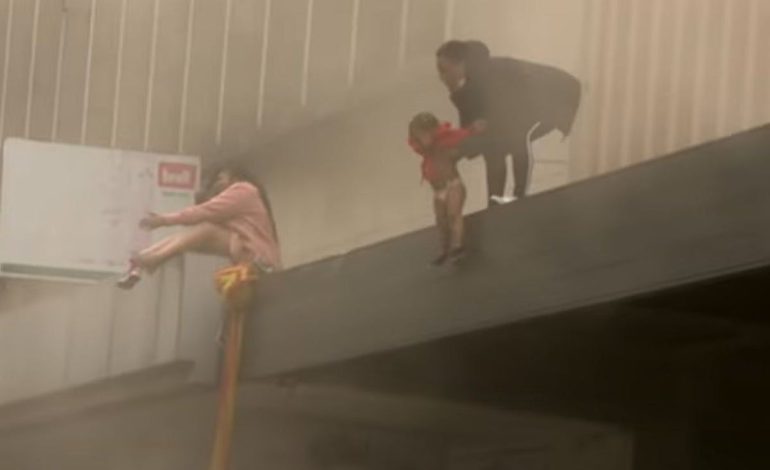 A South African mother was forced to throw her young child from the top of a building after rioters set the building on fire. In a video circulating on the internet, a crowd of onlookers can be seen with their hands spread out ready to catch the baby.  The crowd would then get ladders to help rescue other people who were trapped in the burning building.
The incident sparked mixed reactions from a wide section of social media users with some sympathizing with the mother and baby, and others criticising the government.
My heart goes out to baby and mother… civilian action has turned against their own!
— vicky (@vicky_kutima) July 14, 2021
We haven't evacuated everyone who lives above a supermarket? I'd have thought that was logical, of it wasn't, hopefully it has now slapped our authorities in the face!
— The Don (@don_gino82) July 14, 2021
In recent weeks, South Africa has witnessed a wave of protests and riots following the arrest and incarceration of former South African Jacob Zuma. Violence has, especially, been high in Zuma's KwaZulu Natal and Gauteng provinces leading to loss of lives and destruction of property.
According to news reports, the death toll from the unrest has risen to 72 in the past three days after 10 people were killed in a stampede during riots in Soweto.
Incumbent South African President, Cyril Ramaphosa, has described the ongoing unrest as one of the worst since the 1990s while noting that his government had dispatched more troops on Tuesday to contain the situation.
Featured Image: The Independent Uk
The July issue of Parents Magazine celebrates 35 years!
The July issue of Parents Magazine celebrates 35 years. Get your copy today to share the joy of this milestone in an issue packed with inspirational experiences of men and women positively impacting society and all other regular columns, as the founding editor walks you down memory lane.