The re-invention of 'GIDIGIDI'
Joseph 'Gidigidi' Ogidi is one half of the duo behind one of Kenya's most popular breakfast shows, Gidi na Ghost Asubuhi, on Radio Jambo. The prolific entertainer was part of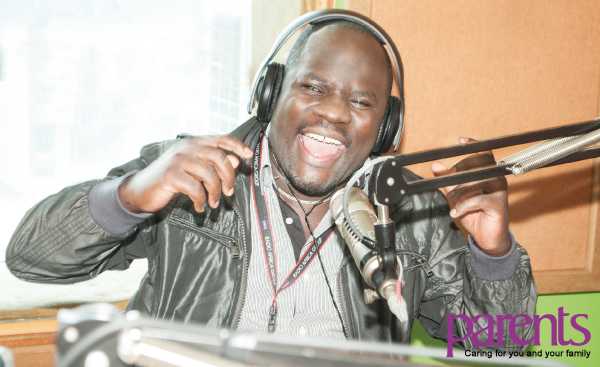 Joseph 'Gidigidi' Ogidi is one half of the duo behind one of Kenya's most popular breakfast shows, Gidi na Ghost Asubuhi, on Radio Jambo. The prolific entertainer was part of Gidigidi Majimaji, the hip-hop group that shaped Kenya's music industry. ESTHER AKELLO caught up with the media personality who opened up on stepping out of the limelight, reinventing himself as a radio talk-show host and his contribution to the music industry.
In an industry that has been accused of lacking in wholesome content, most fans would agree that the Radio Jambo's breakfast show Gidi na Ghost Asubuhi (Gidi and Ghost in the Morning) has massive appeal due to its most famous segment Patanisho (Reconciliation) which aims at re-uniting loved ones be it couples, parents and children, or friends who have fallen out. The breakfast show is so popular and is among the most top rated in the country.
Among those at the helm of the show's success is presenter Joseph Ogidi popularly known as Gidigidi or simply Gidi. "We try to make light hard day-to-day issues, be it politics or relationships, through humour. It is a family show as well and what better way to bring loved ones closer than to reconcile those who have fallen out?" explains the 35-year-old Strathmore Business School student who says he receives at least 100 reconciliation appeals from Kenyans everyday.
To say that Gidigidi's career in the public sphere has been dynamic would be an understatement. While a lot of people struggle to get their big break, Gidigidi has not only had one but two massive chances. The first was in 1999 when a teenage duo from Nairobi's Eastlands made the Kenyan urban music scene sit up and take notice when they released an upbeat hip hop dholuo song, Ting Badi Malo (Put your hands up).
It was an instant success and helped cement several facts: local hip-hop music had massive appeal, vernacular music could cross-over into the mainstream sphere with resounding success and that two teenage boys would not only serve as an inspiration for generations of musicians to come, but would also be a binding force for a clarion call for a nation's change. That duo was then 18-year-old Gidigidi and his friend Julius Owino aka Majimaji.
The (unanticipated) success of Ting Badi Malo was a shock to the duo who were then form four high school students. "The onset of fame was definitely the one thing we were unprepared for especially since music for us was a mere means to an end. It was an extra source of income to help us achieve our end goal: financing our education," narrates Gidigidi who says that he only got into mainstream music after legendary producer Ted Josiah saw him rap in vernacular during a rap competition at the Florida 2000 Club.
"The competition was tight. Everybody was rapping in English, Swahili or Caribbean accents so I knew I had to be different. Besides, the most famous hip hop group at the time – Kalamashaka – were already rapping in Swahili and there was only one mainstream dholuo rapper, the late Poxxy Pressure," explains Gidigidi.
Josiah, who had already produced another hit at the time, Hardstone's 'Uhiki' suggested that Gidigidi pair up with his opponent Julius and Gidigidi Majimaji was born. The duo followed up their success with other hits such as Atoti and Who Can Bwogo Me/Unbwogable (Fearless). The latter became the political anthem for the successful push for a new presidency in Kenya in 2002.
"We never thought that the song would become such a unifying factor. We are simply grateful that Kenyans associated our song with the move for a freer democratic space," says the radio host.
With the massive success of the songs in the album Unbwogable, came tour shows forcing Gidigidi, then an IT student at Jomo Kenyatta University of Agriculture and Technology to defer his studies (he finally graduated in 2013). "We were at the peak of our game. There were many shows and I had to attend each of them especially since I was paying for my school fees as my dad had lost his job. Between 2003 and 2004, I did an internship with Safaricom," he says.
But in 2005, after seven years together, the duo announced that they were taking a break, a parlance in the entertainment industry taken to mean that a group is splitting up.  It was a huge blow to fans considering the duo had been signed with an international record label, Gallo records which released their final album, Many Faces in 2003. "We did not give up on music per se. We just weren't professional artistes nor did we feel the need to strictly pursue music education. We were grateful, however, that sheer talent and grit had taken us to the top of our game. It was the right time to exit the stage, at least as recording artistes," he explains quashing any rumours that the group had broken up acrimoniously as some tabloids had suggested.
After a year long sabbatical, in 2006 Gidigidi joined the United Nations Environment Programme (UNEP) IT department. His second chance came in 2008 when the entertainment gods looked upon him favourably when the opportunity to go back into the entertainment industry presented itself. But instead of saying yes, Gidigidi said no.
"I was at a local football match when we got into an argument with several spectators, one of whom was Carol Radull, the then head of news at Kiss FM and presenter of the football show The Score. As the match concluded, she intimated that I had what it took to be a commentator on radio," says Gidigidi.
Gidigidi dismissed her comment but when the duo met again two weeks later at yet another match, Radull mentioned that Radio Africa was opening a sports radio station and Gidigidi should apply for a spot. Gidigidi declined her offer and only agreed after much haranguing from Radull and on condition that it was a one-off, as a guest in one of the shows. What Gidigidi did not anticipate was that the segment would auger extremely well with the fans and a week later, Radull called him back urging him to reconsider his stance.
Gidigidi halfheartedly agreed to come on board to host a four-hour Saturday show with several other people. Two months into his show, the management approached him to not only become a fulltime staff member, but also to co-host the morning breakfast show with veteran sports commentator – Jacob 'Ghost' Mulei, the former Harambee Stars coach.
"After some soul searching, I decided to give it a try. I figured if all else failed, I could always find my way back into the IT world," says the host. It's been eight years since and it seems failure was not part of the equation as the show continues to soar.
Unwilling to forget his humble beginnings in the entertainment industry, in 2015, Gidigidi started his own record label, Trendy Media Communication Limited. "I faced a lot of challenges when I went into music. I wanted to use my experience to lessen others' burden. I offer artistes a chance to record their music, shoot their video and a marketing team to push their music before they pay upfront because for a lot of talented upcoming artistes, finances can make or break one's career. It is only after the above has been achieved that we work on a revenue sharing mechanism," says Gidigidi who has signed on four artistes and continues to give artistes a platform through his show by creating a segment every Friday for both upcoming and veteran artistes to share on their projects.
Gidigidi is an avid student. Aside from finishing his Master's in Business (he hopes to graduate from Strathmore Business School this month), he is pursuing a post graduate diploma in mass communication while undertaking French lessons so as to be able to speak to his one-month-old daughter who lives with his girlfriend – a lecturer at a university in France – someday. He admits it is a challenging balancing act.
"It's a matter of sacrifice. Radio hosting isn't easy but the chemistry with my cohost makes it work. I am usually awake by 4am and in the studio by 6am. It's a four-hour, unscripted talking show with only songs for breaks in between so one has to think fast on their feet. Once the show is done at 10am, I take a break and then from 11am I attend French lessons till 1pm. In the evening I am off to Strathmore Business School and once that is done, I go home straight and sleep!" he breaks down his schedule.
To keep in touch with his family, he and his partner shuttle between France and Kenya every three months. When he does get some time to himself, Gidigidi confesses to indulging in his two favourite past time activities; listening to Rhumba and watching football.
Published June 2015