Tough times ahead as Yatani's budget projects strife
One does not require an advanced degree in Economics and finance to deduce that the 2021/2022 budgetary allocations is all bad news with a few tokens. Nothing in it is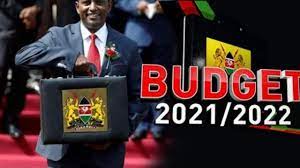 One does not require an advanced degree in Economics and finance to deduce that the 2021/2022 budgetary allocations is all bad news with a few tokens. Nothing in it is inspiring. What Yatani terms as a "recovery budget" has already been judged as the most uninspiring and offering no answers in the current tough times by both experts and critics.
A quick peek at the budgetary allocations for the fiscal year, gives one the general idea that the cost of living is just about to get much harder for the common mwananchi. With the borrowing capability of the government narrowing, the burden of raising the revenue has been passed to the poor taxpayers by imposing heavy tax duties that only leaves one with hopeless anticipation of what the future holds.
For starters, cooking is now going to be a costly affair. LPG is expected to be mire costly by about Sh160, a 16 per cent increase since last year. Equally, it is soon going to be a huddle to buy a loaf of bread after the treasury slapped a 16 per cent VAT on bread supply in the country, an amount that will have to be shouldered by the consumers.
Kalasha Writers' Hub- Kenya Film Commission graduate first cohort of film scriptwriters
The 20 Scriptwriters have undergone an intense four – week training based in Eldoret, Uasin Gishu County, by two notable Scriptwriters Ms. Mona Ombogo and Mr. Paul Ekuru. This has culminated in 20 individual scripts (10 for film and 10 for TV) as well as 3 group scripts (2 for film and 1 for TV).
Additionally, the jewelry industry will also be hit after it got slapped an excise duty of 10 percent making the purchase of rings, bracelets and necklaces more expensive.
This will not  be a good year to take loans as credit will now be expensive; following the treasury's 20% excise duty on administrative fee on loans. Baby formula will also be affected.
It is needless to say that parents will have to buckle up, downsize and dig deep into their pockets to keep their families afloat. Spending and borrowing are not going to be business as usual.
10 tips for female entrepreneurs
Fear of failure is a major factor influencing most women from venturing into entrepreneurship. The only way to overcome this is to just start.
On the plus side, health products are going to be more affordable having been given a tax exempt of 16%. VAT exemption to diagnostic and laboratory reagents, artificial respirators including therapeutic respiration apparatus, breathing appliances, gas masks as well as medical equipment and technologies used in the provision of medical services.
More good news to parents as diapers will now be more affordable. This following the tax exempt for import of raw material used in manufacturing diapers. Additional tax exempt was giving to local manufacturers of chocolate, bulk sale of internet data.
How to choose a daycare centre for your child
Daycare centres make it easy for parents to work without worrying about the safety of their children
The budget has been cleverly crafted by giving just enough incentives to keep Mr. and Mrs. taxpayers barely breathing. We can only hope that the suppliers of these basic consumptions will reciprocate by making their prices affordable.