We chose CHASTITY over SEX
In a generation bombarded with sex and related topics, remaining chaste during courtship is considered outdated. However, Steve Owuor, a musician, and his wife Martha Mbeke went against the grain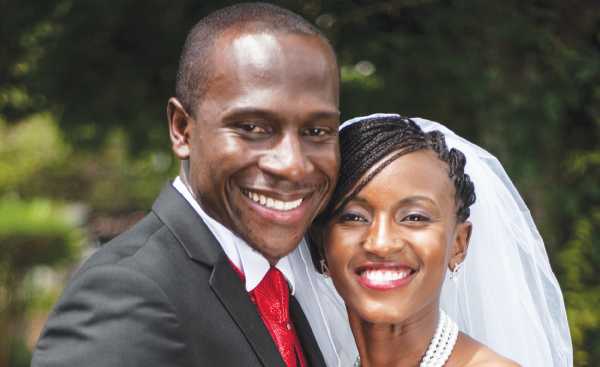 In a generation bombarded with sex and related topics, remaining chaste during courtship is considered outdated. However, Steve Owuor, a musician, and his wife Martha Mbeke went against the grain and instead chose to ride on the power of friendship as the core foundation for their relationship. The couple gets candid with ESTHER AKELLO about their courtship and decision to abstain from sex till their wedding night.
When Steve and Martha met in 2010, they never thought their chance meeting would amount to anything. "I was visiting one of my mentors who happened to be her sisters' husband. She walked into the house, briefly said hi and then left," recalls Steve.
That one meeting would mark the beginning of several other meetings and soon enough a friendship developed. "Martha and her sister are pretty close so chances of me bumping into her whenever I went to see my mentor were inevitable. We started getting chatty and by 2011, we had built quite the rapport," says Steve who started inviting Martha to some of his band practices and concerts.
Of purity and foundations
Towards the end of 2011, their conversations moved from the mundane day-to-day goings on of life and more towards their beliefs and future plans. It was then that Steve approached Martha on the possibility of them becoming an item. Martha requested for a couple of days to think about it before she finally agreed.
"Aside from his obvious good looks, the more we interacted, the more I realised just how focussed and passionate Steve is. Despite having a degree in geography and sociology, here he was pursuing his first love, gospel music," says Martha adding that Steve is a drummer and plays for several artistes and bands.
She further explains, "The biggest appeal was the fact that not only was he God fearing, but he also took the leadership role in our relationship. He is the one who suggested that we abstain from sex during our entire courtship. I was of the same opinion but the fact that I was in a relationship with someone with the same outlook made the relationship effortless."
To show just how committed they were to their declaration, the couple partnered with another couple and told friends of their commitment so as to remain accountable. They were also brutally honest with each other.
"Abstinence gave us a chance to build on our friendship without having to rely on physical attraction. We did have 'bad days' but even then, we would alert each other so as to avoid anything untoward in our interactions. During our entire courtship, we avoided petting and that includes kissing or touching each other aimlessly. The most we allowed ourselves were goodbye hugs," confesses the couple who are in their late twenties.
Steve dismisses the popular belief that a good relationship cannot be built on mystery hence the need to find out if one is 'sexually compatible' with their partner. "So, if you find you are not sexually compatible with your partner, do you go on 'testing' with others until you find your match? It is like drinking every bottle of wine to determine which one is the best. By the time you are done, you will be so drunk you won't be able to tell which is the best. Thankfully, there is more to a relationship than sex," he asserts.
Let's keep it simple…
On April 4, 2014, Steve took the plunge and after a simple dinner in a local restaurant, he pulled out the ring and asked Martha to marry him. She said yes immediately. While the couple confesses that they are not averse to flamboyant proposals, one of their life principles is to live within their means.
"If I had more money, I would have even arranged for an evening at an exclusive resort! However, we never try to pressure ourselves to do more than we can or try to compete with other couples. In fact, we had resolved that if by the time we were getting married all we could afford was a cup of tea and bread for our guests, then that was what we were going to do – offer them our best with the much we have," Steve explains.
Thankfully, despite their modest principle, the couple was able to put on a show on their wedding day at AIC Langata on April 4, 2015. Despite aiming for a budget of Ksh 530,000, they ended up raising Ksh 450,000 forcing them to slash their guest list from 600 guests to 500. Ironically, 700 guests showed up at their reception at the Nairobi National Park.
"Lucky for us, everything worked out just fine. Most of our needs such as food, transport, tents, gowns and suits were offered for free or were heavily subsidised by friends and family," concludes the couple.
Published June 2015