We Found Love in our Forties
Falling in love is often seen to be a preserve of the young. Not so for 42-year-old Benney Meshullam and 44-year-old Janet Nzilani. They both had all but given up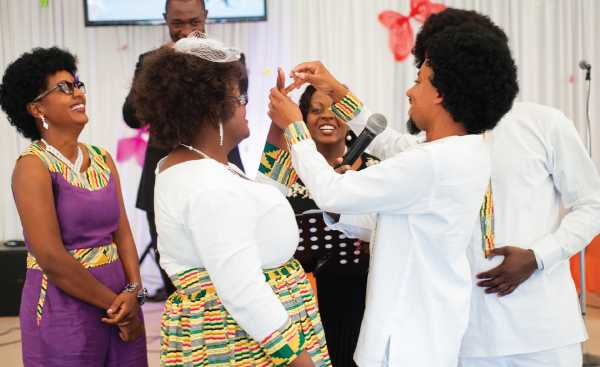 Falling in love is often seen to be a preserve of the young. Not so for 42-year-old Benney Meshullam and 44-year-old Janet Nzilani. They both had all but given up on love but today are a testament that the perception holds no water and love's doors are open to all. The couple gives ESTHER AKELLO the low-down on finding love, weathering opposition and their unique, 70s-inspired wedding.
In March this year, Benney Meshullam and Janet Nzilani became engaged. The two, who had never really interacted despite having seen each other several times in their church, made their love connection on Facebook.
"A road accident last year September had left me with a broken pelvis requiring a lot of bed rest for recovery. To keep myself busy, I spent a lot of time on the Internet, particularly on Facebook. There was this lady who would like almost all my posts and it piqued my interest," says Benney. Janet interjects, "I used to like his posts because I was impressed by his comical and positive attitude despite the accident ordeal. However, I didn't think harbour any romantic feelings, because I thought he was married."
One Saturday, Benney decided to chat with Janet on Facebook and the Sunday school pastor invited him to their church's new branch in Buruburu the following day. Janet says his response to her invitation left her amused. "Just a few months before, frustrated with mindless dating, I prayed that the next man who would claim my heart would engage me on our first date. In the course of our chat, I invited Benney to our church and he playfully said he needed to sleep early to prove that he could make a good husband. I then asked him if that was a proposal to which he replied in the affirmative."
Ironically, in January this year, a very single Benney had bought an engagement ring for his 'future' wife. The move to settle down had been long in coming. In 2006, a multi-million deal the graphic designer was working on fell through, stripping him of all his financial resources prompting even his girlfriend to walk out on him. Bitter, Benney swore off romantic relationships. He only realised how extreme his position was when one day his little niece innocently asked him where his wife and children were. The spell finally broken, he started praying for 'a wife of a noble character' as in Proverbs 31:10 (A wife of noble character who can find? She is worth far more than rubies).
As fate would have it, Benney and Janet never met in church that Sunday as Benney got the directions wrong. But they met a few weeks later and their discussions on that first meeting were centered on sharing on what they expected out of a good relationship. They also shared what many people consider to be deal breakers, for instance, the fact that Janet is a single parent to a 20-year-old girl and grandmother to a one-year-old girl. Benney, on the other hand, revealed he was recovering from alcohol abuse.
By the time their conversation was over, the two had decided they were good for each other and started courting. In March after only one month since meeting Benney proposed. Janet explains, "Benney and I were supposed to attend a concert but he waylaid us on the way there, opting to first take me to his parents' home. Everything was going great until suddenly in mid-conversation, he got on one knee and proposed."
When the couple announced their engagement to friends, the response was swift and mixed. "Although we were sure of our decision, our engagement made many people uncomfortable. A lot of people thought I made the decision hastily and ignorantly. When I told them my mind was fully made, they concluded I had backslidden," explains Janet, adding that the witch-hunt became so extreme that at one point she had to defend her integrity after someone accused her of cohabiting with Benney.
The protests, however, did not stop the couple from moving ahead and on Janet's birthday – August 28, 2016 – the couple was married at Mavuno Mashariki Church in Buruburu followed by a reception at the church's grounds. Their wedding ceremony was far from conventional. The couple rocked Afro hairdos with 70's inspired Afro-chic ensembles. Their menu was even simpler: cake, nyama choma, ugali and kachumbari.
"We wanted our wedding to be different and fun regardless of our age. While we met our budget of Ksh 300,000 to a large extent, we did not want to start our marriage with debt and so we cut out what we felt was unnecessary. Instead, we treated our 400 guests to a memorable reception" they conclude.