10 small balcony ideas you should try
Besides the functional uses of your balcony, it is also the part of your house that everyone can see.
A balcony is an outdoor extension of a building's upper floor supported by columns or console brackets and enclosed by a railing. The balcony is ideal for drying clothes, chatting with neighbors, and storing clutter. Besides the functional uses of your balcony, it is also the part of your house that everyone can see. As a result, you should make an effort to ensure that your balcony is not an eyesore. 
Here are some decor ideas to start creating a beautiful balcony.
Decorate with green scenery
Plants are the best way to decorate the balcony because add color and life. Before getting plants, it is important to consider how much direct sunlight your balcony receives before choosing a plant for your patio.  If you have larger plants, arrange them in the corners instead of the railing or the walkway's middle.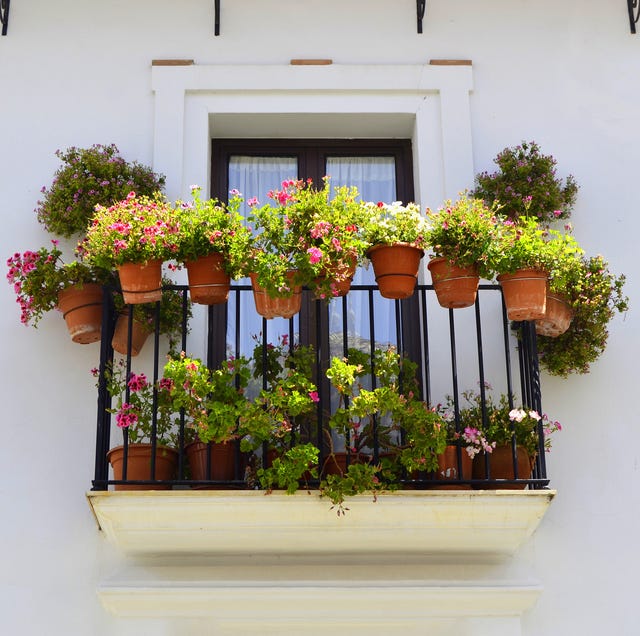 Decorate with chairs
Create a relaxing area on the balcony with a chair where you can sit and enjoy the breeze. You can also add a hammock chair to make the space more relaxing. It is both comfortable and elegant.
Spruce it up with a rug
A patterned rug or runner will enhance the look of your balcony. Make sure to select something that complements the other elements.
READ ALSO: Style your corridors with these decor ideas
Install artificial grass
Artificial turf is an excellent choice for your balcony due to its convenience and versatility. It makes your patio look elegant.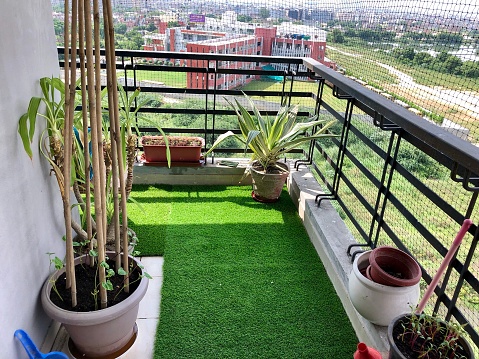 Add a foldable table
Add a small table and chair to your balcony for morning and evening coffee. Choose one that folds easily and can be stored inside if necessary. You can also build a shelf if you have limited space.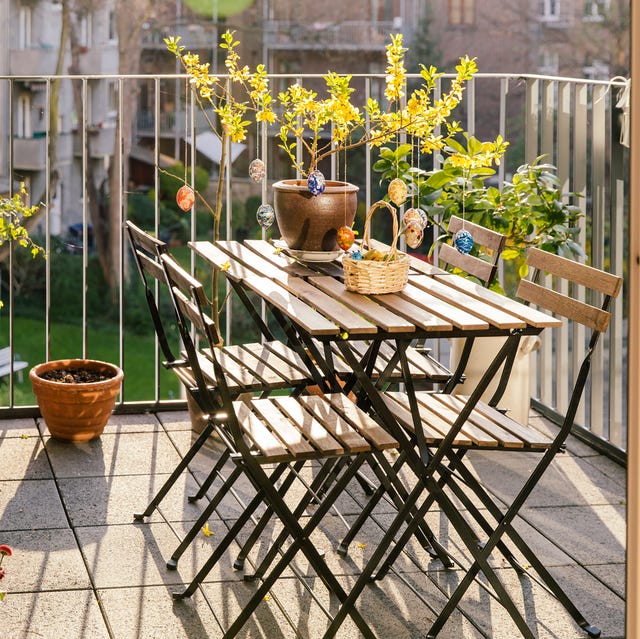 Use a lantern
Even if you have a lovely setting, adding a couple of lanterns enhances the appeal of your balcony.
Lanterns add light and are also beautiful. When choosing a lantern, pick a design that accentuates the rest of your decor.
Make use of wall space
Hang planters or weatherproof art to make your balcony feel like an apartment extension. The wall space will make the balcony stand out and add character to the area. You can also put shelves and place your plants.
Use pillows
Get some colorful and comfortable pillows to create a relaxing atmosphere. Go all out with cushions and make your balcony cozy.
A pillow works just fine if you cannot invest in outdoor furniture pieces.
Make use of the wall
If your balcony is up against your neighbor's, add a glass wall or plants to create some privacy. Privacy is essential to help you achieve comfort while hanging out on your balcony. You can also add tall plants like bamboo to create a natural wall.
Use string lights
String lights are perfect for a balcony. They are pretty aesthetic and create a beautiful, cozy space. You can roll it on your balcony rails or hang it on the wall.
When decorating a space, the goal isn't simply to create something beautiful. What matters most is that you end up with a space you enjoy spending time in to relax.
While decorating your balcony, concentrate on what you want to be able to do in this space, and build your decor scheme around that.
Grab an exciting of Parents Magazine here