10 -YEAR COURTSHIP culminates in marriage
Imagine proposing to the girl of your dreams and in response she blurts out the name of another man! Awkward, right? That is what IT specialist Stephen Mungai had to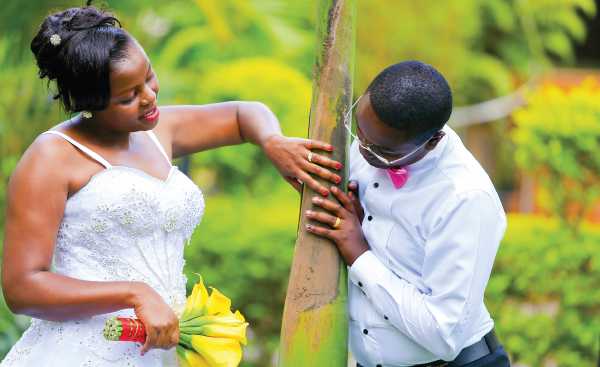 Imagine proposing to the girl of your dreams and in response she blurts out the name of another man! Awkward, right? That is what IT specialist Stephen Mungai had to endure – albeit for a few minutes – when he proposed to his girlfriend, Lina Bahati, at the scenic coastal environs of Mombasa in November 2014. The couple shares their decade-long courtship journey that culminated in marriage with ESTHER AKELLO.
The last thing 28-year-old Lina Bahati expected to do when her boyfriend of nine years, Stephen Mungai, proposed was to call out another man's name in response. "A lot of things were happening at once. First of all, we were supposed to be having dinner in celebration of my birthday just the two of us in Mombasa. Little did I know that on my way there, my friends would pop out from every nook and cranny! When Mungai was proposing, one more friend appeared behind him and what was I to do? Of course, I blurted his name in astonishment," Lina explains of her innocent gaffe.
Mungai quickly interjects, "Much to my dismay. I was still on bended knee!"
Mungai and Lina met when they were teenagers in 2005. It was attraction at first sight. "I had just finished my fourth form studies and my aunt and I decided to go and check out what happens in the youth service at the AIC Ziwani in Nairobi," Lina recalls adding cheekily that being a teenager, she highly approved of the number of handsome men in the congregation. Among the eligible youth was Mungai, who was also the MC during the service and his task included announcing and welcoming visitors.
"We were celebrating one of the congregants birthday and I remember insisting that Lina's plate should never be empty!" Mungai quips.
That initial meeting turned into friendship and a steady relationship ensued the following year. "We blended naturally. I always found it quite a task to strike a conversation with a lady but with Lina, I didn't struggle," Mungai, 31, says. They were at home with one another and talks of marriage always featured in their tête-à-têtes.
"I had not yet undertaken my undergraduate studies by then but I entertained the idea of marriage and raising a family," says Lina adding that Mungai was employed at the time. In hindsight, Lina says choosing education over marriage was the best decision she made even though it became a bone of contention in their relationship for sometime.
Mungai adds, "She got swept up into the intrigues of campus, preferring the company of new friends which brought some tension into our relationship. At some point, I wondered if someone else had caught her eye. Thankfully, we were able to iron out gray areas once we opened up about it."
They also resolved to only get married once they were both earning a living. This meant years of waiting but it was a decision they were willing to see through. And so in November 2014, Lina having graduated as well as having a secure a job, Mungai proposed. He describes the whole proposal process as one of a kind.
"We agreed to buy our wedding rings in Mombasa but by the time I was ready to propose, I did not know what ring size to purchase and neither did Lina's friends," he recalls.
Mungai confesses that he was reduced to buying himself a ring and then trying to get Lina to put it on so he could estimate her size. Given that Lina was not given to jewellery, convincing her to wear a man's ring was an uphill task. And when he finally managed to get an engagement ring that fitted her well, he lost it minutes before he got down on one knee.
"I was not even aware the ring had fallen out of my pocket until a friend presented it to me as I was preparing to propose. Coincidentally, he had taken the same path I had taken and recognised it instantly as I had shown it to him previously," he explains.
Despite the mishaps, Lina admits the proposal was a pleasant surprise. "It is really difficult to get anything past me and after nine years, I did not think Mungai could pull a fast one on me," says the banker.
On November 21, 2015, in front of 500 guests, the couple exchanged their marriage vows in a garden wedding at the Nairobi School. With a budget of Ksh 620,000, the couple says their expectations were surpassed.
"When we were planning our wedding, we did not know whether we would meet our target for our dream wedding but we prayed about it and God provided. Our parents friends and committee remained faithful and carried us through," concludes the couple.