Body of miner retrieved from Bondo goldmine after seven months
By Martin Ronoh Therewas delight and anguish in Abimbo, Bondo, after the body of 25-year-old Tom Okwach, a gold miner was recovered seven months after being  alive at the Abimbo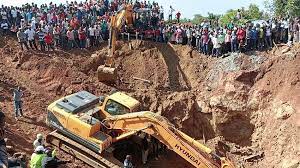 By Martin Ronoh
Therewas delight and anguish in Abimbo, Bondo, after the body of 25-year-old Tom Okwach, a gold miner was recovered seven months after being  alive at the Abimbo mines.
Okwach was one of eight miners who were buried by debris around 20 feet from the shaft's entrance when it caved in on December 2, 2021. Eight of the miners were rescued while one, Enos Ong'onga, was found dead and his body was retrieved on December 5, last year.
A team of 15 artisanal miners excavating a tunnel near the collapsed mine discovered Tom Okwach's corpse on Sunday morning at about 2 a.m. The retrieval of his body now brings to two the fatalities in the ill-fated mine.
Nakuru teen killed by stray police bullet
Whitney and her friend had gone to the salon when they were struck by stray bullets as police conducted a crackdown on the Confirm gang.
Speaking to Nation Africa, Mr Fred Ogunde, an uncle to Mr Okwach confirmed that miners had finally retrieved the body of Okwach from the collapsed mine.
"They informed us early in the morning that the body of the Okwach has been retrieved and we are heading to the place to collect it for burial. This is a major step towards ensuring that the family gets closure after several months of pain and uncertainty," said Mr Ogunde.
Okwach's family had been decrying neglect by the government which forced them to sell properties including livestock to facilitate the search for their kin.
The edition that celebrates fathers!
Commentator extraordinaire, Hassan Mwana Wa Ali graces our cover with his wife and son in our June issue. He takes us through his 10-year journey in the media industry, marriage life and his heart's desire to mentor young people.
Featured Image:KBC