Rayhab Gachango: Leading lifestyle blogger
By Harriet Ogayo Theyear is 2016. Among the major Kenyan headlines, a Kenyan had emerged fourth in the global Miss World competition; there had been a complete overhaul of the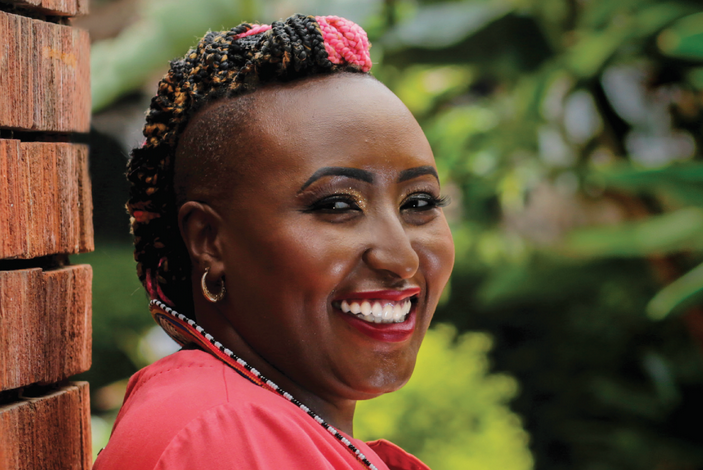 By Harriet Ogayo
Theyear is 2016. Among the major Kenyan headlines, a Kenyan had emerged fourth in the global Miss World competition; there had been a complete overhaul of the education system; a hairdresser had withdrawn 100 million from a bank without question; and Harambee Starlets have made history by qualifying for Africa Cup of Nations.
While all these made headlines countrywide, another story: Have you met the Muthaiga map guy? took Kenyans by storm. It might not have made it to mainstream news but anyone on the Kenyan blogosphere must have come across it.
The story, which chronicled the drama that transpires in the Nairobi dating scene, was a hit among netizens due to its very relatable and hilarious nature. As it did rounds on social platforms, so did more and more people come to know of the award-winning blog potentash.com and the brains behind it, Rayhab Gachango.
Unlike most people who teeter about wondering what they would do with their lives, Rayhab had an inkling of what she wanted to do from early on. Besides acing her compositions, her novels were a hit among her classmates in high school. Storytelling came easy to her.
She has her grandfather and mother to thank for this gift. "I loved books, which were always provided for me. I grew up in a family where I was encouraged to be creative. My grandfather, who was one time moderator of the Presbyterian Church, was also a writer and a poet and he'd write wedding poems for people and for several publications as well. One of my uncles is also an artist," she shares.
"I had always wanted to be a journalist because I believed that to be a good writer, I needed to be a journalist. Plus, when I saw how people enjoyed my 'Mills and Boon' stories in high school, I knew that that is what I would do with my life – tell stories," says the Moi Girls School Nairobi alumni.
Naomi Munyi: Trail blazing in the insurance maze
Naomi Munyi is the general manager, strategy and innovation, at ICEA Lion Group and the highest-ranking female officer in the organisation. With three decades in the industry, it has taken grit, sacrifices and hard work to get to this position.
With the conviction of becoming a writer, she went on to Daystar University for a diploma in print and electronic media. "As I was doing my diploma, I realised that I liked telling stories but not gathering news. News felt impersonal while I wanted to dig deeper and tell people's stories," she recalls.
After that, a degree in advertising followed. "I had developed an interest in marketing after high school and since communication is not limited to just sharing stories but also convincing people to try new things, I realised it was also something I was passionate about as well. While there I also did elective courses in psychology because I wanted to understand how people work, which has been very instrumental," she explains.
The desire to tell stories led her to share her pieces through Facebook notes and just like in high school, her pieces got a lot of traction and friends hounded her to start a blog. This was in 2009.
At the time, she was working as a sales representative for a cigarette company and to be able to keep up her blog, she would wake up early, write a blog, post then prepare for work. If an idea popped up during her rounds, her best bet was taking down notes.
From this experience, Rayhab strongly feels that anyone who currently wants to start a blog has no excuse as smartphones have simplified the whole blogging process.
With help from her blogger friends and Bloggers Association of Kenya (BAKE), she was able to start a blog on blogger.com before moving to her own domain – potentash.com in 2013. She continued to work as she blogged on the side before quitting in 2015 to focus on her blog full time.
Fred Waswa: Making waves in the pension business
Fred Waswa is the founder and CEO of Octagon Africa Financial Services Ltd, a formidable force in the pensions sector. He speaks with HARRIET OGAYO on his career trajectory, which is a testament of his entrepreneurial spirit.
The inspiration behind the name of her blog is three-fold: One is the potent cigarette ash; two is the phoenix rising from the ashes narrative and three, a book of anthologies written by two Kenyan authors titled Potent Ash.
Although she started by writing creative pieces, her blog has morphed into a fully-fledged lifestyle blog, which deals with health, relationships, entertainment, fashion and finance among others. The creative pieces have not been left behind as these remain at the core of the blog.
Born and raised in Nairobi, Rayhab draws her inspiration from everyday life. "The point of the blog is to tell people – 'hey, here's something fun to do with your time, here's how to do it with a budget' and so on. It's information that you can use daily because we are a lifestyle blog that targets Africans, more so Kenyans. You will literally find information about everything that pertains to lifestyle. Potentash is meant to help you live your best life," says Rayhab of her award-winning blog.
The X-factor, she believes, is that her blog is relatable, centred around people and helps people become better. Potentashhas also, over the years, had a great team of writers.
Like many other creatives, one of the biggest challenges for Rayhab is earning from her craft. "For me, Potentash is a passion project; if I was doing it for the money, we would have closed up shop a long time ago as I would make more money in the corporate world. If you want to make money from your blog, you need strategies to create partnerships with brands you'd like to work with. Understand that with blogging, there are dry months and months where you're cashing in," she says.
Her other challenge is that Africa's creative economy still lags behind as the creatives themselves are bombarded with so many things such that their creativity is not maximised. "In Kenya, for example, there aren't a lot of people who would invest in artists as they do with real estate so that artists are left to do what they do best without worrying about bills and what not. The luxury of just creating is not there. Most creatives have to have other jobs to pay the bills," she says.
According to her, this is why people compromise their artistic integrity by bowing to the pressure of creating something that will pay bills.
With her desire to always acquire and share knowledge, Rayhab is keen on helping others harness their writing skills and have a platform to showcase their creativity. She has now entrusted the writing to her team of writers who are skilled in different lifestyle topics, referring to her now decade-old blog as a 'stepping stone'.
Even then, she is still very much involved with the blog as she is tasked with editing all the blog posts before they are published, writing proposals and doing the social media strategy.
Jihan Abbas: Revolutionising the insurance sector
Jihan Abbas, 26, is the founder and CEO of Griffin Insurance, the first digital car insurance company in Kenya. She speaks with MONICA MBOGO on changing the game in the insurance sector.
Her blog, she says, caters to everyday people as she tells the stories of ordinary folk whose stories would not necessarily make it to mainstream outlets. She particularly enjoyed doing the 'Pearls and Heels' and 'Man around Nairobi' series as she was able to profile everyday Kenyans whose stories she felt needed to be told.
Admittedly, all her skills have come in handy in making her blog what it is – a multiple award-winning blog, which has also been nominated under the best lifestyle blog of the year category for this year's BAKE Awards.
"Every skill that I have has helped in one way or the other to make potentash.com an above-average blog. Whatever you learn is never lost," she says emphatically.
Rayhab, who is currently pursuing her Master's degree in development and corporate communication, is looking forward to the next phase of her life, which she hopes will be in community development or corporate communications. "I have no qualms about leaving Potentash to be run by someone else; it will always be close to my heart but I believe others can take it further than I have," she reveals.
She is also looking forward to writing children's stories, which have an African feel.
"We grew up learning about things that we only interacted with when we were older. There are few authentically African children's book yet if we want to instill that reading culture from a young age, we need to have something they can relate to," she opines.
For Rayhab Gachango, her biggest strength is her love for learning new things and also sharing that knowledge through training and mentoring, either formally or informally, as well as ensuring that her blog and other endeavours inculcate inclusiveness and respect to all. That, and reading, travelling, dancing and eating make her life tick.
This article was first published in the June 2019 issue of Parents Magazine
The edition that celebrates fathers!
Commentator extraordinaire, Hassan Mwana Wa Ali graces our cover with his wife and son in our June issue. He takes us through his 10-year journey in the media industry, marriage life and his heart's desire to mentor young people.