CHARLES MUGO Proves disability is a state of mind
                  Charles Mugo's life changed forever when he fell from a tree when he was 16 years old. He lost the use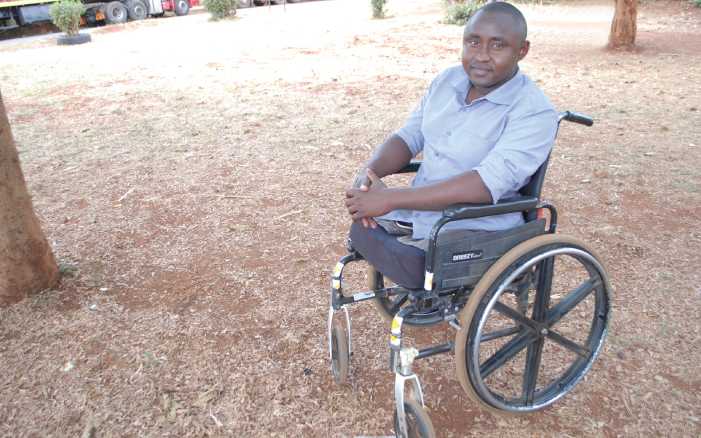 Charles Mugo's life changed forever when he fell from a tree when he was 16 years old. He lost the use of his lower limbs and an infection later on necessitated the amputation of both his legs. The handicap, however, did not dampen his spirits for Charles is full of optimism. His story, as narrated to LILY RONOH-WAWERU, demonstrates that commitment and motivation can defeat even the greatest of barriers.
From the onset of this interview, which takes place at one of the back offices in the Thika Post Office building where he works, Charles Mugo makes it clear that he does not wish to elicit sympathy; rather, inspiration.
He is very assertive and this is overt from his speech and body language. I ask him whether he was born with the disability.
"No. I was able-bodied. I attended primary school in Molo, Nakuru County, but later on transferred to an academy in Nandi County where I sat for my Kenya Certificate of Primary Education (KCPE).
I was an above average student and I did well in KCPE, earning a spot at the prestigious Kapsabet Boys High School. I come from a fairly humble family and education meant so much to my parents and I because we knew it was our ticket out of poverty. Being the last born in a family of eight siblings, all attention was on me and everyone strived to ensure I got a good education," Charles allows us a sneak peek into his past.
Charles' parents were then residing in Murang'a after being evicted from their home in Molo during the 1992 post-election violence. While studying in Nandi County, Charles used to stay with his elder brother who was based in the county.
However, he would travel home to his parents over the long December holidays. It was during the April holiday, while staying with his brother, that Charles' life would be changed forever.
Photo courtesy of Charles Mugo
"The year was 2002 and I was in form two. I looked forward to a fun-filled holiday. What I didn't know was that the fun would turn tragic and leave an indelible scar in my life. My brother used to stay near a forest and together with my age mates, we would go in search of firewood in the forest.
One of our past time activities was to climb trees and pluck firewood from dry branches. On this particular day, I wandered off in the forest alone and I climbed a tree. It was a bit dry and it made the perfect candidate for firewood. Up and up I went, stepping on one branch as I held onto the one on top. Unfortunately, one of the branches I held onto was weak.
No sooner had I held it than I heard it squeak. Things happened so fast and before I knew it, I was floating in the air. I hit the ground with a thud. From far off, I could hear people speaking before everything went dark," the 30-year-old recalls.
Long walk to healing…
When he came to, the first thing he saw was a white ceiling, then pipes going in and out of his body before his face finally rested on a familiar face; his brother. It took him a moment to figure out where he was and how he had gotten here.
The last memory on his mind was him atop a tree. A sharp pain on his legs and back halted this train of thought and it was then that he was told he fell from a tree and that he was at the Moi Teaching and Referral Hospital in Eldoret.
In his mind, he figured he would be at the hospital for only a few days after which he would be discharged. Days turned into weeks but there was no mention of him going home. To add insult to injury, he started noticing that his legs were growing numb. Another thing that weighed heavily on his mind was school.
"I was still in hospital when schools opened for the second term. I loved school and I felt so bad that school was going on without me. However, I saw a light at the end of the tunnel when I was referred for physiotherapy at the National Spinal Injury Hospital in Nairobi.
No one had so far told me about the extent of the injury despite the battery of tests that I had gone through. I thought that the National Spinal Injury Hospital would be the place where I would regain the use of my limbs. How wrong I was! My hopes were dashed when I met individuals with even direr injuries than mine and I knew all was lost," he explains, adding that the illness had taken an emotional and financial toll on his family.
Photo courtesy of Charles Mugo
After a month at the hospital, Charles was able to use a wheelchair and carry out basic chores by himself. He was discharged and he went to stay with another brother in Molo.
Here, his frustrations grew and he became a recluse. He was angry with God, angry with himself and angry with everyone and anyone around him. He yearningly watched as his brother's children went to school.
This was not the life he had dreamed of. This was not in his life's script. For the rest of that year, 2002 that is, his world revolved around the small room he had confined himself in at his brother's home.
From the frying pan and into the fire…
Then the year 2003 came and while many had New Year plans and wishes, all Charles wished for was to be able to regain the use of his lower limbs. The pain was now completely gone but his legs were weak and numb.
Around February 2003, he developed pressure sores on his feet that developed into wounds. He was taken to the Molo District Hospital and a simple hospital visit meant to clean the wounds turned into nine months of excruciating stay at the hospital.
 Many a patient came and went leaving him at the hospital bed that had become his home.
They say every cloud has a silver lining. The saying proved to hold water, as it was during this hospital stay that Charles would form camaraderie with a doctor, Dr John Murage, who developed interest in the 17-year-old after he noticed that he was a bright boy.
"The doctor started asking me about school and whether I was interested in education and I said yes. I told him I would go back to my former school once healed. He then told me that would not be possible and that I would need to enroll in a special school.
I laughed in denial, as I had not yet accepted that I would never walk again. I told him it was of no use discussing about education, as my parents were not in a position to take me to school. He then asked if I would go to a special school if someone offered to pay my school fees and without meaning it, I said yes," he recounts.
In December 2003, nine months after being admitted at the Molo District Hospital, he was discharged. Dr Murage had connected him with a nun, Sister Mary McHale, who agreed to sponsor his education.
In February 2004, Charles reported at the Joytown Special School in Thika to resume his studies. It took time for him to adapt to the new school but this did not put a damper on his performance in school. Within no time, his winning streak was evident as he led in all exams.
"I joined the school in form two and I challenged the status quo in terms of performance. I finally settled down. However, during the third term in form three, I started feeling something was amiss with my body.
I felt weak, had grueling pain around the hip area and couldn't feed well. I spent most of my time sleeping at the school's sickbay. The school called my dad and I was taken to AIC Kijabe Hospital where I collapsed on arrival.
I was immediately admitted and further tests revealed that I had a wound at my hip joint that had affected the bones around it. My left leg was the worst affected and it had to be amputated," he explains.
His family at first resisted this recommendation from the doctor but Charles was in so much pain that they had no choice but to agree. It took two months for Charles to be well enough to go under the knife.
The surgery to amputate his left leg took 11 hours. He was wheeled out of the theatre and into the high dependency unit and the journey to recovery began. Just as he was settling, the doctor gave him another shocker: the right leg was also affected and it had to go, too.
For Charles, he had gone through so much in the past four years, sometimes even staring at death in the face that there was little that could shake him any more. He agreed to the operation admitting he was ready for anything that would take the pain away. And so his right leg was amputated. He lay prostrate for months thereafter as he recovered.
Hope restored…
While people thought Charles had given up on life given he was without his lower limbs, his will and desire to live and succeed despite his condition had doubled with the amputation.
Photo courtesy of Charles Mugo
The pain was gone and that was all that mattered. Once out of hospital, he went back to school for his final year. He put his best foot forward which paid off as he scored an impressive C+ in the Kenya Certificate of Secondary Education.
After form four, he desired to go to college and his ever-supportive sponsor, Sr. Mary, was at his beck and call. He enrolled at an IT college in Thika and Sr. Mary ensured all his needs were met.
"It wasn't easy to say the least but I did not want my situation to define my future. I started with a certificate course then proceeded for a diploma that I completed in 2010, and then a job hunt started.
I unsuccessfully made applications in so many companies that I lost count. In May 2012, I received a call from the Postal Corporation of Kenya asking me whether I was still interested in the job I had applied for. Of course I was and I told the caller as much. I attended the interview at the headquarters in Nairobi.
Five months later, in October to be precise, I reported at my new workstation at the Thika Post Offices where I work to date. I was finally able to support my family," he explains.
In 2015, Charles went back to school for a Bachelor's degree in business management. After this interview, Charles took me on a tour of Thika town. As he led the way in his wheelchair, there was no doubt in my mind that disability is only a state of mind. [email protected]
Buy a copy of the October issue to read this and many more