Childhood neighbours tie the knot
Daudi Mwaniki, 29, an engineer, and Evalyne Mwaniki, 24, an hotelier, grew up together. The childhood neighbours went their different ways when they joined high school but as fate would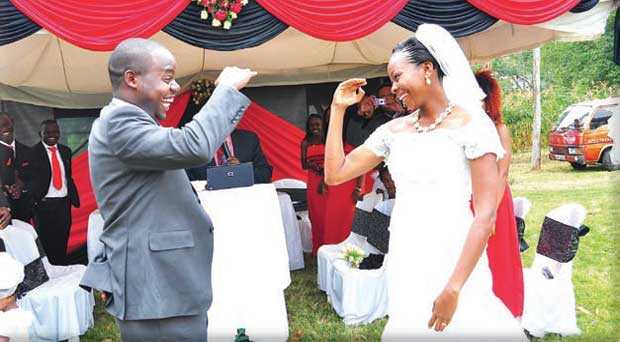 Daudi Mwaniki, 29, an engineer, and Evalyne Mwaniki, 24, an hotelier, grew up together. The childhood neighbours went their different ways when they joined high school but as fate would have it, they reconnected later and a love blossomed. They share their beautiful story with Esther Kiragu.
Daudi Mwaniki and Evalyne Mwaniki grew up in the same neighbourhood in Gachoka, Embu. They both went to school away from home and lost touch with each other, but their paths crossed later at a most unexpected time and place.
"I was walking my friend home in Nairobi's Ngara Estate one evening in September 2009 when I bumped into Evalyne on the street. I recognised her and stopped to say hello. I didn't read much into our meeting but was just excited to bump into her after a very long time. I suggested we meet to catch up and I asked for her phone number," recalls Daudi.
Evalyne says she was surprised to bump into Daudi on the street but was happy to see him. Daudi called her, as he had promised, and they met severally, each time finding a lot to catch up on since their childhood days.
"I valued each interaction with Evalyne and was amazed at how mature she was and how her values and beliefs were so much in sync with mine. I felt very comfortable around her and the more I saw her, the more I liked her. I took a leap of faith when I asked her to be my girlfriend in 2010. She didn't disappoint me," says Daudi.
Dating and courtship…
Evalyne and Daudi started dating, spending a lot of time together doing fun things and meeting friends. "The more time we spent together the more it dawned on me that I wanted to spend the rest of my life with her. She scored an A on all the things I considered important in the woman I wished to marry," says Daudi.
"Daudi treated me with respect and care and with time I grew deeply in love with him," adds Evalyne.
Surprise proposal and wedding…
When Daudi felt ready for marriage and was sure he had the woman of his dreams, he bought an engagement ring and waited for the perfect moment to propose to Evalyne. One day in March 2011, he invited her to his house and cooked her a sumptuous meal. The two were enjoying lunch and each other's company when all of a sudden Evalyne noticed that Daudi was on one knee. "I cried in disbelief as I joyfully accepted the engagement ring," recalls Evalyne amidst a chuckle.
From that point they involved their parents and dowry negotiations and other arrangements were set in motion. A wedding date was set in consultation with their families. The couple held a red and black themed garden wedding on August 18, 2012 at the Nairobi Pentecostal Bible College grounds in Garden Estate, off Thika Highway.
Their wedding cost Ksh 450,000, which was financed through their savings and contributions from friends and family. A wedding committee made up of close friends and family members helped them to organize the wedding, which turned out to be a most memorable occasion. The couple flew to Diani, South Coast, Mombasa, for their honeymoon.
We wish the couple a happy marriage!
Published in December 2012