CSOs name political aspirants who should be barred from general elections
Civil Society Organizations under the banner of the National Integrity Alliance (NIA) have called on electoral vetting institutions to exercise their mandate and bar all corrupt and unethical aspirants from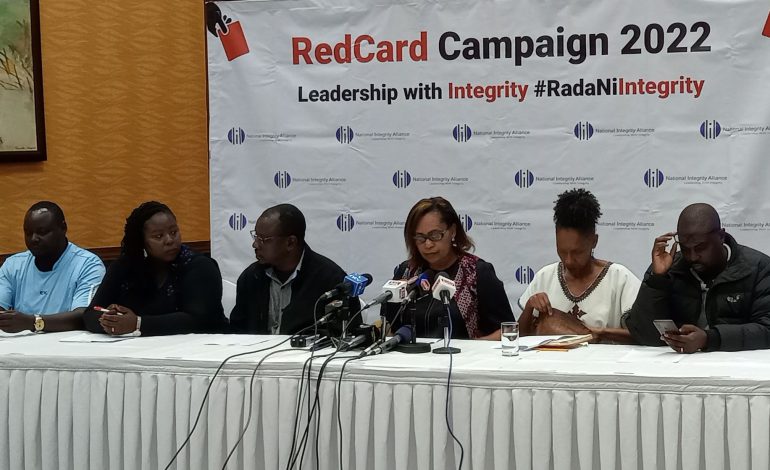 Civil Society Organizations under the banner of the National Integrity Alliance (NIA) have called on electoral vetting institutions to exercise their mandate and bar all corrupt and unethical aspirants from vying in the August 9 General Elections. In a press conference on Sunday, the CSOs mentioned twenty five political aspirants that they said have integrity issues and should not be elected for the respective seats they are vying for.
Among the aspirants mentioned were Aisha Jumwa who is eyeing the Kilifi county gubernatorial position, Ann Waiguru who is eyeing the gubernatorial position in Kirinyaga County, Babu Owino who is vying for the position of MP in Embakasi East.
The six representatives from Transparency International Kenya, Inuka Kenya Ni Sisi, Uzalendo Trust, The Institute for Social Accountability and Kenya Human Rights Commission based their arguments on rulings made by courts as the basis of fighting for public accountability so that Kenyans can get effective public services from their elected leaders.
"Let us just do it now and deny anyone who has been charged in court that opportunity to remain at the ballot and seek another public office or the same public office," said Sheila Masinde, Director Transparency International, Kenya.
Masinde further said that particular counties have suffered by loosing development opportunities because of absentee leadership who had to answer charges in courts or were attending to impeachment proceedings in either county or senate assemblies.
"When you have leaders who lack integrity, whether it is passing high taxes instead of curbing illegal expenditure of the executive they allow it, they raise debt ceiling then they come and tax Kenyans to death," said Wanjiru Gikonyo from The Institute for Social Accountability.
Chilling video of pupils crossing busy road should be a wake-up call
The risks posed by Waiyaki Way calls for everyone to be cautious while crossing it. The road is a potential death trap not only to children going to and from school but also to adults trying to access their workplaces.
The CSOs also called on respective authorities responsible for investigations to remain objective so that Kenyans can get justice regardless of which political divide the named political aspirants are on.
According to the NIA, the cost of electing such leaders is borne by citizens through broken promises to provide effective public services, like increase in the cost of living due to rising food and fuel prices in the country. Furthermore, NIA said the country is losing a third of its budget annually to corruption and caving under a high level of public debt.
The edition that celebrates mothers!
Radio Citizen presenter Jeridah Andayi graces our May cover with her three children as we celebrate mothers all month long! Even with her busy schedule and the many hats that she wears, her role as a mother is the one she cherishes most.