Dr. Damaris Parsitau: Using her voice to promote gender equity
Dr. Damaris Parsitau does not take it for granted that she managed to scale the echelons of education despite growing up in an era where education for girls in her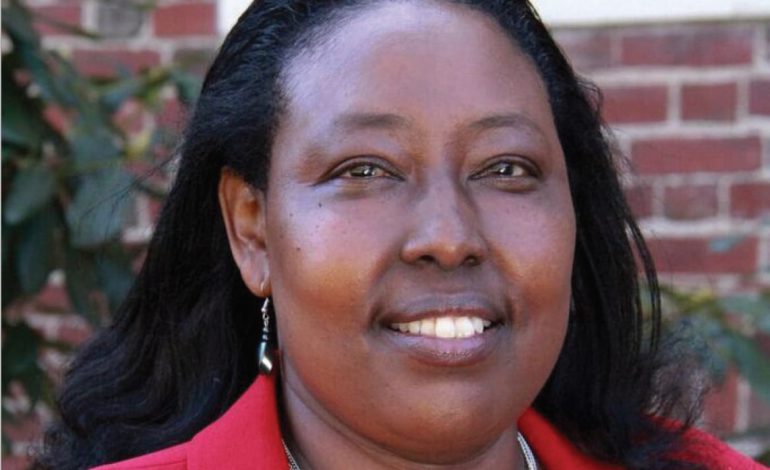 Dr. Damaris Parsitau does not take it for granted that she managed to scale the echelons of education despite growing up in an era where education for girls in her community was not a priority. She tells LILY RONOH-WAWERU how she is using her voice and space to uplift not only girls from her Maasai community but also from other parts of the world.
When and where were you born?
I like to think of myself as timeless but if you insist, then I am middle-aged. I grew up on the foot of Ngong Hills.
Who was the most influential person to you as a child?
I grew up at a time few girls or even boys went to school. I did not have the typical role models that many young people have today. As a grown woman, I realise that I am who I am today because of the values that my family and community passed on to me. Such values include respect, empathy and compassion, a sense of community, truthfulness and authenticity.
As an adult, I am inspired by the Obamas and in particular Michele Obama and her work around women empowerment and girls' education. I am also inspired by the late Wangari Maathai and her activism around environmental issues and peace building. My biggest inspiration comes from the millions of women around the world who shoulder incredible responsibilities for their families without breaking down.
How would you describe yourself as a student?
I was a brilliant student and that's probably how I was propelled to keep going from grade to grade. Girls who failed their exams in my village made it easy for parents to give them up for marriage. Hence good grades can be used by marginalised girls as a bargaining tool to progress in their education.
The invisible burden women shoulder for society
In most households, and especially in the African setting, it is considered women's natural obligation to take care of the home and generally others– Feed the baby, cook, clean, take care of the sick etc. This idea is deeply entrenched in our culture but at what cost?
In my schooling years, the illiteracy level in my community was very high and this posed a challenge. I longed for my mum to help me do homework but she did not go to school neither did the people around me. This is what drives my desire to see that Maasai people: men, boys, women and especially girls get life-saving education.
Take us through your academic and work journey.
After high school, I joined Egerton University in 1988 as a Bachelor of Arts student. After my undergraduate, I was hired as a teaching assistant by Egerton University and as part of the university's staff development policy, I was granted a scholarship to pursue an MA at the University of Nairobi, which I completed in 2000.
I was thereafter employed as an assistant lecturer. In 2008, I registered for a PhD degree at Kenyatta University and graduated in 2014. I slowly but surely rose through the ranks to become a senior lecturer and I am currently awaiting to be conferred associate professorship.
In 2012, I was appointed Director of the Institute of Women Gender and Development Studies where I served for two terms, which ended last year.  Between 2017 and 2019, I worked at the Brookings Institution in Washington DC and Harvard University as an Echidna Global Scholar as a Research Associate fellow and Associate Professor respectively.
I have also held visiting research fellowships at the University of Cambridge in the UK, University of Edinburg in Scotland and University of South Africa. I am also an affiliated scholar to a number of universities in the USA and Canada.
Carole Osero-Ageng'o PROMOTING Gender Equality
[https://parentsafrica.com/content/images/wordpress/2015/02/201502-real-people-osero-agengo.jpg] The place and status of women and girls have been compromised since timeimmemorial. Patriarchal system ensured that women were subjugated and anyefforts to liberate them were thwarted using any means possible. …
What was your role as the director of Egerton University's Institute of Women, Gender and Development Studies?
My role was to provide leadership to staff and students, manage and direct the day-to-day activities, represent the institute in Senate and Deans committee and serve as chair of the institute board among many others. The institute has academic programmes all the way from short certificate courses to diploma, undergraduate and post-graduate (MA, PhD). Besides, there are lots of social and community-based programmes that we engage in such as gender mainstreaming, leadership development, student and community mentorship programmes and outreach services.
What are the common forms of abuse that you come across in your day-to-day work?
I come across many issues affecting girls including sexual harassment, physical and gender-based violence, spousal and child neglect, university student mothers, sexism and many others. We have put systems in place to address some of the challenges with the support of university management such as creating a space where girls, men and women can find justice, voice, affirmation, and all kinds of support.
Speaking of gender-based violence (GBV), how do we stop it from happening?
We have policy and legal instruments in this country to help fight GBV but the problem is that it is deeply rooted and embedded in gender inequality and power imbalances between men and women. It is hard to uproot deeply embedded norms but political good will, education and sensitization targeting men and boys may help to reduce it.
Undoubtedly, strides have been made in empowering the girl child. What challenges are girls from your community facing presently?
Many girls are still not enrolling in school, transitioning through grades and completing schools. Social and gendered norms, teenage pregnancy, lack of community role models, teenage pregnancy, poverty, preference for boys and many other challenges stand in their way. But we are seeing good signs of change.
You are passionate about empowering women and girls. What specific things have you been engaged in to ensure the realisation of this?
I started transformational leadership development programmes for women and youth to help bring out their potential. I also mentor women, girls and youth to grow and gain both voice and agency as well as train women on business, climate change, public life and work.
Education for girls is very dear to my heart and as such I started the Let Maasai Girls Learn initiative through which I seek to create a world where Maasai girls acquire education and skills they need for their livelihoods. Using my personal story, I work with community leadership to sensitize the masses on the importance of girls' education.
I also use my voice and leverage on the power of social media to speak about girls' education, gender-based violence, women and leadership, women and work, relationship spaces and reproductive health and rights.
Has the boy child been sidelined in an effort to empower girls?
There are tensions with boy children but beyond the usual cliché that boys are left behind, data does not actually point to this. Boys still hold a certain advantage in the Kenyan society compared to girls. But there is need for programmes targeting both genders. However, in my particular case of Maasai girls, they face greater challenges than Maasai boys and that is why I focus on them. I am also working on leadership development for boys and young men.
Any challenges that you have had to overcome as a woman in leadership?
Women face huge challenges in their quest for leadership. Beyond the usual organisational politics, sexism and toxic work spaces where strong women are considered a threat by 'some' insecure male colleagues. I am lucky not to have encountered many challenges as a female leader.
On the contrary, I have always received huge support from my seniors, many of them males. I try not to look at challenges through gender lenses or as a war between men and women.
Six women that broke gender barriers in the legal profession
Getting to the top position has always been tough for women everywhere in the world. However, the women in this list have proven that it is not impossible.
How do you ensure you stay on top of your game career wise?
I work like crazy. My kids worry that I have no social life. I travel a lot to attend conferences, trainings and capacity building workshops. I read widely and engage colleagues globally. I have massive networks spanning the globe and I am always on top of what is going on in my field. Every day to me is a journey of work, deadlines self-discovery, self-improvement and striving to become a better person both personally and career wise. I heavily invest in myself so that others can draw from my personal investments.
What advice would you give to young women venturing in leadership position?
There is no easy way to leadership. Young women must heavily invest in themselves so as to grow and remain on top of their work. I tell women to get themselves a good education, attend conferences and workshops in their field, go for further training, travel and gain different perspectives, be open minded and strive to be the best you can.
On the same note, love yourself, practice self-care, grow, eat well, exercise and make informed choices. I believe women can have a family, a good education and great success. We can have it all and we can grow holistically. More importantly, get yourself a mentor: one who will walk with you in your career trajectory. I have mentors who have walked this journey with me for the last 15 years.
What life lessons have you picked along the way?
That I can be anything I want to be and that it doesn't matter where you are from. I have also learnt that women are strong and resilient people. More importantly, I have learnt that women should lean on each other and should stop the mean girl syndrome. A society that invests in women prospers and there is huge evidence to support this.
What role has your family played in molding you into the person you are today?
My family has played a great role in my life and everything I do, I do it for them or because of them. I am a single mum of two – my daughter Grace Naiserian, 26, is a trainee lawyer awaiting admission to the bar. She works with a law firm in Nairobi. My son, John Osteen, 22, just finished his undergraduate degree at Strathmore University and is the CEO of his company – Duara Analytics.
From very early on, I set out to be the best mother in the world for my children and a good role model. I wanted them to grow to be good human beings who are grounded in values of respect, kindness, compassion, ethics and integrity. I also ensured they are morally and spiritually grounded.
What's your biggest achievement, yet?
Being a mom has been my biggest pride and I am grateful for the gift of children and of being the vessel that God used to raise them. I say this with respect and sensitivity to women who have no children either by choice or otherwise.
This article was first published in the January 2020 issue of Parents.
Read our latest issue here:
The edition that celebrates mothers!
Radio Citizen presenter Jeridah Andayi graces our May cover with her three children as we celebrate mothers all month long! Even with her busy schedule and the many hats that she wears, her role as a mother is the one she cherishes most.