FAITH WATARI Healing through therapy
Faith Watari is the founder of the Hermitage Therapy Centre, which provides clinical based therapy for children with different challenges including neurological and physical disorders, learning disabilities and psychological problems.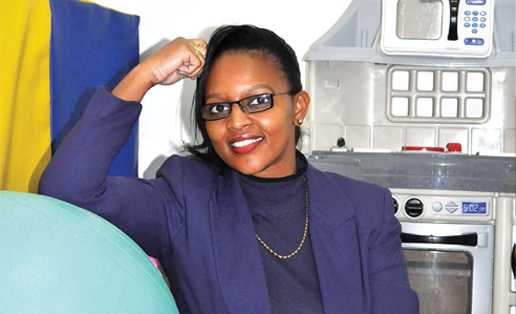 Faith Watari is the founder of the Hermitage Therapy Centre, which provides clinical based therapy for children with different challenges including neurological and physical disorders, learning disabilities and psychological problems. The centre also rehabilitates adults who have neurological disorders arising from strokes and injuries. Faith has had her share of success and loss in her therapeutical services as she shared with MWAURA MUIGANA.
Faith Watari was thrust into her profession through baptism with fire on her return to Kenya as a fresh graduate from a university in the US armed with a Bachelors of Science degree in occupational therapy. She recalls her first patient, a small baby from China adopted by a Chinese couple working at the US embassy in Kenya. The couple had excitedly gone to the airport to receive their baby only to find their bundle of joy had delayed milestones. The baby couldn't sit unsupported or even hold up her neck yet she was one-and-a-half years old.
The couple had not seen the baby prior to the adoption and were devastated by her condition. Faith was astonished to see the distressed couple and their baby and had to first take them through counseling to contain their shock and accept their child before embarking on intensive therapy with the baby for an initial period of eight months. Through therapy Faith hoped to strengthen the
baby's thin lower legs and get her to smile because she had never socialised with other children, having been in an adoption home in China since her birth.
Faith was the hope the couple and the baby hinged on. Though unsure of success herself due to the baby's condition, she soldiered on and did her best.
"It was a miracle to see the baby bloom, crawl, get speech and achieve other developmental milestones. Watching the couple change their attitude and accept the child was the greatest achievement," says Faith adding that through training their house help on how to care and give therapy to the baby, she got so involved with the family and developed a close bond with them. This helped the baby's quick recovery.
"I recall one day when the couple brought the baby for therapy and she walked in unaided. That was a beautiful moment that I will never forget," says a beaming Faith. However, reality soon dawned on her that even after giving her best in her work, things could still go wrong. Her low moments were often very low.
She recalls attending to three children who had serious health challenges and who eventually became very special to her. She had so much hope that their condition will improve, and it did, but sadly they all died one after the other. It was heartbreaking.
Fulfilling a childhood dream…
Seeing these children die made Faith almost doubt her wisdom in going into occupational therapy. Being a health care provider was her childhood dream. She was sure she didn't want to be a doctor or nurse because of their unpredictable working hours. She longed to work in a health care area that would allow her normal working hours.
She was helped by her father to enroll at the Kenya Medical Training Centre (KMTC) for a three-year diploma programme in occupational therapy. She graduated in 1999 and soon after left for the US to pursue a degree in occupational therapy. She studied and worked as an occupational therapist for three years. She was tempted to remain in the US and continue working because the money was good but was intent on returning to Kenya to give service to her country
"When I returned to Kenya in late 2002, I was raving to go. Apparently, at the time, I was the fifth person with a degree in occupational therapy in the country. Majority of therapists had diplomas and certificate level of education. All the same, getting a job was difficult but looking back it was a blessing in disguise," she says.
With a little research and through word of mouth, she realised there were many children and adults who needed occupational therapy, yet didn't understand it's importance and had resigned themselves to fate.
Although many people were aware of physiotherapy (the use of physical exercise in the treatment of pain, disease, or injury), very few people knew about occupational therapy (the use of purposeful activities that are therapeutic for children and adults who have lost independence in their life skills due to an illness, injury, or birth defect). Occupational therapy helps those afflicted to be independent in their lives as far as possible.
For instance, there are many children with learning difficulties and parents and teachers may not know that they can be helped through occupational therapy. Faith set out to create better understanding among parents, schools and society on how occupational therapy works and that it is vital for a person who needs help to get it.
Offering therapeutic services …
Faith started with home and school based services where she would go to schools and homes to take care of her patients. She would discuss the best therapy approach with teachers and parents so they could work together to help the children. Her goal remained to open a centre where these children could come to, and their parents could interact and share experiences.
She imported sophisticated therapy equipment from the US and set up Hermitage Therapy Centre at Kabarnet Court on Kabarnet Road, Nairobi, in June 2011. She started providing clinical based therapy for children with different challenges including neurological and physical disorders, learning disabilities and psychological problems.
She still provides home and school-based therapy and is always happy to assist teachers understand children who may be experiencing difficulties in learning. This helps the teachers learn how to instruct the children in an easier way since she equips them with information and resources and then makes weekly follow-ups.
"One of the perfect examples is a child with autism who is now enrolled in a regular school through the centre's advice. We worked closely with the child's teachers and he learnt to sit quietly in class. He is now able to learn and read like any other child. He still attends sessions at the centre to learn how to concentrate," says a proud Faith.
A taste of her medicine…
Faith's greatest fear as a therapist was giving birth to a child with brain damage and when she got pregnant this fear grew by the day. She had all the necessary pre-natal tests and scans to ensure all was well and it was, until at the time of giving birth to her daughter Manuela in 2009.
According to her paediatrician, the baby went into major distress and had a high heartbeat. Faith had to be rushed for an emergency caesarean, as the baby had passed stool in her uterus, which is often fatal. When the baby was born, she wasn't breathing and had to be resuscitated. Luckily, her baby's life was saved.
The most difficult period was the first six weeks of the baby's life when Faith didn't know whether her baby suffered brain damage at birth, but after this period it was easy for her as a therapist to look out for signs. When she started noticing normal milestones she was mentally settled.
"I feel this was God's way of teaching me that whether one has a child with brain damage or not, He remains sovereign and is always in charge. The experience taught me to appreciate all the over one hundred children that I offer therapy to. It doesn't matter whether they are able to pay or not because I consider all like my children. When parents bring them for therapy sessions, I usually tell them that for the next one-hour or so, I will be the mother and they should not worry about their care. We have become part of these children's families and are often invited to their birthdays," says Faith with a smile.
Manuela has become a beacon of hope to other children at Hermitage, as Faith frequently takes her to the office so that she can understand her mother's work. She interacts with those receiving therapy at the centre and acts as role model to them.
"The children try and copy what they see Manuela and other able-bodied children doing and this is part of therapy. This is particularly useful in play therapy that helps children learn how to socialise with others. Different therapists work as a team to put together games and activities of playgroups comprising about four children. The children are encouraged to take part in the activities," explains Faith.
A home a way from home…
One of the unique services at Hermitage Therapy Centre is the sensory integration therapy done in a spacious multisensory room designed to help a child concentrate. It provides a very quiet environment that is dimly lit but the child can still see. There is soft music and a hammock where a child can lie down and rest. There are also lights of different colours, a piano that glows in darkness so that the child can play, a glowing chalk for the child to learn to write with in the darkness and markers that glow in darkness. In this environment the child is able to block out all the things that interfere with how they process information.
The centre also specialises in neuro-developmental therapy – a specific way of handling children with physical disabilities like delayed milestone, cerebral palsy or other physical challenges. Neuro-rehabilitation is more about training the muscles to move in the right way. If a child is not able to learn how to balance, she is trained by strengthening her muscles to get motor coordination.
The child is trained in all the developmental milestones that every child goes through from head control, sitting, rolling, crawling, walking and running. She is also trained on fine motor or muscle movement so as to be able to write, colour and use their fingers to do little activities such as buttoning their clothes, dressing and going to the toilet.
The centre gets many referrals from schools. These are mainly children who can't write, coordinate their bodies properly, have behavioural issues, poor concentration or are unable to understand when taught. There are also children with basic cognitive challenges and can't understand concepts such as the alphabet, how to do a puzzle, how to write, or just can't understand numbers or why a colour is yellow and not red.
In addition to working with children, the centre also works with adults who have neurological disorders such as stroke rehabilitation, hand therapy, arthritis and traumatic brain injury.
"The joy of an occupational therapist is when they see a child able to walk, ride a bicycle, play with other children, or an adult with disabling injuries helped back to independence in at least one area such as bathing. Knowing that God has given me this work for a purpose – to help the children and simply be part of their lives and not to ask why they have the disability, is what keeps me going," Faith concludes.