Government bans public gatherings in new Covid-19 containment measures
The government has banned all public and in-person gatherings in new Covid-19 containment measures that were announced by the Cabinet Secretary in the ministry of health, Mutahi Kagwe. During the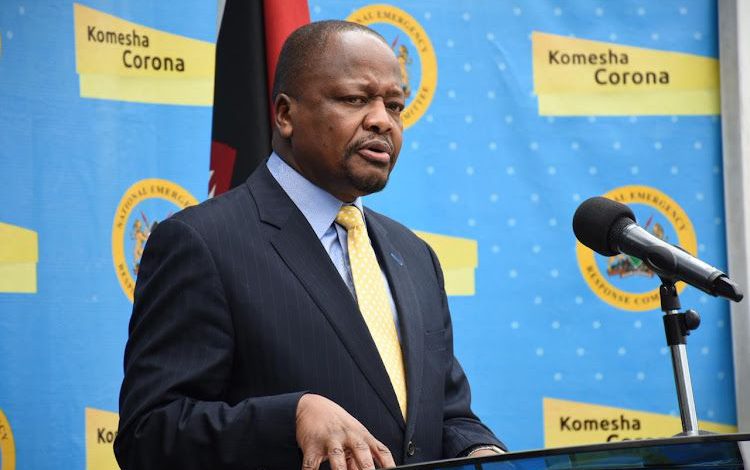 The government has banned all public and in-person gatherings in new Covid-19 containment measures that were announced by the Cabinet Secretary in the ministry of health, Mutahi Kagwe. During the address, the CS lamented that containment measures placed by the government "seem to have been abused" prompting the issuance of the new guidelines.
Other guidelines revealed during the address was an encouragement for teachers to get vaccinated against Covid-19 as well as a directive for counties to increase oxygen supply. Moreover, the CS upheld the ongoing nationwide curfew between 10.00 p.m and 4.00 a.m including the counties in the lake region.
Health CS Mutahi Kagwe during the briefing. (Image/The Star Breaking)
Also, religious gatherings are to be conducted with one-third capacity in accordance with the interfaith council guidelines on Covid-19. Further, the CS directed that public and private sector employees be directed to work from home with an exception of employees in essential services.
SEE ALSO: Delta variant more lethal and highly contagious, warns CDC document
The CS also strongly cautioned Kenyans against self-medication and encouraged them to seek treatment from qualified healthcare personnel.
The new containment measures are expected to slow down the high rates of infection witnessed in recent days, a situation that has been blamed on the Covid-19 Delta variant.
Kenya has so far registered 99,941 confirmed Covid-19 cases and 3,895 deaths with a positivity rate of 18 per cent.
September 2010 cover models Salome and daughter Daniella on being featured by Parents Magazine
As we celebrate our 35th anniversary, we take you back and have a talk we our former cover models. Salome Nyoro and her daughter Daniella were featured in th…