Justice Philomena Mwilu Nominated For The Deputy Chief Justice Position
  The Judicial Service Commission has nominated Court of Appeal judge, Lady Justice Philomena Mwilu for the Deputy Chief Justice position. Lady Justice Mwilu's name has been presented to President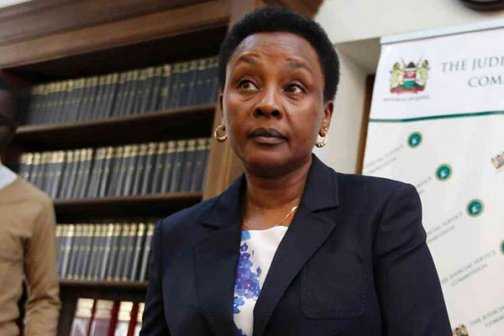 The Judicial Service Commission has nominated Court of Appeal judge, Lady Justice Philomena Mwilu for the Deputy Chief Justice position.
Lady Justice Mwilu's name has been presented to President Uhuru Kenyatta who is expected to present it to parliament for debate.
If successful, Lady Justice Mwilu will become Kenya's third Deputy Chief Justice, succeeding retired Justice Kalpana Rawal.
LADY JUSTICE PHILOMENA MWILU IMAGE:COURETSY
Fast facts on Lady Justice Mwilu;
1. She is a University of Nairobi graduate and was admitted as an advocate of the High Court of Kenya in 1984.
2. She practised law in Muthoga, Gaturu & Company and later Mutunga & Company Advocates.
3. She was appointed a Judge of the High Court in 2007.
4. She has also served in the following offices
•Commercial Division in Nairobi's Milimani High court.
•The Civil Appeals section of the Eldoret High Court,
• The murder section of the Criminal Division
• Environment and Land Division of the High Court.
Read Also: Meet Kenya's Nominated Chief Justice David Maraga