Kenyans demand justice for 15-year old who died in school
A section of Kenyans held a peaceful demonstration in Nairobi Yesterday to demand justice for Ebby Noelle Samuels, a 15-year-old who died in 2019 in school under mysterious circumstances. At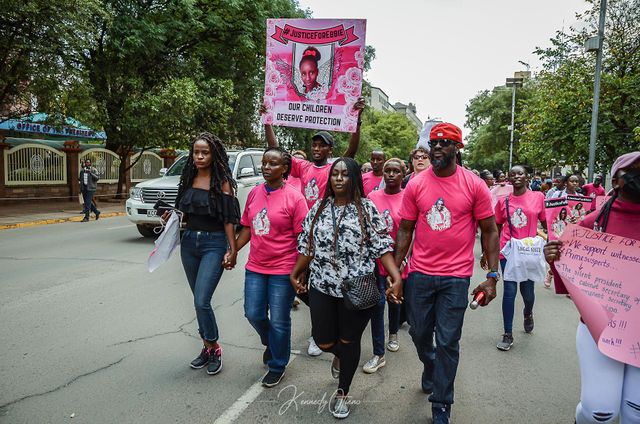 A section of Kenyans held a peaceful demonstration in Nairobi Yesterday to demand justice for Ebby Noelle Samuels, a 15-year-old who died in 2019 in school under mysterious circumstances. At the time of death, Ebby was a form one student at St. Anuarite Gatanga girls formerly known as Gatanga CCM.
Speaking during the demonstration, Ebby's mother Martha Wanjiru, said that the death of her daughter has caused a lot of pain to her family especially since no arrests have been done, three years since their daughter died.
She also condemned the administration of St. Anuarite Gatanga girls for giving false information about the cause of her daughter's death.
Wanjiru's efforts to have justice for her daughter may be soon rewarded after the DCI revealed that the investigation on her daughter's death are in advanced stages.
Through a long post released on the DCI's social media pages, it emerged that on the night of her death,  Ebby had been beaten severely by a senior teacher of the school for wearing a hair style that was contrary to school rules. The revelation matches the autopsy report that revealed that Ebby died as a result of blunt force trauma inflicted on the head contrary to claims by the school's administration that she was sick.
the account given by the school administration. The team has established that on the fateful night, Ebby had been assaulted severely by a senior member of the school's administration on allegations that her hair had been styled contrary to school regulations.
— DCI KENYA (@DCI_Kenya) April 6, 2022
A section of the post by the DCI
The DCI further revealed a possible conspiracy by the school's administration to cover up the details of what happened adding that deterctives had resorted to visit students in their homes, away from the glare of the school's administration, to gather evidence.
Closure of school as learners object loss of colleague
Pemwai Secondary School has been closed indefinitely following students' protest over the demise of one of their own citing administrative negligence.
Featured image:Nublaq Creative