Kenyans react to viral video of back-to-school 'sanitization'
A video of high school students being sprayed using a knapsack sprayer  to disinfect against COVID-19 is raising concerns on social media after it went viral. This comes after the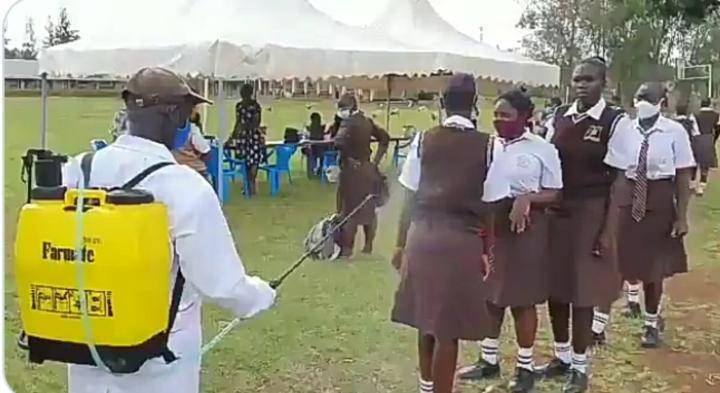 A video of high school students being sprayed using a knapsack sprayer  to disinfect against COVID-19 is raising concerns on social media after it went viral. This comes after the ministry of education directed that grade four, class eight and form four students resume learning on Monday, 12th October after a reduction of  COVID-19 cases.
The video, which shows students from a yet unnamed school lining up to be disinfected by a masked man with a knapsack sprayer, has not only raised concerns over the preparedness of schools to comply with safety protocols but also the health of the students being 'sprayed like cows', as one Twitter user put it.
Kenyans on social media came out in droves to question the move given that sanitization of clothing has been dispelled as effective against the spread of the coronavirus.
This has distressed me. pic.twitter.com/j3XA0juSyf
— COmbeta (@OmbetaC) October 12, 2020
According to the World Health Organization(WHO) and the Ministry of Health, spraying booths or sanitization chambers are not effective as the coronavirus is spread through contact with droplets when an infected person coughs or sneezes.
Additionally, the chemicals used to disinfect pose a health risk as they can irritate the skin, respiratory tract and the digestive tract. According to the Africa Union Centre for Disease Control, ultimately these chemicals could do more harm than good by aggravating transmission due to the damage to the respiratory tract.
Here's what Kenyans had to say:
@BravinYuri
When we say CS Magoha has no plan of keeping our students safe, they say we don't want students to go back to school. How is this keeping the students safe? What kind of chemical is being used? You are all gonna kill our students even before Coronavirus does
@jeffr.ey14
wapelekwe tu cattle dip,  juu sioni tofauti😂😂😂
If this is true , then it is DESPICABLE. What type of people are we? This is not only dangerous but totally unnecessary. We should know better. I feel sorry for the school children. Where is this?
— Dr. Alfred Mutua (@DrAlfredMutua) October 12, 2020
@masiga_maurice
Uon should just construct a cattle dip hapo kwa gate
@jonteymwaniki
All in the name of acquiring education ndio baadae upewe wheelbarrow na mkokoteni ama kazi mtaani ndio usikuwe idler. SAITAN!!!!
Totally unnecessary and pretty wrong. Students with allergies or respiratory ailments will definitely be affected by the spraying. Besides, how often will that be done? Simply a PR exercise 🙄
— Ian Mbugua (@IanMbugua) October 12, 2020
@diogene_matu
This process won't even last a month
This act is barbaric and shameful.. Being sprayed on like animals in a slaughter house is uncalled for and is a clear indication of how backward and unprepared we are to curb the sprade of COVID-19 …'Damn HUMANS'
— Odongo Arnold (@Odongo__arnold) October 12, 2020
Similarly in March 2020, such a move sparked outrage in India where migrant workers were  sprayed with disinfectant chemical as health officials in protective suits used hosepipes to douse them in disinfectant.
Parents Magazine ePaper
Read an ePaper copy of Parents Magazine. Caring for you and your family.