KENYANS REACTS TO PHOTOS OF FORMER CONJOINED TWINS FAVOUR AND BLESSING
Incredible photos of former conjoined twins Favour and Blessing, thriving smashingly well just three months after their surgery have got Kenyans online cooing over the beautiful twins. Favour and blessing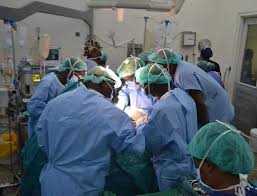 Incredible photos of former conjoined twins Favour and Blessing, thriving smashingly well just three months after their surgery have got Kenyans online cooing over the beautiful twins.
Favour and blessing underwent the historic inaugural 23-hour surgery in November 2016 where over 50 specialists joined forces to make the surgery a success.
In the photo the twins are seen smiling and standing with the support of an unidentified woman.
These are the most recent images showing the outcome of the surgery and three months therapy.
The twins' case remains one of the most complex successful surgeries done at Kenyatta National Hospital and in Africa.