Key moments from 59th Madaraka Day celebrations
Kenyans commemorated the attainment of self-rule as they marked Madaraka Day yesterday. Here are some key moments from the celebration, which took place at Uhuru Gardens. President Kenyatta's track record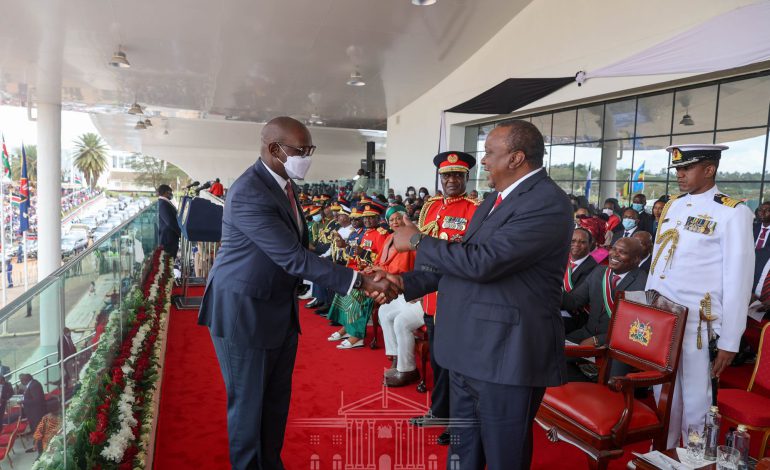 Kenyans commemorated the attainment of self-rule as they marked Madaraka Day yesterday. Here are some key moments from the celebration, which took place at Uhuru Gardens.
President Kenyatta's track record
President Uhuru Kenyatta stated that his administration invested heavily in various projects meant to be engines that drive the country into a more just and prosperous future. The projects he mentioned are infrastructure, digitization in the delivery of public services, transformation programs, and reforms in healthcare. His list continued with education, agriculture, energy, titling of land, housing, social protection, affirmative action, commerce and industry, and ease of doing business.
While speaking during the celebrations of the 59th Madaraka Day celebrations, the head of state hailed the over 11,000 Kilometers of road network built during his administration. He additionally noted that his scorecard surpassed what the previous administrations combined, including the colonizers, built in 123 years in matters roads.
President Uhuru Kenyatta at Uhuru Gardens during 59th Madaraka Day Celebrations. Photo credit/ State House
"Our world-class infrastructure, from iconic elevated expressways to floating bridges, has put Kenya on the global map. As a result, we have distinguished ourselves as an investment destination of choice, a regional and continental hub, and a leader on the African continent," he said.
President Kenyatta who is on his last term said when his administration assumed office in 2013, the late former president Mwai Kibaki had set the bar high but with some days left to the end of his two terms, he is sure that the bar is higher for the fifth president who will be elected in the August poll this year.
"Whereas we are claiming progress, we do not  claim perfection. Yes, we have made commendable progress on our socio-economic front, but we cannot claim to have reached the pinnacle of our nation's potential.  There is much more to be done to move our nation to the next level of development," he added.
The celebrations which were held countrywide after they were halted due to COVID-19 for two consecutive years, also saw 3,908 inmates pardoned under the Presidential Prerogative of Pardon. The inmates consisted of petty offenders and inmates who were serving sentences of less than three months.
"I, therefore, direct that their sentences be commuted by the end of next week in full compliance with all legal procedures and processes and in cognizance of the inmates' individual probation report," said president Kenyatta.
Activities for your family on Madaraka day
There are activities that your whole family can take part in while inspiring your children to take pride in their Kenyan heritage.
Bilateral ties
The Chief Guest, Sierra Leone President Julius Maada Wonie Bio reaffirmed his country's commitment to strengthening bilateral ties with Kenya in the spirit of peace-building.
"Our two nations have stood together in war, in peace, and solidarity. We have pursued a collective agenda and continue to deepen cooperation and bilateral at the multilateral levels," said Wonie Bio.
He further commended president Uhuru Kenyatta's great work in the country, especially on electricity, infrastructure, health care, education, food, security and growing the country's economy. According to him, the developments have set precedence for what is possible in Sierra Leone.
"We are therefore also here to strengthen our ties with Kenya in areas of international cooperation, peace and security, wildlife and tourism, ICT and education and trade and investment,"  he said.
Recipients of the prestigious awards
President Kenyatta conferred State Commendations to the following distinguished Kenyans:
Former State House Chief of Staff and Head of Presidential Delivery Unit, Mr Nzioka Waita, Moran of the Order of the Golden Heart (MGH)
Mr. Paul Ndung'u, Moran of the Order of the Golden Heart (MGH)
Brigadier Carolyne Mutisya, Elder of the Order of the Burning Spear (EBS).
Dr Khisa Weston Wakasiaka, Moran of the Order of the Burning Spear (MBS).
Brigadier Joseph Maina Murashia, Elder of the Order of the Burning Spear (EBS)
Mr. Polycarp Otieno Onyango, Moran of the Order of the Burning Spear (MBS)
Major Hussein Athman Washenga, Order of Grand Warrior (OGW)
Ms.  Mwangi  Jane Nduta, Order of Grand Warrior (OGW)
Prof David Sang Kiprop, Moran of the Order of the Burning Spear (MBS)
Ms. Nyariki Alice Kwamboka Order of Grand Warrior (OGW).
Overall celebrations
The event gave at least 30, 000 thousand Kenyans a five-minute opportunity to wave the country's flags as the president inspected a Guard of Honour mounted by a detachment of the Kenya Army, Kenya Air Force, and Kenya Navy Defense Forces under the escort of the Chief of Defense Forces of the Kenya Defense Forces, General Robert K Kibochi.
Grade 3 and 4 under Competency-Based Curriculum learners from 11 schools in Nairobi making a total of 500 pupils graced the occasion dressed in white t-shirts, shorts, socks, and rubber shoes as they danced to the tunes of various patriotic and cultural songs. Young rapper, Trio Mio also graced the event and was climax of the entertainment segment.
The edition that celebrates mothers!
Radio Citizen presenter Jeridah Andayi graces our May cover with her three children as we celebrate mothers all month long! Even with her busy schedule and the many hats that she wears, her role as a mother is the one she cherishes most.
Featured photos: State House