Fred Waswa: Making waves in the pension business
Fred Waswa is the founder and CEO of Octagon Africa Financial Services Ltd, a formidable force in the pensions sector. He speaks with HARRIET OGAYO on his career trajectory, which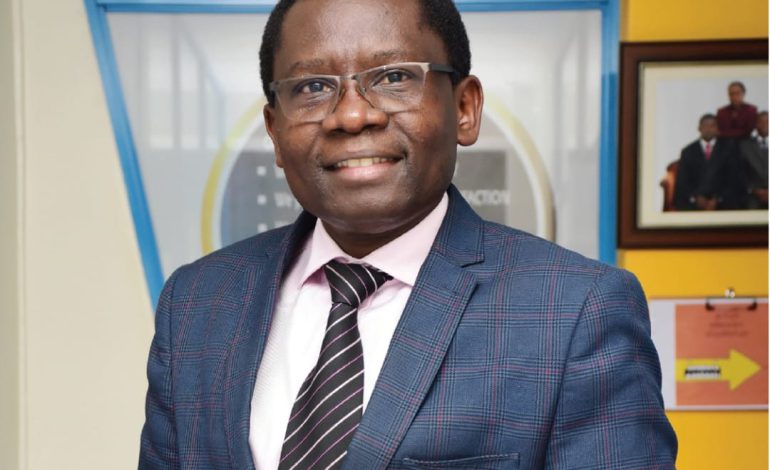 Fred Waswa is the founder and CEO of Octagon Africa Financial Services Ltd, a formidable force in the pensions sector. He speaks with HARRIET OGAYO on his career trajectory, which is a testament of his entrepreneurial spirit.
Fred's story bears the hallmarks of most successful entrepreneurs – determination that almost seems to surpass logic, readiness to take risks, innovativeness, an entrepreneurial spirit and hard work. That and an unwavering faith in God, all which you can tell within minutes of speaking with him, are the foundation of his success.
Born and raised in Bungoma, he and his seven siblings had a pretty normal life. His late dad, who was an employee of East African Railways, and his mother, a former primary school teacher, ensured that they were comfortable although he cheekily recalls going barefoot sometimes to fit in with some of his schoolmates and the ensuing lashing from his mother.
While he was keen on pharmaceutical or agricultural careers, he shifted gears while in high school when his mathematics teacher advised him to take up actuarial science and paid for the first exam, which he passed.
Tips for taking women-owned businesses to the next level
Some of the solutions include unsecured LPO financing of up to KES 6M and unsecured loans of KES 6M with up to 60 months repayment period.
Naturally, he did not think he would find money to pay for the rest of the qualifying papers considering it had been a challenge to acquire school fees after his father passed on in 1982. All the same, he was certain that God would come through for him when the time came.
After A-levels, he started teaching and being the first born, he was driven to help his mother offset school fees for his siblings.
"That's when I started thinking about entrepreneurship. I realised that there was a market for radios in my hometown and I bought some and sold them at a markup. It played into the stereotype associated with my people but it worked for me," he chuckles.
When his results for A-levels came out, he was selected to pursue a Bachelor of Science degree, which he almost turned down. His mother's prodding, however, had him packing to the University of Nairobi in 1987 where he majored in statistics.
After graduating, he dipped his toes in several ventures; he taught at a polytechnic and assisted in a research project by the Kenya Sugar Board where he believes he picked up knowledge on consultancy as he waited to start his Master's degree programme.
A few months into his Master's degree, he got a letter from Pioneer Insurance to join them as an actuarial trainee. On January 1, 1991, he reported for his first day of work, quitting his job at the polytechnic. With his good fortune, having landed a permanent job, it was only logical that he got a wife.
Making less, spending less and saving more
Are you aware that you can spend that little amount you get and still have some to save?
His younger brother introduced him to his would-be life partner and in December that year, they got married. To boost their finances, he started Katwa (named after his wife) Services and later on Frest Business Solutions with a partner from his church who saw to the day-to-day operations.
Seeking more challenging responsibilities, he got a job at Fidelity Shield Insurance in 1993 where he started work as a pension administrator, the springboard to his lifework as he realised he was much more interested in this area, only for that to change six months down the line.
"My boss thought that I was underutilising my skills there because every time he gave me work, I would be done in record time and ask for more.  He made several calls which landed me at Aon Minet as an underwriter," he explains.
Although it was the biggest company dealing with pensions at the time, he did not get a chance to work in pension administration. His inimitable work ethic eventually earned him 'best employee' in 1995.
In 1996, in a bold move, he told his boss about his intention to apply for a pensions job at Standard Chartered bank. Although it was a more senior position he got the job, as he had impressed the bank's bosses during a tour of Minet the previous year.
"I had done a computer course and most of the things that I'd found Minet doing manually, I helped digitise. I explained this to the StanChart team when they came to vet Minet for one of the services they were looking to outsource," says Waswa.
With his new job as an administrative pension manager, his first task was to restructure pensions in Kenya. His exponential boost in salary and the opportunity to travel outside the country were the first signs that his gamble had paid off. He also got involved in other disciplines in the financial sector such as investments. At the same time, he and his business partner also started a university placement service and a computer college in 1998 right in the heart of the city centre.
Survey ranks Kenya among the top five most ideal African countries to invest in
The survey, which gathered data from more than 150 African Chief Executives, was sponsored by the Africa CEO Forum and Deloitte.
Both businesses took off and he attributes it to God and lessons from his other businesses, one of which had failed soon after launching. Additionally, his experience teaching at the polytechnic came in handy, as he would teach some of the classes after work. With his new knowledge on investments, he became an investment broker.
After a while, change beckoned and he was eager to jump on the next best thing. "I felt that my job had become too small so I decided to venture into consultancy. I knew my boss was about to retire so I approached him to be my partner because he had a wealth of knowledge. It was a crazy proposition but I had thought through the risks, including being fired," he shares.
While acknowledging it was a big gamble, he was not averse to risk-taking. He registered Kingsland Court in 2000 and on May 31, 2001, he finally left the bank to start the consultancy, based at his boss's garage at his Kileleshwa home.
However, he did not feel the brunt of the move until six months later when he only had one client and his business partner wanted to pull out. That December, he went to Katoloni in Machakos to fast and pray for a breakthrough, confident that it was only a matter of time before clients would be knocking at his office door.
Fortunately, towards the end of January 2002, he managed to solve a problem at the American Embassy and what was meant to take a week took him two days and instead of the Ksh800,000 that was owed to him, he was paid Ksh2.7 million for his speedy problem-solving with a three-year contract to top it off, kicking off a good streak.
In 2006, he started his own company – Octagon – to provide personalised financial services that clients could not get anywhere else. His drive, he says, was to make sure clients felt catered to. As it stands Octagon is a leading provider of employment benefits services, property management, insurance brokerage and trainings for public and private sector organisations with branches in Uganda and Zambia. He speaks with pride about being in this position, citing innovativeness and quality services as their modus operandi.
In Kenya, like most African countries, most people are not too keen on pension as it is a generally reiterated status quo that children will eventually take care of their parents in old age. However, Waswa would hear none of it and this is what forms the basis of his successful career and business and is keen on ensuring more Kenyans take up pension schemes.
"Someone has to break the cycle and start saving from as young as 25 years. Our biggest challenge has been mobile loans, which are making our economy debt-driven and is the root of the kind of debt crisis we see nowadays among many Kenyans. You don't have to save thousands but make sure you are saving," he advises.
Besides saving for retirement, he encourages young people to be keen on the digital front and pursue their passion, and for stakeholders to put an emphasis on financial literacy from a young age.  For those who would like to join the financial sector, he advises that one cannot go wrong with a personalised advisory role, sentiments he has also shared with his 24-year-old daughter who is also working in the financial sector.
"I initially wanted my elder son to follow in my footsteps but I realised I had to let him pursue his passion in engineering the same way I pursued mine. God granted that wish through my daughter," he adds smiling.
Despite his seemingly illustrious career, the Octagon boss says that it has not been an easy journey especially on the family front, as he had to be away from family for long periods of time. However, his wife, Dr Catherine Simiyu, has been supportive all through. Now cemented in his passion, Waswa has encountered many people who have used his services and he can only attribute his success to favour from God, which is why during his free time, you will most likely find him engulfed in church ministry.
This article was first published in the February Issue of Parents Magazine
READ OUR LATEST ISSUE HERE:
The edition that celebrates mothers!
Radio Citizen presenter Jeridah Andayi graces our May cover with her three children as we celebrate mothers all month long! Even with her busy schedule and the many hats that she wears, her role as a mother is the one she cherishes most.