President Uhuru Kenyatta's big four agenda wins big at Kenya-UK summit
President Uhuru Kenyatta's big four agenda has received a major boost after the UK government announced a Ksh 20 billion investment into the agenda's projects. The announcement was made by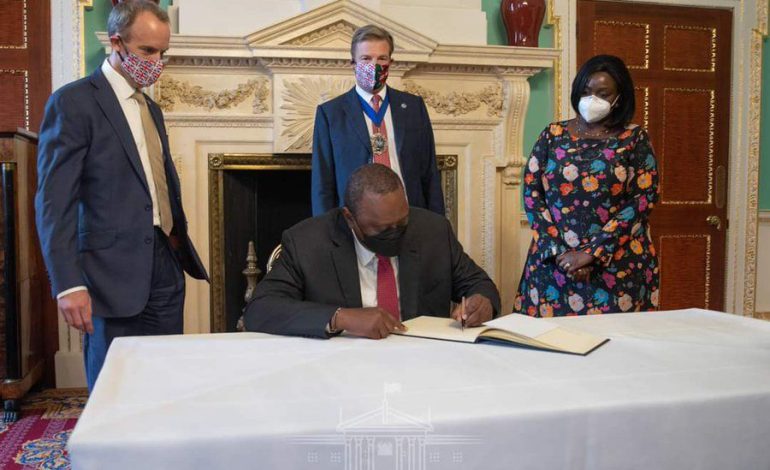 President Uhuru Kenyatta's big four agenda has received a major boost after the UK government announced a Ksh 20 billion investment into the agenda's projects. The announcement was made by UK Foreign Secretary Dominic Raab on his first day of a three day trip to the UK for the education summit which he is co-chairing with UK prime minister Boris Johnson.
During the summit, the President also marketed Nairobi as a preferred investment destination for UK investors and went ahead to list 10 public-private partnership projects that investors could invest in. The projects include: the Nairobi Smart Street Lights Project, the Nairobi Bus Rapid Transport System, intelligent traffic management system, Galana- Kalalu Food Security project, and the Lamu Fishing port project
Photo courtesy of Twitter; Uhuru holding talks during the investors' forum
Earlier, President Uhuru had witnessed the signing of two MoUs aimed at enhancing investor engagement between UK and Kenya. Various sectors in the country got financial backing from the Kenya- UK partnership. Farmers emerged the biggest winners during the visit, as the President secured  a duty free market for cut flowers, Coffee, Tea, Vegetables, Beef & Fruits.
Featured Image: Gov.UK
The July issue of Parents Magazine celebrates 35 years!
The July issue of Parents Magazine celebrates 35 years. Get your copy today to share the joy of this milestone in an issue packed with inspirational experiences of men and women positively impacting society and all other regular columns, as the founding editor walks you down memory lane.