President Samia Hassan gets Covid-19 jab as Tanzania launches mass vaccination campaigns
Tanzania's President Samia Suluhu Hassan has received the first shot of the Johnson and Johnson vaccine as the East African state begins mass vaccination campaigns. Since taking over as president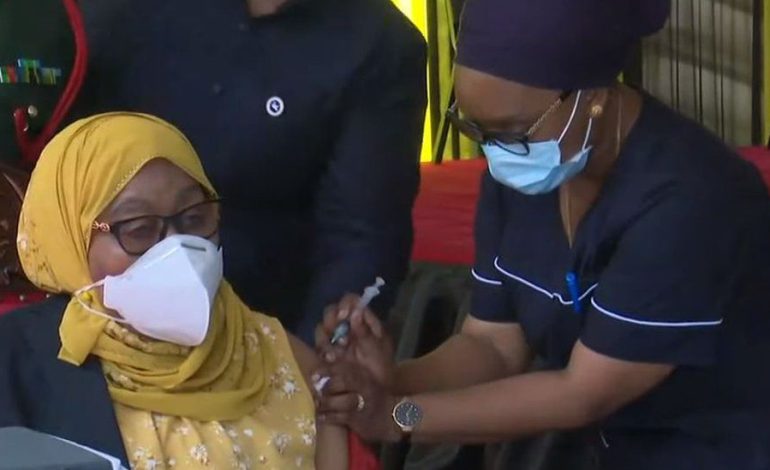 Tanzania's President Samia Suluhu Hassan has received the first shot of the Johnson and Johnson vaccine as the East African state begins mass vaccination campaigns.
Since taking over as president in March 2021, Suluhu has been focused on reversing most of the policies and guidelines that had been adopted by her predecessor the late President John Pombe Magufuli in the fight against Covid-19. Magufuli is remembered for his denial of the existence of Covid-19 in Tanzania. In April 2020, he stopped the release of Covid-19 data saying that the daily release of figures was scaring people and describing vaccines as dangerous.
In what can be described as a change of step from the previous regime, President Hassan has embraced the fight against Covid-19 in Tanzania since she took over as president.
In March, a few days after Magufuli's death, Hassan formed an expert task force to advise on matters Covid-19. She also made it mandatory for people to wear masks contrary to her predecessor who openly scoffed at masks.
Tanzania received over 1 million doses of the vaccine from Covax over a week ago. The vaccines are expected to boost the country's efforts to fight the pandemic even as it faces the third wave of the pandemic. According to a statement released by Tanzania's ministry of health, the country hopes to vaccinate 60% of its population with health workers receiving priority.
Featured Image: Statehouse Tanzania
September 2010 cover models Salome and daughter Daniella on being featured by Parents Magazine-
As we celebrate our 35th anniversary, we take you back and have a talk we our former cover models. Salome Nyoro and her daughter Daniella were featured in th…