Royal Reverence: Conservation, Legacy, and Kenya's Sustainable Vision
In a special series of events marking nearly six decades of Kenya's independence, our country played host to King Charles III and Queen Camilla. The royal visit, spanning from October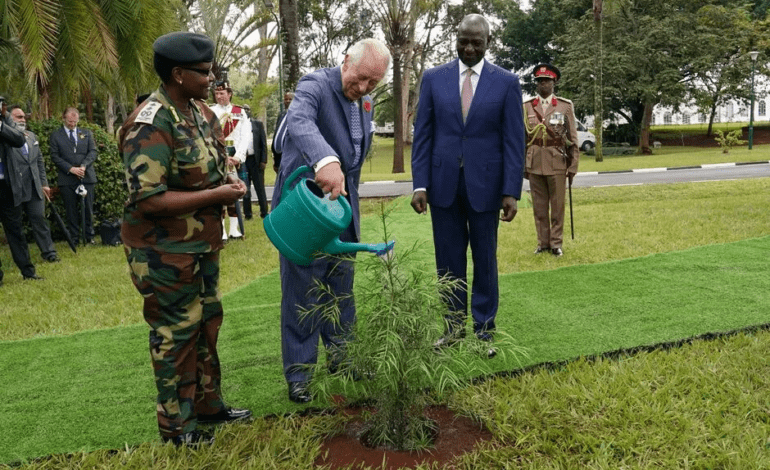 In a special series of events marking nearly six decades of Kenya's independence, our country played host to King Charles III and Queen Camilla. The royal visit, spanning from October 31 to November 3, 2023, signifies not just a nod to a shared history but also a forward-looking gesture that underscores Kenya's magnificent culture, unwavering commitment to conservation, and its burgeoning economic stride. This monumental visit, under the warm invitation of President William Ruto, marks a historic milestone. It has been 40 years since Kenya welcomed a British monarch – the last being Queen Elizabeth II in 1983. With this visit, King Charles and Queen Camilla have reaffirmed the growing camaraderie and strengthened bonds between Kenya and the United Kingdom.
Amidst the scheduled events, King Charles III will attend a special commemoration dedicated to the life and work of the Nobel Laureate, the late Professor Wangari Maathai. As a fervent Kenyan environmentalist and social activist, Maathai's legacy is rooted in her relentless dedication to environmental protection and the advocacy of sustainable development. As the founder of the Green Belt Movement, Maathai's monumental initiative saw the planting of over 51 million trees across Kenya and neighboring African countries. Kenya's current environmental situation, which is characterized by issues like pollution, deforestation, and climate change, is strikingly similar to Maathai's groundbreaking work. King Charles III's presence at the event to honour her is not only a testament to his acknowledgment of Maathai's indomitable spirit and dedication but also signifies his commitment to championing environmental conservation on a global scale. Furthermore, as Kenya gears up to celebrate its 60th year of independence, the significance of Maathai's symbolism as a beacon of Kenyan resilience and determination cannot be overlooked. By attending this event, the King not only honors Maathai's memory but also extols her invaluable contributions to Kenya and the wider world.
As Nairobi National Park gears up for the arrival of the royal pair, anticipation permeates the air. Their journey in the park is set to be an insightful exploration into the heart of Kenya's conservation measures. The impending segment of their itinerary in Mombasa further underscores the visit's environmental focus. Beyond the royal engagements and the pageantry lies a message deeply resonant with Maathai's ethos: environmental stewardship is a collective responsibility. As the royal visit unfolds, the international community watches keenly. The overarching message from this journey—of conservation, legacy, and diplomacy—promises to have lasting reverberations, advocating for a sustainable future and honoring the visionaries who have paved the way.
From this royal visit, as a nation and as parents, we are reminded of the profound importance of conservation and its integral role in safeguarding our planet's future. Witnessing the commitment of international figures like King Charles III and Queen Camilla underscores the universality of environmental challenges and the collective responsibility we hold. As caregivers, it offers a poignant lesson on the legacy we wish to leave behind for our children. By emphasizing conservation in our daily lives and educating our young ones about its significance, we not only honour our rich natural heritage but also pave the way for a greener, more sustainable tomorrow for generations to come.