STELLA SAMOEI: The Fight Against Underage Drinking
Stella Samoei understands the implications of underage drinking and as one of the pioneers of the Smashed Campaign, she shares her experience with DIANA RACHEL MBUGUA.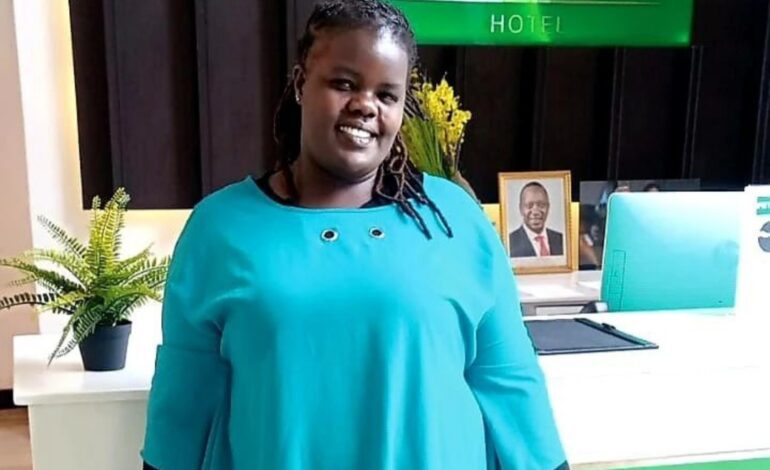 Stella Samoei, a mother of four, is a teacher at Utumishi Boys Academy in Gilgil. She teaches Geography and Kiswahili subjects and doubles up as a Guidance and Counselling teacher. Being a teacher, she has a passion for children, and the Smashed Campaign, a campaign developed to fight underage drinking matches her passion just right. She understands the implications of underage drinking and as one of the pioneers of the Smashed Campaign, she shares her experience with DIANA RACHEL MBUGUA.
Stella Samoei remembers vividly how a girl came crying to her for help after she conducted a session of the Smashed Campaign at the Utumishi Girls' Secondary School. The girl, she says, was traumatised after hearing the effects of alcohol and knowing her uncle, whom she loved dearly, indulged in excessive alcohol. The 14-year-old had been worried for a long time about her uncle's drinking, but now that she understood the dangers of excessive intake of alcohol was scared about her uncle's health.
"We were at the Utumishi Girls Academy conducting the Smashed Campaign programme and I remember after talking about the effects of alcohol on the body, the girl approached me to find out how her uncle could be helped to stop drinking. The girl had definitely seen in her uncle most of the symptoms we talked about, and she appreciated that we were reaching out to young people so they do not become like her uncle," Stella explains the impact the campaign has had on young people.
Smashed Global Group in collaboration with Hue Experiential Limited has been carrying out an alcohol education programme dubbed "Smashed" in high schools all over Kenya to create and increase awareness around the dangers of underage drinking among young adults between the ages of 13 years to 18 years. The programme also looks at how underage drinking affects the overall performance of learners. The project is aimed at educating and enlightening adolescents on how to overcome peer pressure, which has been identified as the main force driving underage drinking.
"I was chosen to be among the pioneers in the Smashed Campaign. We work with the school administration in the schools we visit to first seek permission to have sessions with students between the ages of 13 and 18. My role when conducting the programme is to set up the items required, welcome the students, and then explain to them about the Smashed Campaign and thereafter answer their questions," she says.
Through a partnership with the Teacher's Service Commission, Hue Experiential Limited has identified beacon teachers to work with to deploy the programme in schools and Stella is one of them. The company has conducted training sessions with the teachers who, in turn, cascade the programme into schools and also to other key stakeholders within their local communities.
The teachers picked to run the Smashed campaign in different schools have also been trained by the Teachers Service Commission on ways of curbing drug abuse in schools and also identifying gender-based violence and ensuring steps are taken to minimize it both in schools, at home, and in communities.
Out of the 120 teachers trained by the Teacher's Service Commission last year to run this campaign, Stella was one of the teachers picked from private schools that had experienced underage drinking incidences in the past.
While one of the key reasons for underage drinking comes from peer pressure, Stella says parents have a big role to play in influencing their children's decisions.
"Eighty percent of the time, a child will not do what they are told by adults but will imitate what the adult does. If alcohol is available at home, to some extent, children are exposed and see nothing wrong in drinking. They may experiment when they get out of home or even at home, and if they drink in front of their peers, they will influence them," she notes.
Children who indulge in drinking after seeing their parents drink at home may put pressure on other kids to join them, but they stand a better chance of resisting the habit if they have information on the dangers of alcohol, particularly for the underage.
"Teenage drinking does not start from nowhere. Children learn to drink from either their parents, elder siblings, uncles, or peers," Stella notes.
From Stella's point of view, absent parents during school breaks are also another factor that contributes to exposure to alcohol. More so when children are left under the care of guardians, house helps, or even alone. She reckons that if a parent is not there for their child from an early. age, problems begin to crop up.
"I know a group of students who went drinking some time back. They had ganged up and boarded a matatu. I don't know where they got the alcohol from but they were drinking publicly in the open while wearing their school uniform. They were caught, arrested and guided, and counseled, and some changed their behaviour. But now that they are over 18 and there is not much we can control after this age," she says.
Since she began the campaign about four months ago, Stella says some of the incidents that have come to her attention are of form-three students going to drink during school breaks
"Students mostly take alcohol during the school holidays but not in school. This especially happens when they organise birthday parties or go for hikes with no adult supervision, decries Stella.
Society has a big role to play in the fight against underage drinking. According to Stella, there are irresponsible adults who sell alcohol to underage kids without asking for any form of identification. Some students also use those who are of age to buy alcohol for them. For example, if a bottle costs Ksh300 they bribe the person with another Ksh200.
The Smashed Campaign has been running for six months and has reached more than 2000 students in different schools in Nakuru County and over 300,000 by the end of November this year in different regions of the country. The main targets are schools in Central, Nyanza, and Nairobi, where underage drinking has been identified as a major problem.
The campaign aims to reach as many students as possible across the country in a bid to inform and educate them on the effects of underage drinking, especially in damaging vital organs such as the liver and brain.
One of the ways the curriculum has been designed to make it interesting is by the use of short video series to explain the impact underage drinking can have on the youth The programme also offers positive 1.Young people's bodies and choices of pastimes that young people can engage in instead of drinking Stella says the children have been quite receptive and hopes they will grow with the messages they get ingrained in them as they move on to become adults.
"They often come to express their feelings after the programme and I have noted they get scared, especially the girls, when they see what alcohol does to the body. They say they do not want to take anything that will influence their judgment and also interfere with their academic performance and other daily activities," notes Stella, adding that the programme is quite effective.
Part of the programme's curriculum explains where a child can get help in case they face or witness incidences of alcohol intake among the underage. These places include police stations and school administration. There is also a child helpline provided.
One of the reasons Stella is passionate about the programme is because she knows the impact alcohol has on children. She expresses her excitement about problems. being privileged to be one of the people pioneering the project
"I really want to spread this gospel as much as I can and let the children be cognizant of the dangers of alcoholism. It could be any child around you affected by alcohol directly or indirectly. I want the message to reach all the young people." she emphasises.
Other than underage drinking, Stella says the campaign also addresses issues such as sexual identity, which is common in one- gender schools, as well as the use of other substances which are also as harmful.
Stella appreciates the organisations and people behind the Smashed Campaign. and the teaching materials they have produced to help the teachers effectively convey the message to young people in schools. She says the children really enjoy the short video series which are part of the teaching aids of the programme.
She concludes by saying that she is fully committed to the campaign and wants to see positive results in the reduction of underage drinking in our country but also urges parents and guardians to be the best role models for their children.