Student arrested for attempt to attack teacher with machete
A student from Mokwerero Secondary school, Nyamira county is facing charges after he was found with a machete and a sharpening file. According to the police report, the 18-year-old was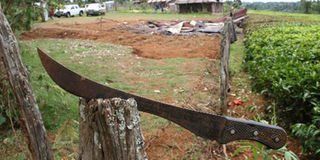 A student from Mokwerero Secondary school, Nyamira county is facing charges after he was found with a machete and a sharpening file. According to the police report, the 18-year-old was plotting to attack the Deputy Principal, Jared Morara after allegedly being denied a new exercise book.
Mokwerero student holding a machete. (Source, https://i1.wp.com)
Fortunately, the teachers managed to seize him before he made his attack on Wednesday morning. The school principal Kennedy Ogecha confirmed that the police have taken over the matter .
This comes a day after a Kisii School student stabbed two teachers for refusing punishment when asked to kneel down. He was arrested and charged with attempted murder. The student was, however,freed on a Ksh50,ooo cash bail after he denied the charges.
Feature image: picture of a machete. (Source,https://nation.africa)
Warunge, girlfriend to remain in police custody for 14 days
The ruling was made by Kiambu Magistrate Patricia Gichohi on Monday morning. Warunge and Muthoni will therefore be detained in Gigiri and Muthaiga police stations respectively.