Tips for taking women-owned businesses to the next level
Research shows that women account for 50 per cent of the local and global population and are responsible for 48 per cent of all Small and Medium-sized Enterprises (SMEs), creating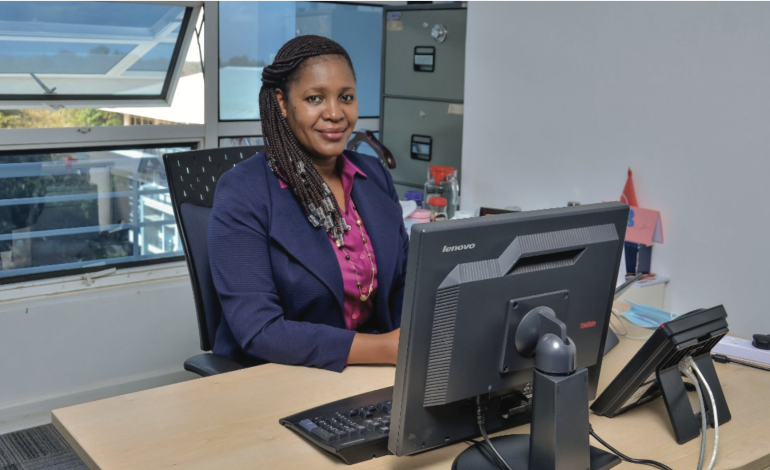 Research shows that women account for 50 per cent of the local and global population and are responsible for 48 per cent of all Small and Medium-sized Enterprises (SMEs), creating at least 45 per cent of all new jobs. However, this number could be much higher once several hindrances are eliminated.
Absa bank's Business Banking Director, ELIZABETH WASUNNA-OCHWA, speaks with Harriet Ogayo on Absa's commitment to elevating women's businesses and shares valuable insights for women looking to upscale their businesses especially in this New Year.
If you were to describe Elizabeth Wasunna-Ochwa in one word, it would simply be 'connector', given her passion to work with others towards achieving success.
With close to two-and a-half decades in the banking industry, Elizabeth's current role encompasses overall leadership for SME, Commercial, Agriculture and Asset Finance business at Absa Bank.
Absa Business Banking Director, Elizabeth Wasunna-Ochwa.
Besides this, she is passionate about helping people, especially women, work towards success in their professional careers and in business.
"It has been a long journey to get here and I'm not quite where I want to be yet. But one thing I know for sure is that I would not be here without the support of many women who paved the way for female leaders in the banking industry. Additionally, my parents believed in our capabilities as girls to be able to achieve as much, if not more, than the boys. Our mother was an excellent example of a woman who juggled a successful career while raising four children so my sister and I were greatly influenced by her ability to make it look easy, even though we know it was not. I have also had many mentors who have held my hand in my career journey which is what, as Absa, we try to do for women," she says.
She notes that women in business, particularly, face a lot of barriers when it comes to participating in the national economic development owing to lack of financial resources and socio-cultural restrictions.
Additionally, most women in SMEs in Kenya have to grapple with regulatory challenges given the multiple licenses required for business, inadequate capacity building in business training and lack of collateral considering most women entrepreneurs are largely in trade and service industries and mostly taking up non-risky, small ticket job opportunities as opposed to men.
It is with this in mind that Absa comes in to structure credit products suited for women, particularly requiring partial or no security.
The bank also seeks to fill gaps in management and leadership training, information on flexible and diverse loan products, information about new technologies in the market and offer international links.
For instance, since 2016, Absa has partnered with the International Trade Centre (ITC), and have jointly equipped 10,000 local women entrepreneurs with new skills and international trade opportunities. These form their four pillars on supporting women namely, access to information, coaching and mentorship, finance and networks.
At Absa, Elizabeth leads her team to provide solutions to women in business and as it stands, Absa has managed to change the lives of 5,000 women entrepreneurs out of the 10,000 that they are aiming for by 2022. This has been achieved by establishing strong relationships with their clients as well as the opportunities, which Absa offers to women.
Beat the January blues with these 5 holiday spending and saving tips
According to her, the trick to holiday expenditure is to save up for the holiday way before it gets here and when it does, avoid debt by planning your expenditure. She recommends the 50-30-20-rule, which helps with budgeting finances.
"We recently embarked on our sustainability journey with this agenda sitting at the core of everything we do. We are committed to leaving no one behind as we safeguard the sustainability of the businesses that we run, guided by the principle of shared value, which advocates creating business value in a way that also creates value for both the society and the environment. In light of this, we are open to sharing knowledge on driving sustainable businesses and are extending this to the SMEs that we interact with," says Elizabeth.
Most notable is the KES 10 billion kitty dedicated to women entrepreneurs through various bank products including unsecured and secured loans, trade finance, asset finance, property finance and working capital facilities.
Absa announces Ksh 10 billion fund for women entrepreneurs during SheTradeKE event.
Some of the solutions include unsecured LPO financing of up to KES 6M and unsecured loans of KES 6M with up to 60 months repayment period and loan repayment holidays from three months to one year, especially to businesses that took a hit during Covid-19.
Additionally, through business trainings, bench-marking and networking opportunities, face-to-face business forums, webinars, in-house SME training and the Absa SME Academy, they continue to reinforce its commitment towards advancing diversity and inclusion, more so as they take on their new identity as Absa.
Study shows Kenya is the most affected African country by COVID-19
A survey done by GeoPoll has shown that Kenya is experiencing more financial and emotional stress than other African countries.
Elizabeth, therefore, encourages women entrepreneurs to take advantage of such opportunities and advises them to leverage e-commerce to take their businesses to the next level.
"The need to use e-commerce is driven by multiple factors, but three in particular come into play within the current Covid-19 landscape: Increased competition, higher customer expectations and deeper financial pressures. As technology evolves, women entrepreneurs need to be cognizant of the factors that are currently driving their businesses," she explains, adding that Absa provides a robust and secure e-commerce platform where their clients can use a payment gateway during online transactions.
Survey ranks Kenya among the top five most ideal African countries to invest in
The survey, which gathered data from more than 150 African Chief Executives, was sponsored by the Africa CEO Forum and Deloitte.
Elizabeth also notes that women empowerment beyond financing is equally important as most women tend to downplay their accomplishments and give in to the fear of the unknown. Thus, she encourages networking and keeping a circle of friends who can help them grow.
"If you are passionate about something, don't just dream about it, talk about it too, because there is so much we can do to support you. I believe that women have what it takes to be successful and our purpose as Absa is to help them realise that they are fully capable," she concludes.
For more information on how Absa can support your business growth, SMS WEZESHA BIASHARA to 22268 or email [email protected]
Featured image: Elizabeth Wasunna-Ochwa, Absa Banks's Business Banking Director. Photo: Courtesy.
Parents Magazine ePaper
Read an ePaper copy of Parents Magazine. Caring for you and your family.
Grab your January issue of Parents for more tips on how to get business support from Absa.