WHEN PREGNANCY GOES WRONG A family's agony over daughter's suffering
For three years, Arthur Mukusa and his wife Brigitte Mukusa have been taking care of their 38-year-old daughter Ellie Bibiche Mukusa who was bedridden after a pregnancy went wrong. LILY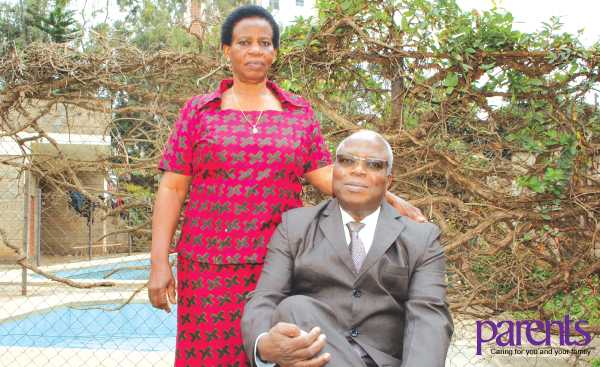 For three years, Arthur Mukusa and his wife Brigitte Mukusa have been taking care of their 38-year-old daughter Ellie Bibiche Mukusa who was bedridden after a pregnancy went wrong. LILY RONOH-WAWERU paid a visit to the family to bring you this story.
It's a gloomy Friday morning as we make our way to Arthur Mukusa's house in one of Nairobi's estates. Once there, he willingly opens the door to not only his house, but also to his heart. The house, just like the Mukusas, is warm; a sharp contrast to the weather outside. A mobile phone rings and Mukusa's wife, Brigitte, gives it to him.
"It is the baker, she is inquiring about a cake order we had placed for Ethan's (my grandson) birthday," he explains after he is through with the conversation.
"How old is he turning?" I ask.
"Three years," he responds before adding, "It is also three years since his mother, my daughter Ellie Mukusa, fell ill."
Outside, the wind eerily howls through the trees, perhaps a premonition of the sad story we were about to hear.
A draining journey begins…
Three years ago, on July 17, 2013, to be precise, Ethan was born albeit prematurely. A few days before, his mother, who was in her eighth month of pregnancy, had complained of headaches and blurred vision. She had had a smooth pregnancy all along and hence the new development was a cause to worry.
"When Ellie started complaining of headaches, my wife went to stay with her. On July 15, things got worse and my wife called me to tell me of Ellie's deteriorating health. Her younger brother was with them and I instructed him to take Ellie to hospital. It was in the middle of the night and the doctors asked my wife and son to go home as they monitored Ellie whose blood pressure was abnormally high," Mukusa reminisces acknowledging they had no idea it would be the beginning of an emotionally and financially draining journey with no end in sight.
The events of the days after her admission are still fresh in his mind. The family went the following day to see her progress.  Her pressure was still high. When the doctor came to check on her, he noted the foetus was in distress. By July 17, there was not much change in her pressure and the foetus heartbeat was very faint. And so it was that Ethan was born on July 17, 2013 at 34 weeks through Caesarian section.
"He was a healthy baby but he had to be put at the newborn intensive care unit (NICU) to allow his organs to mature," explains the father of six.
Nevertheless, Ellie's blood pressure did not change. She still had the headaches and her vision was blurry. She also walked with a wobble and hence required help especially when she went to breastfeed her son. In the NICU, Ethan was flourishing and his progress impressed the doctors. If only the same could be said of Ellie who had stopped taking solid food and was relying on fluids such as juices, water and porridge.
"I was concerned that the doctors were taking long to manage my daughter's blood pressure but they assured me that they were doing all they could. I had no option but to take their word for it," says Mukusa.
The hospital had become their second home as they visited Ellie and Ethan on a daily basis. As they left the hospital on Ellie's eighth day since admission, she was still able to communicate with them even though she was complaining of a severe headache. They bade her goodbye with a promise to see her the following day. She was in the maternity ward. So when her mum arrived the following morning and went straight to her bed, she was shocked to find it empty. Naturally, she grew hysterical prompting one of the nurses to take her aside.
"The nurse told me that Ellie had been taken upstairs. I didn't know what was upstairs and I thought the worse had come to worst. But upstairs meant the intensive care unit (ICU) where Ellie was. There were tubes everywhere and her body was swollen. I started crying and praying. I called my husband and told him to come the hospital immediately. He kept asking me what had transpired but I could not find the words to explain myself so I kept on telling him to just come," Brigitte says tears welling in her eyes.
Mukusa was in Biashara Street in Nairobi's CBD where he had gone to get a gift for his grandson when his wife called. He abandoned his mission and boarded a taxi. There was traffic and he squirmed on his seat as he urged the taxi driver to do his best to get him to hospital in time. An hour or so later, he arrived at the hospital and when he inquired about his daughter, he was told she had collapsed the night before as she was heading to the bathroom. The cause? High blood pressure and high sugar levels, which led to kidney malfunction.
But Mukusa had other questions; why was the diabetes not detected earlier? Why did Ellie have to collapse for them to know? To date, he has never found the answers. According to Mukusa, diabetes develops gradually and can be detected and managed before it reaches critical levels. He opines that if the doctors had been keen enough, they would have noted that the blood sugar level was rising and taken action before it was too late. The ICU became Ellie's home for a month.
"Our hope was kept alive by prayers and improvement that the doctors reported. The blood pressure and blood sugar went down. She was to go for a dialysis but the doctors cancelled it when her kidneys started functioning," Mukusa explains.
The homecoming…
In another room in the same hospital, Ethan was budding. He was moved from the NICU and taken to the high dependency unit (HDU) before being taken to the general ward. The family thus split itself between looking after Ethan and his mother Ellie. When it was time for Ethan to be discharged, it was his grandmother, and not his mother, who took him home. Mukusa and his wife, who are both in their sixties, had to relearn the ropes of taking care of a young one. They managed with the help of friends and family.
Ellie, as if yearning to go home and spend time with his son, was spiritedly fighting for her life and it was paying off. She woke up from the coma, but she was not the same Ellie. She couldn't talk, see well or respond when talked to. She was transferred to HDU for a few weeks before being taken to the general ward. Suffice it to say, the hospital bill was meteorically rising but that was the least of their concerns. They wanted their beloved Ellie to be on her feet again.
"On October 1, 77 days after Ellie walked into the hospital with migraine and blurred vision, she was discharged. But she needed 24-hour care, which prompted us to hire two nurses to take care of her in shifts. The bill accrued at the hospital was Ksh 6 million. The medical insurance had been exhausted and we turned to family and friends, who, together with Bollore where Ellie worked and Parklands Baptist Church where she worshipped, raised Ksh 2.1 million. Part of the money was paid to the hospital but we still have a pending balance of Ksh 4.5 million. The money was also used to purchase equipment such as a special bed and a wheelchair to allow her stay comfortable," Mukusa says.
Come this October, it will be three years since Ellie was discharged from hospital. I candidly ask the family what Ellie can do and they answer in unison, "Nothing." Ellie is bedridden and needs to be monitored round the clock. This notwithstanding, they have seen tremendous improvement in her. This keeps fanning their hope that one day Ellie will get back to her old self.
They have hired a physiotherapist to help Ellie regain her movement. It is financially draining as the total cost of caring for her comes to around Ksh 400,000 per month. They are able to get by through the help of well-wishers, family and friends, as Mukusa and his wife are both retired. They are also relying on well-wishers to help them clear the outstanding balance at the hospital.
I wasn't able to meet Ethan as he had left for school but I did meet Ellie. She lay motionless on her special bed in one of the bedrooms in the house. Her father called out to her and she moved her eyes, an indication that she had heard us. She breaks into a smile and a giggle before tears start falling from her eyes. Her parents try to cheer her up like they would her son Ethan and it works. She is smiling as we leave her room and as the door closes behind us, we are reminded of the fragility of life.
Those who wish to support the family can do so through Mpesa Paybill number 316794 (ELLIE BIBICHE MUKUSA MEDICAL).
Published in August 2016