WILLEM HONDIUS At the helm of JAMBOJET
Fifty-eight-year-old Willem Alexander Hondius is the chief executive officer of Jambojet Limited, a Kenyan low-cost airline and a subsidiary of Kenya Airways. Under his stewardship, Jambojet is demystifying flying by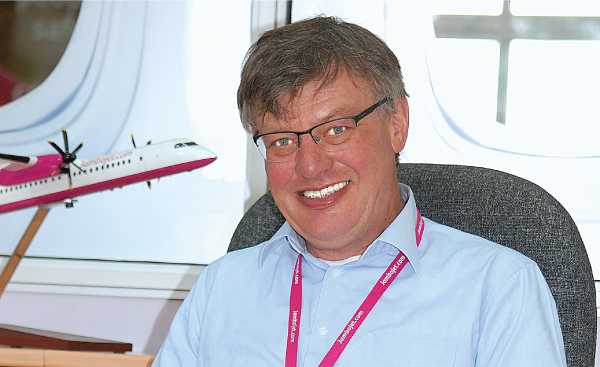 Fifty-eight-year-old Willem Alexander Hondius is the chief executive officer of Jambojet Limited, a Kenyan low-cost airline and a subsidiary of Kenya Airways. Under his stewardship, Jambojet is demystifying flying by providing affordable air travel for everyone. Willem, who boasts of over 30 years of experience in the air travel industry, had a candid chat with ESTHER KIRAGU about his robust career in the aviation industry and family life.
When Jambo Jet launched in Kenya in April 2014, the main goal was to demystify flying, at this point the new campaign dubbed 'Invitation to Fly', Jambojet is highlighting to the public the benefits of low-cost air travel over traditional means of transport such as road and rail. Today, Jambojet, which is a year-and-a-half-old, flies to seven destinations: Nairobi, Mombasa, Kisumu, Eldoret, Malindi, Lamu and Ukunda, with many Kenyans now appreciating the benefits that come with low-cost flying.
Despite the successes, Willem admits it has not been a rosy affair getting Jambojet on its feet. "One of the business models we had in mind when starting Jambojet and which works worldwide and hoped would work here too is that of booking flights online and early two to three months in advance – in order to fly cheap. But Kenyans are peculiar because booking early to them means booking a flight within the week they will be travelling.
But Jambojet has set the pace. Undeniably, since our entry into the market, the cost of air travel has come down considerably and in future, other airlines that come after us can learn from some of the lessons and experiences we have picked along the way," Willem starts off this interview at the Jambojet's offices in Embakasi by explaining the dynamics of his job.
A career in the airlines…
So, did he always want to work in the airline industry? "I don't remember sitting and planning I would do this or that, instead, I always believed in the need to broaden my skills. I think a lot of how you get formed in life is unforeseen; you don't always know what you want to venture in," he explains.
His entry into aviation began at KLM Royal Dutch Airlines with an internship opportunity, which he says he enjoyed. And when he was offered a job just after completing his internship, he gladly accepted. Despite being at KLM Royal Dutch Airlines for years, Willem never stayed at one job position for too long, as he always wanted to learn new things and challenge himself. He rose the ranks and gained lots of exposure and experience, working in different market segments at different times including Canada and Latin America, Central and Eastern Europe, as well as Africa.
But it wasn't always all about work. He says, "You have to enjoy life even as you work. In fact, work should be part of the fun," and cites an example when he and a group of friends decided to do something about a local zoo in Netherlands that they loved to visit over the weekends, but whose animals were being mistreated. Through a great number of musical concerts and partnership with KLM Royal Dutch Airlines, they raised funds that went towards making the zoo more habitable for the animals; a gesture he is proud to have been part of.
When a job offer from Kenya came beckoning 1996 at Kenya Airways first as Alliance Coordinator and later as director in charge of commercial partnerships and strategy, Willem's experience and skill came in handy for him to secure the job. "At the time, KLM had just entered into a partnership with Kenya Airways and having worked with KLM for a while, my role entailed cementing this relationship," he explains.
His stint in Kenya was, however, a short one as in 1999, he moved to Transavia Airlines, one of the airlines owned by KLM to serve as the vice president in charge of marketing the airline. Willem remains indebted to the then CEO of Transavia Airlines, Onno van den Brink, whom he says has had the biggest impact in his career life.
"He was a good manager who mentored me. He was also very open to all staff and shared and translated the vision of the organisation to everyone. He took a chance with me and under his stewardship, I rose the ranks to chief commercial officer, responsible for commercial strategy and development at the airline. This was quite a step in my career and it opened up a lot of other opportunities for me," says a grateful Willem.
Setting up an airline in Kenya…
2012 saw Willem return to Kenya as the KLM's General Manager for Eastern Africa. "I was glad to be back in Kenya and I knew at some point I most probably was going to undertake a project with Kenya Airways," he says. True to his prediction, in 2013, when Jambojet was set up, Willem was named the managing director and CEO.
And how has his one-and-a-half years at the helm of Jambojet been? "Great and interesting. I am glad I worked in Kenya before and the fact that I had previously dealt with the African markets prior to this job came in handy especially in understanding the hurdles in Kenya that affect the air travel industry. Kenyans can make miracles happen but often, they wait until the last minute. A perfect example was the Jomo Kenyatta International Airport fire that destroyed the arrivals unit. It is incredible what Kenyans did to get the airport up and running in no time. You would never have achieved that in Europe in that fraction of time. It is obvious that the potential in Kenya is huge but what is needed most is to channel energy into the right things," he shares.
Willem says although Jambojet is doing pretty well, they have had to put on hold some of the projects earmarked for its growth strategy, as the main focus now is on sorting out the current problems bedevilling he national carrier, Kenya Airways. Nonetheless, he is glad to be heading a capable team at Jambojet, who have been key in its successes.
Willem believes it is important to set up something that is sustainable and that can run even when you are not present. As such, he has always strived to raise leaders and mentor his staff to grow in their careers. He hopes long after he is gone when people talk about him, they will say they learnt something useful from him and had a good-feel-moment working or interacting with him.
Family life…
Growing up in Amsterdam in the Netherlands, Willem's life was characterised by lots of sports and fun. The lastborn among three siblings, he mostly lived with his dad and two brothers, after his parents separated when he was only five. He humorously says, "It was a boys only club," and adds that he and his siblings still got to see their mother often as she lived close by. Later on, his father remarried with some one who brought an additional set of three siblings.
He has been married to Henriëtte Hondius for 30 years. "My wife and I went to the same high school and played in the same hockey and tennis clubs although we did not notice each other at the time. Later on, we met after high school during a hockey tournament and a deep friendship struck between us. The rest, as they say, is history," he explains.
He says having things in common with his spouse such as love for sports and nature has helped them spend time together over the years and grow closer in their marriage. He admits marriage is not always rosy and often involves lots of sacrifice and his is not an exception.
"My wife worked as a cabin attendant for years, a profession she really enjoyed, but gave up her job to raise our family as it became difficult with my many job postings to different parts of the world over the course of my career. It was a very tough decision," he says. Henriëtte now volunteers in children's homes in Nairobi where she teaches English and art-related skills to equip and give the children some exposure.
The couple has two daughters; 28-year-old Nynke, a teacher in Amsterdam and 26-year-old Lotje, who has studied animal welfare and management as well as photography and who also lives in the Netherlands. He explains, "Ours is a close-knit family, and we get to see each other at least once a year although we Skype a lot and have a family WhatsApp group, where we communicate frequently."
As we conclude this interview, Willem's thoughts on career life are: "Always try to keep learning because if you stop learning, life stops. I believe career life is a mix of social skills and knowledge, and so in learning, it is equally important to bring in some humour and know how to socialise well with others as this comes in handy in any career."
Published in November 2015