280 KCSE A & B students opted for diplomas as opposed to degrees
280 students who scored a B plain and above in the 2019 KCSE, have willingly chosen to pursue diplomas. 11 of them scored an A- and 66 got a B+.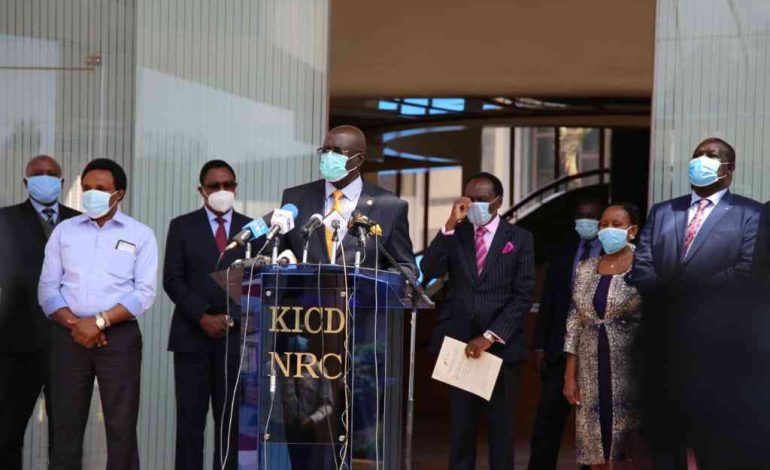 280 students who scored a B plain and above in the 2019 KCSE, have willingly chosen to pursue diplomas.
11 of them scored an A- and 66 got a B+. The Kenya Universities and Colleges Central Placement Service (KUCCPS) statistics show.
The students will now join the Technical Vocational Education and Training (TVET) colleges.
Education CS Prof George Magoha at a previous press conference. [Source: Ministry of Education/Twitter]According to KUCCPS statistics, 2,632 students who qualified to pursue university degrees have been placed in TVET colleges.
"We had applications made in schools, they did first and second revision and most of them affirmed that they wanted to study those courses," KUCCPS chief executive John Muraguri told the Daily Nation on phone.
However, Muraguri noted that some students did not do a second revision and hence they had no option but to place them where they wanted. Nonetheless, they will be granted an opportunity to make transfers.
The KUCCPS boss noted that the students made a good move to choose diploma courses as they have better employment prospects than degrees.
READ ALSO: Only 18% of KCSE candidates placed in government-sponsored universities
'A' Students who chose to pursue diplomas
Top students like Bruno Sharif Kahindi, who scored an A of 81 points, will join the Nairobi Technical Training Institute for a diploma in pharmaceutical technology. Titus Mokaya Ogamba, who scored an A- of 80 points will head to Masinde Muliro University to pursue a diploma in music and dance. Other students who will join TVET institutions are Emily Muhoria and Mohamed Dowa who both scored an A-. They will study a diploma in chemical engineering and education respectively.
Some of the preferred courses in TVET colleges were building and civil engineering, information technology and architecture. Others include electrical and electric engineering, aeronautical engineering, pharmaceutical technology, civil engineering, computer science and building economics (quantity surveying).
MUST-READ: What to expect with the 'new normal'
Highly sort-after TVET colleges include the Technical University of Kenya, Technical University of Mombasa and national polytechnics.
Over the years, the number of students preferring to join TVET institutions has been steadily increasing. According to the Education CS Prof George Magoha, this indicates that parents and students are beginning to embrace TVET institutions.
"In 2019, the number was 1,269. This is a clear indication that concerted efforts to improve enrolment in TVET courses are yielding fruits," Prof Magoha said.