3 must-try recipes for mouthwatering pancakes
How about starting your day with any of the following easy recipes for tasty pancakes? Blueberry & Lemon pancakes Ingredients · 200g plain flour · 1 tsp cream of tartar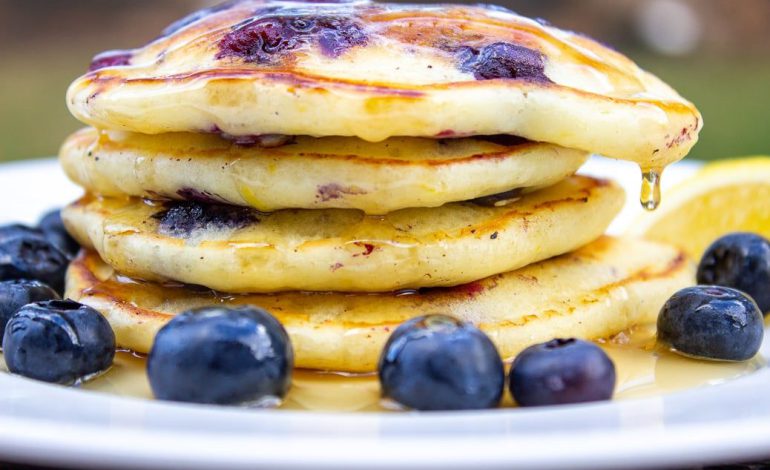 How about starting your day with any of the following easy recipes for tasty pancakes?
Blueberry & Lemon pancakes
Ingredients
· 200g plain flour
· 1 tsp cream of tartar
· ½ tsp bicarbonate of soda
· 1 tsp golden syrup
· 75g blueberry
· zest 1 lemon
· 200ml milk  
· 1 large egg
· butter, for cooking
twokooksinthe kitchen.com
Method
Mix bicarbonate of soda, cream of tartar and flour in a bowl using a fork. Add the golden syrup, lemon zest and blueberries to the dry mix.Pour the milk into a measuring jug then add the egg, mix completely with a fork then pour that into the bowl with the dry ingredients. Mix it well, add milk until the mixture is smooth pouring batter. Heat the pan and add a bit of butter then start pouring the batter into the heated pan in bits as your spread them to make it flats. Wait till bubbles start to appear as they begin to cook.Use a spatula to turn the pancakes as they cook. Let them cook till they turn slightly golden brown.Once done, take them out and put them on a plate and cover them with foil. Repeat this method until the batter is over.
Easy Banana Pancakes
kyleecooks.com
Ingredients
· 350g self-raising flour
· 1 tsp baking powder
· 2 very ripe bananas
· 2 medium eggs
· 1 tsp vanilla extract
· 250ml whole milk
· butter, for frying
To serve
· 2 ripe bananas, sliced
· maple syrup (optional)
· pecan halves, toasted and roughly chopped (optional)
Method
Put some flour, baking powder and a generous pinch of salt into a large bowl. Take another mixing bowl, mash the very ripe bananas with a fork until smooth, then whisk in the eggs, vanilla extract and milk. Pour the mix in the  dry ingredients, tip in the wet ingredients and swiftly whisk together to create a smooth, silky batter.Heat some butter in a large non-stick pan over medium heat. Add 2-3 tbsp of the batter to the pan and cook for several minutes, or until small bubbles start appearing on the surface. Flip the pancake over and cook for 1-2 mins on the other side. Repeat with the remaining batter, keeping the pancakes warm in a low oven.Stack the pancakes on plates and top with the banana slices, a glug of sticky maple syrup and a handful of pecan nuts, if you like.
READ ALSO: 5 superfood smoothie ideas for a lazy afternoon
Rainbow Pancakes
oetker.co.uk
Ingredients
· 200g self-raising flour
· 1 tsp baking powder
· 1 tbsp golden caster sugar
· ½ tsp vanilla extract
· 200ml milk
· 3 eggs
· 25g butter, melted, plus extra for frying
· red, yellow, green and blue gel food colouring
To serve (optional)
· punnet raspberries
· punnet blueberries
· whipped cream or ice cream
· maple syrup
7 benefits of eating with your family
In a fast-moving world where everyone is busy, it may be tempting to have your meals on the go away from your family. However, meal times offer the perfect chance to bond with your family and get updates on everyone's well-being.
Method
Put all the pancake ingredients, except the dye, in a bowl and mix well with a whisk until smooth. Divide the batter into 5 bowls or disposable cups. Use the food colouring to dye 4 of them a different colour, leaving one plain.Melt a small knob of butter in a large non-stick frying pan over medium-low heat. Once foaming put spoonfuls of the pancake batter into the pan and shape into 4-5cm circles with the back of your spoon, you should have enough to make 4 pancakes from each coloured batter. Cook for 2-3 mins then flip over and cook the other side for another minute or until cooked through and ever so slightly golden.Stack the pancakes so that everyone gets one of each colour. Serve with fresh fruit, cream or ice cream and a drizzle of maple syrup if you like.
Mamake Bobo's Finger Lickin' Chicken Recipe
What do you get when you mix Parents and the online chef sensation Mamake Bobo? Amazing finger lickin' food off course!For more amazing videos: https://goo.g…