3 simple sandwich recipes
Philly cheesesteak muscleandfitness.com Ingredients 300g steaks2tbsp sunflower oil1 onion , sliced1 red pepper , sliced1 green pepper , sliced2tbsp white wine vinegar8 cheese slices50g grated mozzarella4 soft white sub rollsAmerican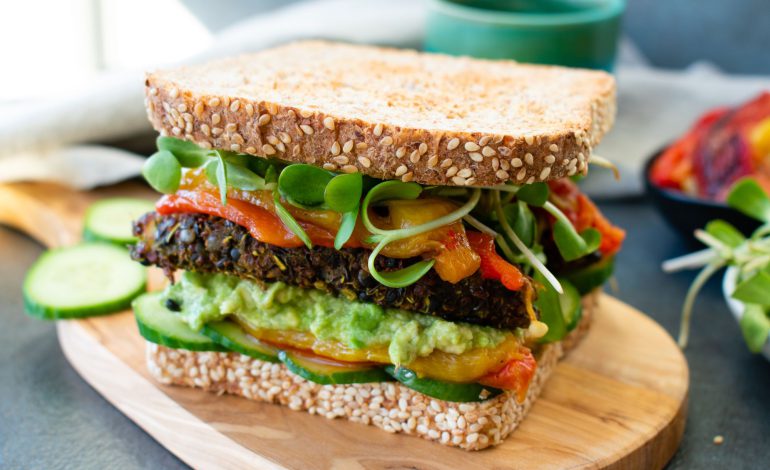 Philly cheesesteak
muscleandfitness.com
Ingredients
300g steaks2tbsp sunflower oil1 onion , sliced1 red pepper , sliced1 green pepper , sliced2tbsp white wine vinegar8 cheese slices50g grated mozzarella4 soft white sub rollsAmerican mustard and ketchup, to serve
Method
Remove the excess fat from the steaks.Cut each steak in half and transfer to the freezer and freeze for 40 mins.Heat the oil in a heavy-based pan or casserole dish set over a medium heat. Add the onion, peppers and a pinch of salt and fry for 20 mins, or until the onions turn into a golden brown colour. Add the vinegar and cook for 5 more minutes. Season to taste.Using a sharp knife, cut your steak into thin slices and separate them into our portions. Heat a skillet over a high heat then put one portion of the steak slices in the pan Fry for 3 mins over a high heat until some of the steak is cooked through, with pink bits remaining. Spread a quarter of the onion mixture and a quarter of the cheese slices and Mozarella on top of the semi-cooked steak. Cook undisturbed over a medium heat for 5-10 mins until the meat is brown and crisp around the edge and the cheeses have melted. Split one of the rolls open and carefully scoop the meat and cheese mixture into it. Repeat with the process with the remaining meat and cheese.
Bonding while cooking with your children
Make cooking with your kids a fun bonding experience with these 5 easy to make delicious desserts!
Salt beef club with Cajun fries
bbcgoodfood.com
Ingredients
1 big potato , cut into thin chips2 tsp olive oil½ tsp Cajun seasoning1 heaped tbsp mayonnaise1 tsp chopped chive1 tsp Dijon mustard3 slices white or brown bread , lightly toasted2 radishes , thinly sliced1 baby or ½ avocado , sliced2 slices salt beefcouple Little Gem lettuce leaves
Method
Heat oven to 200C/180C fan. Place the potato chips on a non-stick baking tray, toss with oil and Cajun seasoning, then spread out. Put the tray in the oven for baking and make sure to turn the chips every for 20-25 mins or until golden and crisp. Add seasoning.Mix the mayonnaise, chives and mustard in a small bowl and season. Sandwich the mixture between 2 of the slices of bread. On top of the slices add add the salt beef and lettuce and add another slice on top. Serve as a side dish for the fries.
7 benefits of eating with your family
In a fast-moving world where everyone is busy, it may be tempting to have your meals on the go away from your family. However, meal times offer the perfect chance to bond with your family and get updates on everyone's well-being.
Club sandwich
kfoods.com
Ingredients
few thick slices chicken or turkey breastsmall handful salad leaves4 rashers streaky bacon3 slices white bread1 tomato, slicedhandful crisps, to serve, if you like1 tbsp mayonnaise1 hard-boiled egg, sliced
Method
Heat grill to High and cook the bacon, turning halfway through, until crisp.Toast the bread and spread one slice with the mayo.Layer on the egg, tomato and bacon, then top with another slice of bread. Add the chicken or turkey, bacon, then lettuce. Finish with the final slice of bread and cut into quarters. Secure with cocktail sticks and serve with crisps, if you like.
Enjoy superfood smoothies
Superfoods are nutrient-rich foods that are considered to be beneficial for your health and well-being
This October, Parents magazine brings you an exciting new issue that's all about your health!
We talk to Professor Lukoye Atwoli and his wife, Maureen, as they tell us about their love, family and trying moments, including a cancer diagnosis. They also reveal their plans on addressing mental health-related issues in an enlightening read. Also read about Sharon King'ori who unknowingly shelte…