33-year-old on a quest to revive tea farming through brilliant innovation
Having inherited tea farming from his parents, 33-year-old Mathew Lelach experienced the hand plucking of tea with bags on the back. However, he believed he had the brain to change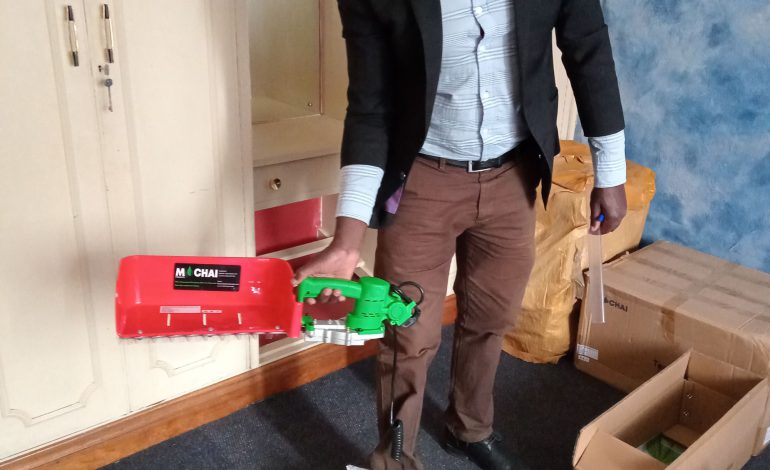 Having inherited tea farming from his parents, 33-year-old Mathew Lelach experienced the hand plucking of tea with bags on the back. However, he believed he had the brain to change the traditional tea plucking method to a modernized one. According to him, the old method was time-consuming  and was not rewarding both farmers and those plucking tea.
It is due to this that when he enrolled in BCom Finance course at Jomo Kenyatta University of Agriculture and Technology, (JKUAT), he thought about a solution on how to do farming of tea profitably and sustainably. From this, he came up with the M-Chai machine, a piece of battery-powered equipment that helps farmers reduce their runaway cost of plucking and bring profitability back to the tea business.
When using the machine tea pluckers don't put bags on their backs but instead put them on their side, enabling them to scoop tea leaves into the tray and then empty them into the basket.
"M-Chai machine has come to save the cost and people from the cost. When you are doing hand-plucking, if you are an expert tea plucker, you will do 40 kilograms the whole day but with this machine, you are plucking several kilograms," he told Parents magazine.
Lelach says the quality of the M-Chai machine is not compromised since the research was conducted for two years before it was released on the market. Further, Lelach says that the machine was approved both by the Ministry of Agriculture and  Kenya Tea Development Agency (KTDA) in 2017.
Besides increasing the productivity of tea pluckers, Mr Lelach also hails the machine as one that has been able to improve the economic livelihoods of farmers and pluckers.
"I was plucking tea with around 10 shillings per kilo before the innovation. After the innovation, I can pluck the same kilogram of tea using 3 shillings so that is a reduction of 7 shillings per kilo. So if I am doing 1, 000 kilos, I am having cashback of 7, 000 shillings," noted the father of two.
Also read: Athletic legend Kipchoge Keino is the first Personality of The Year awardee in the Superbrands East Africa awards.
"I need to add more because now it is profitable to do tea farming. Because of this machine, I can be able to do 260 kilograms per day of green-leaf so I can make a profit out of tea farming apart from helping other tea farmers do the same sales," he optimizes.
Lelach distributes the M-Chai machine through his company M-Chai Agricultural Technology (MAT) which deals with the innovation of tea plucking machines.
Since launching the machine in 2017, MAT has supplied the M-Chai machine to individual large scale and small scale farmers and to multinationals.
He is currently targeting the over 600, 000 tea farmers registered with KTDA. In the meantime, he remains optimistic that the new technology will assist Kenyans to improve their lives.
Parents magazine presents an exciting April issue!
Philanthropist Ndung'u Nyoro and his wife Njeri grace the cover as he speaks on his journey into online fundraising and setting up the Watoto Wasome initiative, as Njeri shares her crucial role in this dynamic.