Kipchoge Keino crowned at Superbrands awards
Athletic legend Kipchoge Keino is the first Personality of The Year awardee in the Superbrands East Africa awards which were held on Thursday, March 31, at the Trademark Hotel in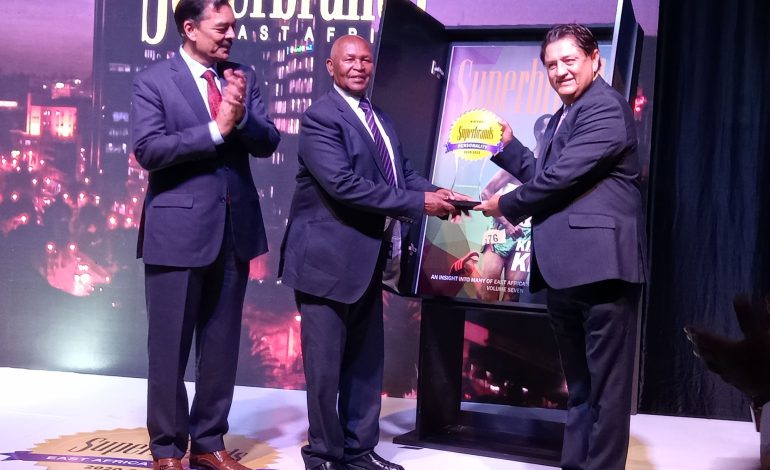 Athletic legend Kipchoge Keino is the first Personality of The Year awardee in the Superbrands East Africa awards which were held on Thursday, March 31, at the Trademark Hotel in Nairobi.  The retired field and track athlete was crowned following the introduction of the category, seven years since the inception of  Superbrands awards in East Africa.
While receiving the accolade, Keino called on the government to support talents of the youth in the country.
"I am sure we have a lot of talents for sports in this country. Let us change now from our counties and develop facilities for our schools so that they can be able to perform and fly our country's flag very high," said Keino while receiving his award.
Dr. Vimal Shah (Superbrands Council Member) with Mr Kipchoge Keino (Superbrands EA Personality of the year)
The leading sports hero was awarded among representatives of other forty powerhouse brands within the region.
Kenya had 34 companies recognized and awarded making it a country with the highest number of awardees. Tanzania and Uganda received four and two awards respectively.
"The brands we pay tribute to in this 7th East African edition have shown  resilience and fortitude  through the uncertainty of the pandemic," noted Jawad Jaffer, project manager at Superbrands  East Africa.
5 Kenyan women among scientists recognized for Covid-19 innovation
Among the 14 scientists are five Kenyan women – Dr. Jemimah Njuki, Dr. Mercy Korir, Yariwo Kitiyo, Dr. Jennifer Mabuka-Maroa, and Dr. Esther Ngumbi.
Mr Jaffer further said that the brands that were awarded found focus in the midst of pandemic and emerged as industry and category leaders in the eyes of their consumers.
"They evolved with their customers without getting left behind and today they stand as examples of best practice," said Jaffer stressing that Superbrands recognizes those who embrace change.
Superbrands Consumer Insights Survey was conducted in 2020 where participants were scientifically selected at random with an emphasis on an urban population. 49 per cent of the participants were female while 51 per cent were male, majority of them being below 44 years old.
7 inexpensive ways to save water at home
Due to the effects of climate change, reduced rate of ground water replenishment and the destruction of water catchment areas, water is becoming scarce.
When voting on the brands, both the expert council and consumers considered brands that have established the finest reputation in their field, offering customers significant emotional and/or tangible advantages over other brands, which (consciously or sub-consciously) customers want and recognize.
Check out our April issue here : https://epaper.parentsafrica.com/issues/april-2022
Featured image: Dr. Vimal Shah (Superbrands Council Member), Mr Kipchoge Keino (Superbrands EA Personality of the year), Mr Jawad Jaffer (Superbrands EA Project Director). Photo Courtesy.