6 ways to wear boyfriend jeans
Skinny jeans have become a fashion staple for women all over the world. Unfortunately, they are not flattering for every body type. The fact that skinny jeans do not look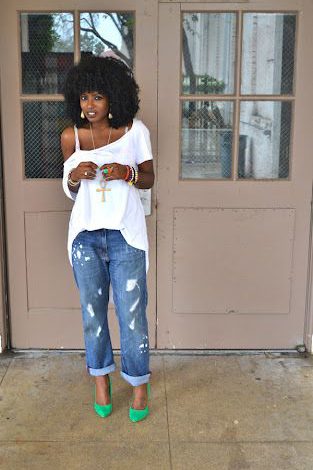 Skinny jeans have become a fashion staple for women all over the world. Unfortunately, they are not flattering for every body type. The fact that skinny jeans do not look good on you does not mean that you cannot rock a pair of jeans, you just have to find the right one- like boyfriend jeans.
As the name suggests boyfriend jeans are made to look like men's trousers but for ladies. Boyfriend jeans are easy to spot because they are loose compared to skinny jeans. However, they should not be confused with mom jeans.
Mom jeans have a high waist and get narrower from the thigh to the ankle. Boyfriend jeans on the other hand fit lower on the waist and the legs are more straight.
How do you style your boyfriend jeans?
The casual look
When going shopping on a lazy Saturday afternoon, you can pair your boyfriend jeans with a plain black or white t-shirt For shoes, go with flat ones like sneakers, flat sandals or even ballerina flats.
If you are staying out late in the night, or when you are going out on a cold day, baggy jackets are a perfect addition to your boyfriend jeans. You stay warm and remain stylish.
Image:fashiongum.com
The office look
Office wear has become less rigid over the years and jeans are acceptable in some workplaces. Blazers and boyfriend jeans are a good fit for the office. However, you still need to maintain some professionalism in your look when wearing jeans to the office. Pair your jeans with a white shirt, solid coloured blazer and a pair of high heels.
When wearing your boyfriend jeans to the office, avoid ripped ones. Also, go for dark washed jeans.
SEE ALSO: 4 ways to style a checked blazer
Bohemian style
If you are going for a bohemian look, pair up your ripped boyfriend jeans with your favourite loose sweater. You can choose to tuck the sweater in or let it loose. This look also goes well with flat shoes.
For the bohemian style, you also have the option of wearing a bright coloured crop top.
Image: inStyle
The off-duty model look
To achieve this look, get a nice t-shirt with some interesting quotes or graphics on it, put on your favourite pair of ankle boots and throw on a scarf to complete the look.
Image: Jadore fashion
The white shirt/ classy look
If you have a date and are not in the mood for a dress, you can pair your boyfriend jeans with a white t-shirt to achieve a classy look. Choose a pair of strappy heels to complete this look.
Image: Pinterest
The all denim look
This one is also an excellent look for a laid back afternoon with friends and involves layering your jeans with a denim top and some canvas sneakers.
Wardrobe Must-have: The black dress
The black dress is an ageless fashion item, with many women attesting to itbeing a personal life saver and fashion hack. The following are reasons whyevery lady must own a this dress. Wallis AccessibleThese dresses are literally every where you look. They flatter the female bodyand have a slim…
Bonus tip
Remember, boyfriend jeans are already loose, you do not want them looking sloppy. Therefore, roll your jeans at the ankles to create a neat look. Also, while wearing a belt is optional, belts prevent your trouser from hanging too low and add some pizzas to your outfit. A belt also helps define your waist.
This September, Parents magazine brings you an exciting new issue!
We catch up with Ben Kitili and his wife, Amina Mude as they tell us about their love story and interreligious marriage; as you get to know how they are navigating the intersection of social media and the limelight in a candid account.