A teacher scaling her academic ladder amid reports of a high ECDE attendance rate among learners
As an ECDE teacher who handles the youngest learners, Jacinter says their syllabus has an extra curriculum that allows teachers to have time with children drawing and doing fieldwork among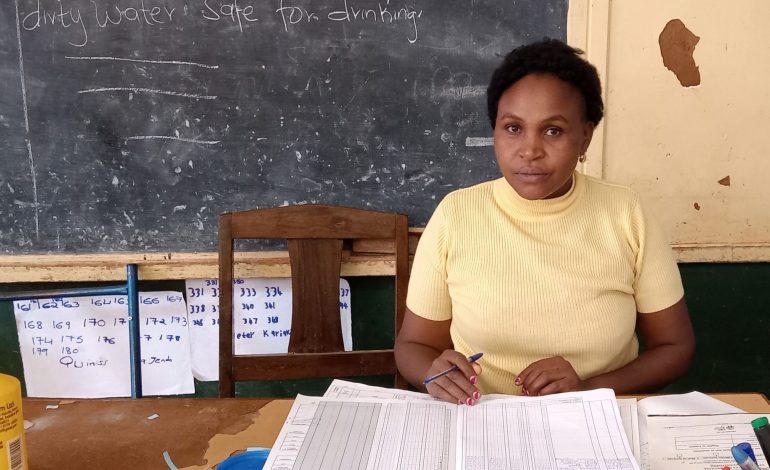 When Muhia Jacinter saw an opportunity that could lead to her job promotion and salary increase, she went back to class without hesitation. The Early Childhood Education (ECDE) teacher at Kawangware primary school had previously studied certificate in education at St. Mary's Bura Training College, a qualification that saw her entry into employment by the Teachers Service Commission (TSC).
"At the time it came, our employer (TSC) was asking for the diploma which can only be done in ECDE and then you are promoted so you get that even when it comes to salary, an ECDE teacher is well employed," she said justifying her decisions.
The academic enthusiast, who has now taught for over 15 years in different primary schools, appreciates the changes in the education system in the country, especially the attention given to younger children at their entry levels. She says this creates a firm foundation that enables children to perform well when they get to the upper classes.
"When I started teaching it was like children go to school, they learn and then go back but today education has really improved and ECDE teachers are really employed very well than other teachers because they are seeing the concerns of these small children who are the root," said the mother of five.
According to her, the attention and efforts given to ECDE learners have made teaching more professional. This she says is because the ministry of education is ensuring that there are at least two teachers in each of the ECDE classrooms which has offered her the opportunity to specialize in specific subjects unlike before.
"Immediately I got my diploma in the ECDE course I was promoted and my salary was increased," she says adding that her first salary was Ksh. 10, 000.
Her desire for another promotion and upgrading saw her join Kenyatta University where she is  currently pursuing her degree. When we met her for the interview, she had just been assessed as part of her Teaching Practice (TP) at Kawangware primary school.
Teacher Jacinter admits that going back to advance her career has been a long journey involving a lot of sacrifices, especially resources and time. However, she is grateful for the flexibility that allows her to study online and only attend physical classes during school holidays when she is sitting for her examinations.
As she looks forward to graduating, Jacinter says that being an ECDE teacher has given her skills that enable her to deliver her duties more efficiently as she now understands child development which is within the syllabus.
As an ECDE teacher who handles the youngest learners, she says their syllabus has an extra curriculum that allows teachers to have time with children drawing and doing fieldwork among other exercises that aid in muscular development, thanks to the two exclusive playgrounds the school has.
"It is very hard for some of these children to hold a pencil on the first day. So, when they go to the field, the teacher wants them to be able to open their fingers by showing them how to manipulate, put up hands, do like this, and bend such things," she explained.
Also read: Top KCPE candidate used to study website development at university
2021 ECDE report
Teacher Jacintar is part of the cohort of trained ECDE teachers with a report by Usawa agenda that was released in 2021 showing that most ECDE teachers are professionally trained. The report which is based on the evidence, innovation, and engagement in the context of urban informal settlements in Nairobi, also indicated that 82% of ECDE teachers are female.
While releasing the report last month in Dagoretti, Ochi Boaz, the program officer at Usawa Agenda, pointed out that 11% of ECDE teachers did not have any professional training. He further noted that most ECDE centers in informal settlements are not registered meaning that the quality of learning, centers and the teachers there are never regulated by the government.
The report also found disparities between private and public schools where though private schools had fewer untrained ECDE teachers compared to their public counterparts, they also had the lowest provision of workbooks in all the learning areas. According to the report, parents were the main providers of these learning materials to the learners in non-public ECDE centers.
The report was the result of a mapping exercise involving 2,072 centers spread across eleven sub-counties. Of these centers, 7% were public while 93% were non-public.  Among the non-public, 66% are owned by individuals, 17% are by the community while 18 % are owned by NGOs and FBOs.
In terms of child enrollment, five in every six children in the mapped centers were attending private ECDEs, which according to the report registered an enrollment of over 100, 000 learners and thus fit for a huge supply gap left by the absence of inadequate public provision.
According to the report, only half of the non-public centres were reported to have registered with the ministry of education, while nearly all the ECDEs had been registered with the ministry. Further, examination of the private did not have a functional board of management that was duly constituted as directed by the ministry.
Roadmap to the development of non-government schools
The existing gap has led to the rise of Alternative Provision of Basic Education and Training (APBET) schools which are learning institutions based within informal settlements or low-income settlements and owned by individuals or communities. APBET school heads say that their schools provide quality education to the most vulnerable children in areas where the public schools are few or none at all.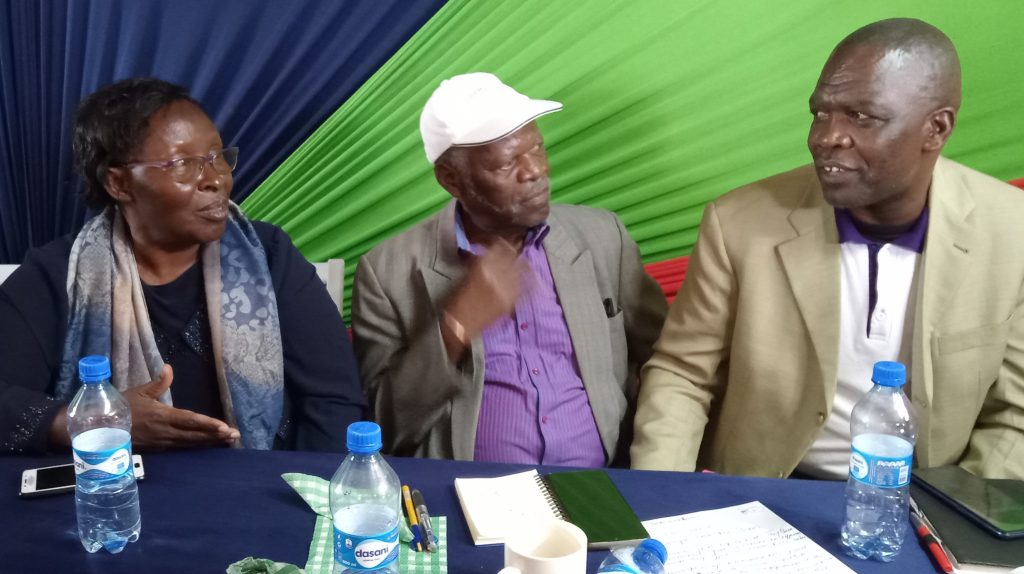 Elizabeth Mbati, a retired headteacher who founded Alpha Glory school, one of the APBET schools, more than ten years ago says registering the school as per the ministry of education requirement remains a challenge. This is because the school is located on leased land.
"I'm yet to re-register because my school is up to class eight but then now, I have to think and focus on my landlord because I also have to seek a lease to be able to register a school," she told Parents magazine during an exclusive interview.
The introduction of the Competency-Based Curriculum (CBC) which was unveiled five years ago under the 2-6-3-3 education system is another challenge that Mrs. Mbati says is putting pressure to have her register the school before the year ends so as to accommodate learners who would be transitioning to junior secondary.
"Because of the government's sort of pressure, the parents feel when these children are in these private schools then they may not go far to public schools and you know parents get a bit panics like now with grade 6 learners," she raised her concerns noting that if circumstances will not allow her, then she will make a tough decision that will only have her register the school to cater for ECDE learners.
The challenges of managing non-government schools in informal settlements include very high fees and default percentages due to the meager income of parents who take their children to those schools.
"When the directors request for the parents to pay, many opt to have their children stay at home or transfer," said Moses Wokono, director at The Excellence School located in Kawangware, adding that "the learners do not have adequate textbooks, many parents end up using old ones borrowed or donated by well-wishers,"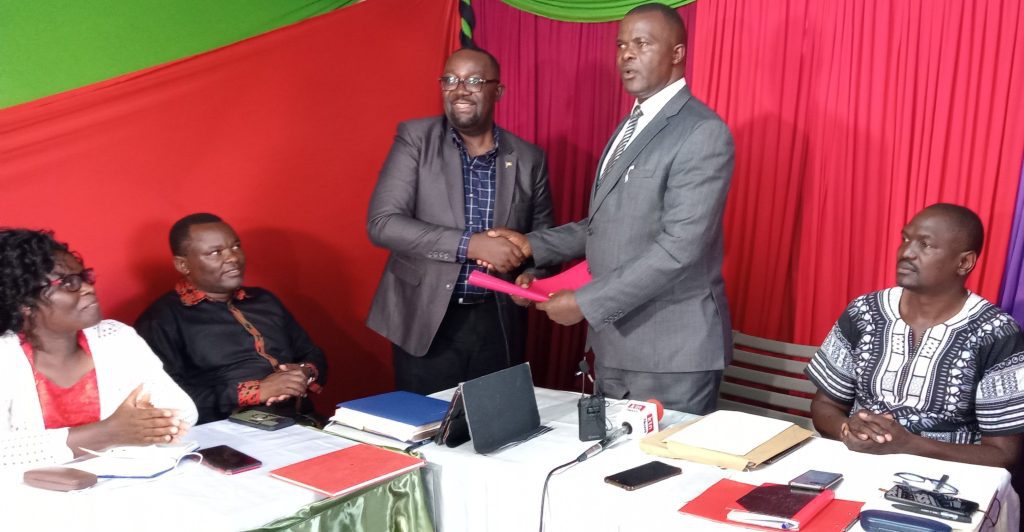 Moses Wokono who is also the national chairperson of the Unified APBET Schools Association of Kenya (USA) appeals to the government to formally recognize the existence of APBET schools.
"We appeal to the government to advise the county governments to waive or minimize license fees for the APBET schools. Nairobi county already did this through the Kenya Gazette of 23rd May 2019. Since the relevant code has never been generated, they have been denied schools their constitutional right as per the said Act," said Mr. Wokono.
The Usawa Agenda report recommends that the national and county governments explore ways to register and regulate the low-cost education providers found in the informal settlements. In what is described as critical, the researchers recommend that both governments should promote inclusion by supporting both public and private ECDEs to cater to children with special needs.