All you need to know about sunscreen use
The use of sunscreen in recent times is becoming a basic need. Simply because the rays of the sun have been amplified due to the depletion of the ozone layer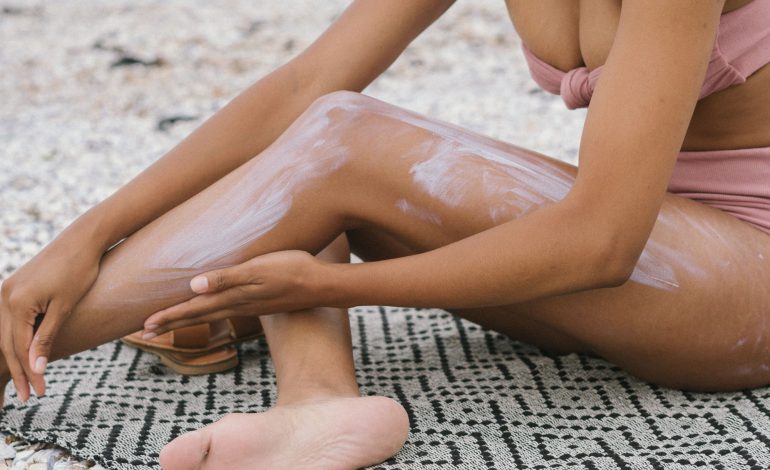 The use of sunscreen in recent times is becoming a basic need. Simply because the rays of the sun have been amplified due to the depletion of the ozone layer by Chlorofloro carbons (CFCs) and the greenhouse effect that is trapping more heat on the surface of the earth than normal.
Sunscreen can protect you from the effect of harmful UV rays from the sun which can cause cancer, dehydration and many other lethal effects. The following article provides answers to some of your questions on sunscreen with the help of a skincare professional.
Is sunscreen necessary for black people? Isn't melanin enough?
No! Melanin alone is no longer protection enough for the level of pollution and harsh environmental elements. Sunscreen guarantees you added protection.
Photo by Etty Fidele / Unsplash
Should I apply sunscreen on other body parts or just the face?
Sunscreen protects you from the rays of the sun which would otherwise penetrate through your skin which is the largest body organ. What this means is sunscreen should be applied on your entire body since even the fabric that makes clothes is not capable of blocking the sun's rays. It is however recommended that you use sunscreen that is meant for the body which comes in larger quantities compared to that of the face.
At what point in my skincare routine should I apply sunscreen?
If you have a full skincare regimen then the following is the procedure to follow; start by cleansing your skin with the ideal cleanser, followed up by a toner, then serum/essence, these are water-based skincare products that contain a high content of active ingredients to hydrate, protect, and boost the overall health of your skin.
Your moisturizer should follow in closely then lastly sunscreen. Wait 15 minutes before applying makeup.
READ ALSO: BE SECURE IN THE SUN Choose the right sunscreen products
Can I mix sunscreen with other products?
Mixing your sunscreen with other products reduces the effectiveness of the sunscreen. Therefore, it is highly discouraged! What you could do is layer your products as advised above.
If your reason for mixing your sunscreen with another product is so you can eliminate the white cast that is sometimes left behind, be sure to get a brand of sunscreen that does not have this effect, there are plenty in the market.
Does sunscreen cause breakout?
Sunscreen does not cause breakout but you may be made to think so if, for instance, you slept without cleaning your face when it happened. The right sunscreen with the correct ingredients for your skin is not supposed to cause any side effects like breakouts.
If you notice that your skin is breaking out, start by eliminating the possible causes first like inconsistency in following your skincare routine. The ideal skincare routine demands that you cleanse your face every morning and evening before bed to remove all dirt and residue that could otherwise clog your pores thus causing breakouts.
How many times in a day should I apply sunscreen?
To increase how effective sunscreen is apply it the appropriate amount of times. For instance, if you are staying indoors it is advisable to apply just once since you are not directly exposed to the sun. However, if going outdoors, it is advisable to apply the sunscreen 15 minutes beforehand then do occasional touch-ups every two hours. If you go swimming it is important to reapply your sunscreen after coming out of a pool.
Step out natural without make-up
[https://parentsafrica.com/content/images/wordpress/2014/05/201307-beauty-without-make-up1.jpg]Wearing little or no make-up can bring out your natural beauty, give you ahealthier skin and more confidence, save you money you could have spent oncosmetics, in addition to lessening time spent getting ready in …
Does it darken the skin?
Sunscreen does not lead to skin pigmentation. In fact, it protects your skin from that exact effect that is a result of damage from the sun. Therefore, using your sunscreen appropriately and avoiding long exposure to the harsh rays of the sun will save you from experiencing skin pigmentation.
My skin is oily. Can I use sunscreen?
Yes! Every skin type can and should use sunscreen. Just be sure to check the ingredients so they match the needs of your skin type.
6 must-know benefits of vitamin C on your skin
Taking care of your skin guarantees clear and healthy skin.The earlier you invest in skin care, the easier it will be to manage your skin when you are older.
The above information is courtesy of award-winning specialists Nimo Naturals (@nimonaturals on IG.)
Celebrate inspiring women with the March issue of Parents Magazine
On this issue Patience Nyange, one of Taita Taveta's gubernatorial aspirants shares her quest to give a voice to the voiceless; as we celebrate Maxine Wahome