ANTHONY MICHENI DITCHED A WELL-PAYING JOB FOR A START-UP
  When Anthony Micheni resigned from a well-paying job to start a home care service company, most of his friends thought he was joking. Anthony is now glad he didn't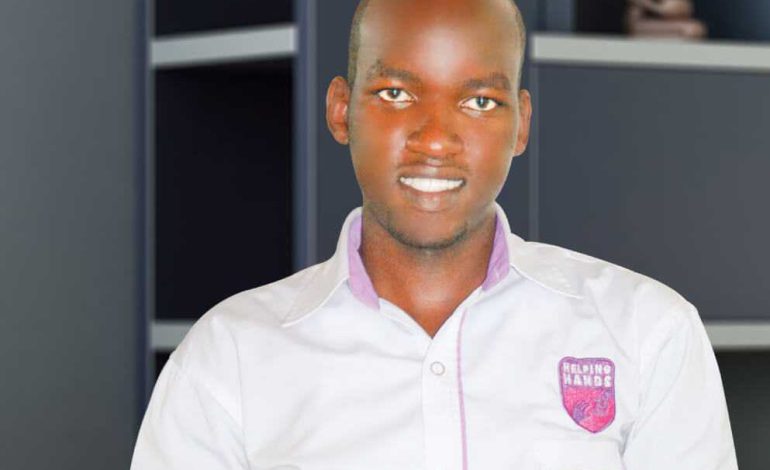 When Anthony Micheni resigned from a well-paying job to start a home care service company, most of his friends thought he was joking. Anthony is now glad he didn't pay attention to the naysayers as he found happiness and success in his start-up. He narrates to HENRY KAHARA why he decided to quit his employment and how he has been growing his business.
A meeting with Anthony Micheni, 28, will make you understand the meaning of the mantra 'simple doesn't mean stupid'. It is easy to mistake the young, ambitious and brilliant Anthony with a fresh graduate who is searching for his first job.
But this simple and down-to-earth young man is the managing director of Helping Hands Home Care – a Nairobi-based company that provides high quality, home-based care services to the elderly, terminally ill, sick and persons living with disablity.
"The country is developing at a high rate and you find that most people are running to keep at per with the trend in their careers as well as in their businesses. This has left many people with little time to take care of the sick, terminally ill, elderly and people living with disability.
To address this gap, I came up with the idea of starting a company that will enable such people continue working without worrying about their loved ones who depend on them," says Anthony adding that theirs is a creative, cost effective solution to meet their clients' needs.
Starting out…
"I got employed in my rural home, Meru, as a shopkeeper when I completed my secondary education. The shop owner had a child living with disability and upon the end of my assignment at the shop, she requested me to relocate to Nairobi to look after the child," he recalls.
The experience saw Anthony come to terms with what it meant to look after a person living with disability. Although that was not the job he thought he will ever do, he grew fond of the child and did not mind looking after him.
This opened his eyes to the needs of persons living with disability and he purposed to pursue a course that would see him attend to them. He therefore enrolled at Premese Africa Development Institute in Nairobi where he pursued a diploma in community health. He decided to continue providing home care services to the sick, elderly and people living with disabilities.
It didn't take long before he was employed. This would be followed by pleas from people who wanted him to help them take care of their loved ones from home. His service was on much demand at times he couldn't cope.
Later on, he pursued a Bachelors degree in Development Studies at Mount Kenya University.
"After graduation, I immediately landed a well-paying job with an established non-governmental organisation as a social worker. Although this is what I always wanted to do, my heart wasn't settled and I resigned. I decided to go back to the home care calling," he notes.
The demand in home care services he had earlier witnessed led him to start a company.
"I saw the demand as an opportunity to start a company and I didn't waste time so I started looking for people who could handle such assignments. It is here I sourced for help from my friend Ian Kimathi who is a trained nurse. He embraced the idea. Kimathi helped to recruit qualified nurses and caregivers who were passionate about home care," says Anthony.
Anthony then registered his company, Helping Hands Home Care and two years down the line, they are reaping the fruits of their hard work. Currently, his partner Kimathi is in charge of operations while, Naomi Kerubo, is in charge of training their staff about their code of ethics. Anthony is in charge of management and business development.
"The number of clients keeps fluctuating depending on the need. We engage some of our employees on temporary contractual basis while others are permanent. The needs of the patients determine the type of service.
For instance, there are those who require minders round the clock while others half day. Our staffs are required to submit daily reports on the progress of the patients so that we can be in touch with what is happening on the ground. This is on top of regular assessment we conduct," says Anthony.
Even though he didn't disclose the actual number of clients they are currently serving, Anthony confirmed that they are privileged to be serving a number of families across Nairobi and a number of counties upcountry.
He further explains that the measures they have put in place are meant to ensure that their clients get value for their money. One of the requirements for their employees is requisite knowledge in nursing and a passion for the job.
Anthony says that a lot of people think good health depends largely on food and what they drink, not knowing that the environment where one stays is also vital.
As such, he explains, patients taken care of at home recover faster than those recuperating in hospital. He says that home environment is safer and more conducive for patients' recovery process as it is more comfortable and cost effective.
On the same note, he observes that today most people are torn between careers and taking care of their elderly or sick loved ones but with good home care providers, one can focus on his career and business goals with minimal distractions.
"We are helping them to take care of their loved ones in their home while they can go and build their careers and businesses without worries. The special thing about Helping Hands is that it is a team of professionals and so we give quality care to your loved ones with a lot of care and love," he expounds.
Sourcing for clients…
"For us to get our first clients, we had to approach health institutions and families I had worked for earlier. I came to realise that many people were for the idea especially the ones who didn't have relatives to watch over their loved ones," he notes.
For cases of sick people and invalids, Helping Hands makes sure they take their meals and medicine as required and if they are taking care of children, they ensure they attend school, as is the case with children living with disability. At the same time, companionship is at the center of their broad services to curb the loneliness that comes with being bed or home ridden.
"We use various channels to market ourselves such as posters and flyers, social media and referrals. In the last one year, we have managed to serve people in five counties," he observes.
"It took courage to overlook the trappings and comfort that came with my job to start a not very common business. Looking back, it was the best decision I made as I am currently happy and I feel satisfied with what I do," says Anthony when asked if the decision to resign from a well-paying job was easy to reach.
He also had to contend with friends and colleagues who didn't take him seriously. His family, on the other hand, was not bothered as he had already proven he could take care of himself having paid his college and university fees unaided.
"When you have passion and vision for something, no force can stop you. You only see possibilities," he says with conviction.
Secrets of success…
"If you want to succeed, you must work very hard plus be ready to take risks. Success is not for the fainthearted, it is for the people who are determined and are ready to pay the price," notes Anthony.
Anthony says that he has sacrificed his resources and time for the company to reach where it is. He notes that his team is keen on providing quality service, which is key if they are to stay afloat.
He's also quick to add that God has helped him thus far. "I believe and trust God always," he says.
Anthony's humble background has also played a role in his success as he is driven by the desire to lead a better life.
"My advice to young people is that there is an assignment for each and everyone of us and you can only know your calling if do something. Look around you, identify a problem that needs to be solved and if you can, offer the solution. Don't sit in the house and complain there are no jobs. Get up and do something," he challenges the youth.
Like all start-ups, Anthony says they also have challenges but their desire to ensure they meet their clients' needs has seen them triumph over the pitfalls.
"The vision of the company is to be the most preferred home-based care providers in Kenya," he shares as we conclude the interview.
Published January 2017