Caroline Kangogo to be laid to rest today
Former police constable Caroline Kangogo is set to be buried today at her parents home in Nyawa Village, Elgeiyo Marakwet, almost two weeks after her death. An autopsy conducted on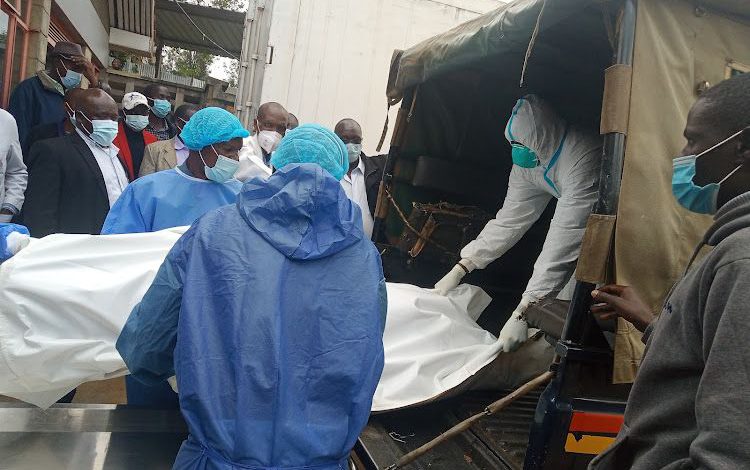 Former police constable Caroline Kangogo is set to be buried today at her parents home in Nyawa Village, Elgeiyo Marakwet, almost two weeks after her death.
An autopsy conducted on the former police woman's body confirmed earlier reports by the police that she died of gunshot wounds to the head. According to Chief government pathologist, Johansen Oduor, the ex-constable died of a single gunshot wound caused by a bullet that entered the body through the right chin and exited on the right side of her head. He also verified that the incident took place where the body was found.
Caroline Kangogo's body leaving MTRH. Image: The Star
The pathologist could not, however, confirm the manner in which Caroline died adding that his team had collected swaps of her fingers which would help determine whether her death was a suicide or a murder.
READ ALSO: Caroline Kangogo died of a single gunshot to the head, postmortem confirms
Speaking to the press after the autopsy results wre announced, members of the ex-policewoman's family said that they were satisfied with the results of the postmortem and would now focus on burial preparations.
"We will bury her as a family so that she can rest. We also want to have a break from all that has happened within the last three weeks," said Mark Kangogo, Caroline's brother.
Featured image: Mathews Ndanyi/The Star
September 2010 cover models Salome and daughter Daniella on being featured by Parents Magazine
As we celebrate our 35th anniversary, we take you back and have a talk we our former cover models. Salome Nyoro and her daughter Daniella were featured in th…