Carpenter whose multi-purpose bench went viral set to make millions
You must have seen a video doing rounds on social media of a multi-purpose garden bench. The carpenter behind the innovative work is Stephen Odhiambo, a jua kali artisan who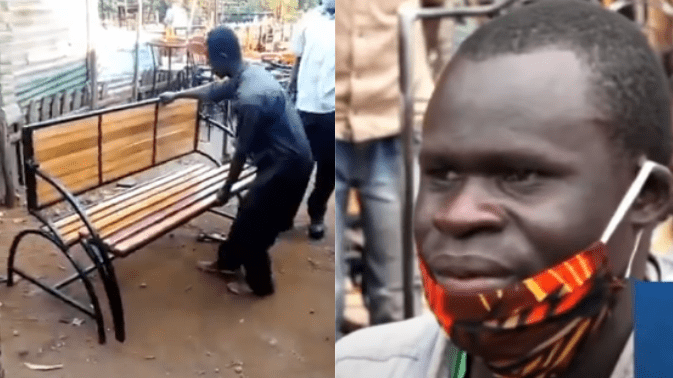 You must have seen a video doing rounds on social media of a multi-purpose garden bench. The carpenter behind the innovative work is Stephen Odhiambo, a jua kali artisan who operates along Ngong' Road.
It all started with Odhiambo doing some online research. He spotted the multi-purpose garden bench and decided to recreate it.  An interested client was greatly fascinated by the bench that he shared it online. The multi-purpose bench went viral and Odhiambo now has 700 orders from people who were very impressed by his work. 11 have already paid for the bench.
READ ALSO: 70 per cent of Kenyans do not want schools to reopen – Infotrak
The multi-purpose bench has two functions. Three people can sit on it as a garden bench and six people can sit on it facing each other with a table separating them.
Since the bench went viral, Odhiambo's phone has barely stopped buzzing with messages and calls.
"Huwa naingia nyumbani six, nakuambia kutoka saa hiyo ilikuwa simu juu ya simu hadi kitu kama saa sita na nusu. (I usually get home at 6 pm. Since the bench went viral, it was one phone call after another until 12:30 am)," Odhiambo told Citizen TV.
Stephen Odhiambo's multi-purpose garden bench. [Source: Wish FM/Twitter]DON'T MISS: Why giving your child a digital detox will improve their behaviour
Odhiambo will make millions
One bench costs Sh22, 000. So if all the 700 people pay for the bench, Odhiambo will earn a whopping Sh15, 400, 000.
Due to the many orders, Odhiambo has gathered a team of artisans to help him.
"Hapo mwanzo hatukuwatunaelewa vizuri tulikuwa tunaunda moja, lakini saa hii tunatengeneza hata tano kwa siku. (In the beginning, we were not that proficient so we took an entire day to make one bench. But right now, we can even make five benches in a day)," one of the artisans, Dennis Otieno said.
MUST-READ: Effective ways to teach your kids time management
Odhiambo and his team are urging the government to remember those in the jua kali sector when setting aside funds to cushion different sectors during the Covid-19 pandemic. This will enable them to continue exploiting their talents.