Environmental scientist changing her life story through passion for hair care
Juggling two schools, work and a startup business may seem out of this world to some, but to Sarah, this is her life, especially after rediscovering her passion. After a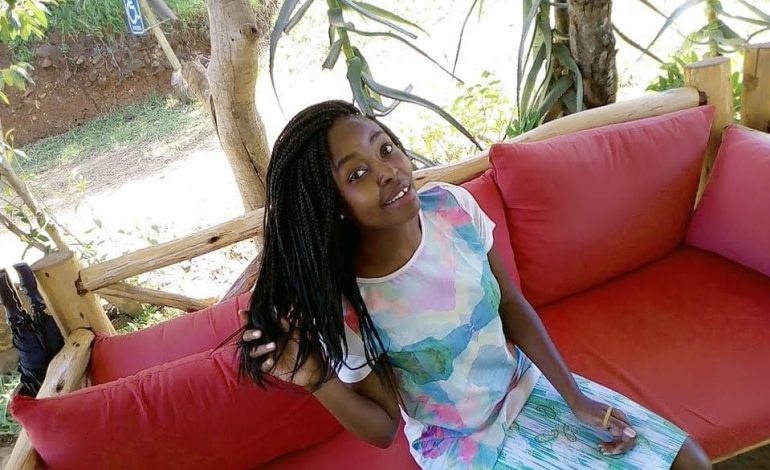 Juggling two schools, work and a startup business may seem out of this world to some, but to Sarah, this is her life, especially after rediscovering her passion. After a couple internships and two jobs, she is back in school with new goals and a fresh outlook on life. She opens up to WENDY GLORIA on life in the slums, dealing with a toxic work environment, her big dreams for her salon and what gets her up every day.
When asked how she describes herself, Sarah Anupi Kutahi starts off with her position in her family of three. Being a first born, she jokingly states that she needs therapy, lightening up the mood for the interview.
Growing up in Mukuru Kayaba, Sarah describes life there as that of any other ghetto- fire outbreaks, flooding, the risk of contracting water-borne diseases and endless rape cases. For her early education, she went to Mukuru Primary School where she scored 352 marks in the national examinations. Being a needy school, it had well-wishers willing to support the children with funding. Her good performance thus landed her a chance as a beneficiary in one of the programs which supports her to date. This saw her attend Our Lady of Mercy High school where she scored a B+.
Her family eventually moved from Mukuru Kayaba to a safer slum near South B, to keep them away from harm, before moving to Syokimau where they now live.
"My parents wanted to protect us from risks, especially rape. We were growing into women with breasts forming on our chests which made us a target for rapists who were rampant in the area," she shares.
Campus life and beyond…
The Pwani University Environmental Science graduate describes her campus days as a wasted opportunity, basing this on her inactivity while in school. She narrates how she was clueless about maximizing her experience there and wishes she explored Kilifi's rich environment more.
Only after university did she join Peace Ambassadors Kenya as a volunteer in 2015. Here, she got her very first work experience. Despite having done internships previously, she felt more challenged and educated in her new position as the project coordinator.
From here, she got her first job at Ecotourism Kenya that saw her transition to working in a hotel at Maasai Mara in 2017. Her placement at the administration saw her tasked with handling the director's communications including emails. She was also part of the Health and Safety Committee and on the days when guests became full capacity, she would help around as a waitress. It started off well till frustrations started coming in. This almost led her to a bout of depression. Here she was, coming from one field of work and made to do another. Despite trying her best, she still felt that it wasn't enough. Some of her colleagues suggested she try training yoga, or pursue public relations and many more fields she had no experience in, with the claim they saw her potential to excel in those fields. Her efforts to maximize what she knew best, which was environmental matters, were met with disagreeing faces. Therefore, in order to meet these expectations, she quit her job in 2019 on the premise that she would go back to school and study these fields to deliver better results. Little did Sarah know that they had made up their mind to let her go.
Pandemic blow
While looking for a school to enroll in, Ecotourism Kenya offered her a three-month contract. She eagerly took it with the hope of being retained once the contract ended. This did not go as planned as the Covid-19 pandemic had begun to claw its way into the country. They, too, let her go. The job she thought would sustain her studies was now no more and so she switched to survival mode.
This period was a moment for self-reflection which bore the realization that she knew how to care for natural hair. She'd loved plaiting dolls and grass from a young age and expressed her interest in the profession. This idea was often beaten out of her.
This is where the idea of Escada Naturals, a salon to cater for the needs of natural hair, was born. Around this time, she also started retailing Marini Naturals hair products to earn some money. While doing this, she came across a KCB Bank opportunity sponsoring hair and beauty enthusiasts and entrepreneurs to Vera Beauty College. She hopped on the chance and sure enough, landed the sponsorship which will earn her a loan for her startup upon completion of the course.
As time went by, her mother warmed up to the idea of Sarah pursuing her love for hair.
"Her prayer was that I get a job. She did not see how a salon would grow into something big. I just let her pray but I also knew what I talked to God about. My parents have been with me throughout my struggles and now they are confident that I'm making the best decisions about my life," she says
The juggling act…
Among the three things she wanted to pursue after leaving Maasai Mara was communication. Therefore, she enrolled at the Kenya Institute of Mass Communication (KIMC) for a postgraduate diploma in mass communication. While in these two schools, she also applied for an internship at Parents Magazine to sharpen her writing skills. This, she believes, will come in handy for her natural hair salon website.
With Parents, KIMC, Vera Beauty College and Escada Naturals all on her plate, Sarah is keen to ensure that none suffers. Therefore, on weekdays, she gets to Parents before everyone else at 6:30am, or earlier on some days, to ensure she gets most of the work done by noon. From there, she heads to hairdressing classes which end at 4:00pm. She then makes her way to KIMC for two evening classes although sometimes she does not manage to get there early enough for the two lectures. When it gets overwhelming, she skips one to work on a pressing assignment or project.
Despite having to meet all these responsibilities, Sarah is relentless and ensures she delivers on all ends, "I know what I'm getting out of all these three things. The skills I'm currently learning will help establish my business. I want it to be a success so that I can change my family's story. I'd especially love for my mum to stop working; that woman has worked all my life. For the first time, I want her to stop supporting me so that I can take care of her."
She has since established social media platforms for Escada Naturals, where she posts her hair clients as well as sell Marini Naturals products.
This September, Parents magazine brings you an exciting new issue!
We catch up with Ben Kitili and his wife, Amina Mude as they tell us about their love story and interreligious marriage; as you get to know how they are navigating the intersection of social media and the limelight in a candid account.